A powerful player
---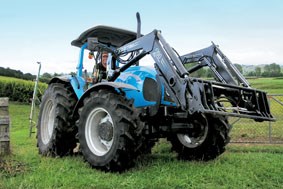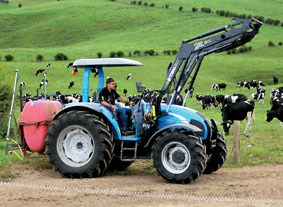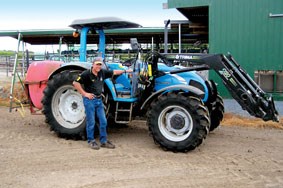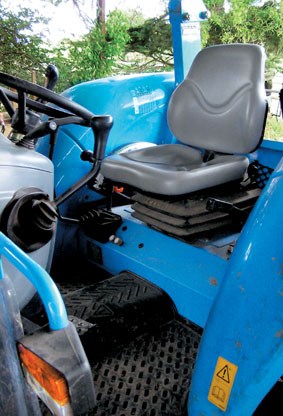 The Powerfarm 85 tractor, launched at the end of 2004, is one of many Landinis being imported into New Zealand. Farm Trader had to test this latest model out.
By Terry Stevenson
Now part of the large Italian Argo Industrial Group, Landini has been in the New Zealand market since 1994. Power Farming took over importing the Landini brand in 1998 and, with recent new models, sales are increasing in the dairy, horticultural, sheep and beef markets. The Powerfarm 85 tractor launched late last year is a completely new model, almost from the ground up, including styling, so we checked out Kevin Gray's new Landini.
Gray farms 75 hectares of flat and low rolling hills near Tirau, and leases 20 adjoining hectares. On a clear day, both Mt Egmont and Mt Ruapehu are visible. He milks just over 200 cows in a two year old 16 aside herringbone shed, with automatic cup removers to make milking a one person job. A keen polo player, Gray also owns 11 horses.
Behind every farmer is a good story, and Gray is no different. He was a professional polo player from 1986 to 1995, and played in countries including the US, England, Holland and South Africa. He must have been pretty good at it because Gray was based out of some exclusive clubs, such as Palm Springs, California, and the Potomac Polo Club in Maryland, Washington DC. Not forgetting his time at the Guards Polo Club, in Windsor - alongside Prince Charles.
Gray is the second generation on the farm after his parents purchased the property in 1960. For family reasons, Gray decided to return home in the early 1990s to run the farm, bringing an end to his professional career. The old tractor in the shed is a David Brown 995, which his father bought new in 1971. Just like the 995, one of the reasons why Gray chose a Landini was the planetary system on the back end. Instead of the drive shaft coming straight out from the diff, the rear wheels are mounted further rearward to give an increased wheelbase, and therefore stability level.
Gray bought his Powerfarm 85 off Maber Motors (Putaruru) last November, which had done 120 hours before our test. Having just done 180 silage and 90 round hay bales, Gray mowed his hay with a Lely 2.4m 6 disc mower.
"This tractor performed very well. Because it has 24 forward gears, you can always find the right gear. When I first got the tractor I had about five acres of rotary hoeing to do," he says. "They say new tractors need to be worked, so I got a very old Gallagher 60in rotary hoe to put in two hectares of chowmolia for winter grazing. It was going to cost quite a bit to get the contractors to do it, so I thought I'd run my tractor in and see what it does. And it handled it - it did a great job."
A big feature is the sloping bonnet, which offers excellent forward visibility for loader work. With the muffler situated under the bonnet, only a tall straight pipe protrudes, offering minimum disruption to forward visibility. Soundproofing material lines the inside of the bonnet and installed around the inside perimeter is a rubber seal to prevent birds from entering the engine compartment - and help keep the noise in. The birds can get in and nest on the manifold, but the bonnet it easily lifted to check. (Birds can make nests in half a day so make regular checks to prevent a fire.)
The floor is almost flat with a small central rise. All the controls are well positioned and easy to get to and, importantly, the Powerfarm 85 is easy to get in and out of. The spring adjustable seat appeared to be no different from other tractors in that horsepower range.
Fitted to the big safety roll cage is the canopy for weather protection. Gray said the Landini was so quiet to work on he was going to fit a radio to the tractor! He was pretty sure he would still be able to hear it, even without earmuffs, or a cab. So, with my sophisticated new digital sound meter I measured just how loud the Powerfarm 85 really was. This was the first time I'd used it so, while the readings are accurate to a decimal place, next time I'll also record a "drive-by" reading. At idle it recorded 101.2dB at the front radiator, 96.9 dB from the left hand side of the engine and 94dB from the driver's seat - where it was noticeably quieter.
"The three key things for me are the sloping bonnet, which gives me vision for doing loader work, the ease of going from forward to reverse with the shuttle - although it is with the clutch, and the planetary differential on the back end. It will also climb anything - hills and mountains!"
Driving up a small hill at 1500rpm, the Powerfarm 85 just didn't even know it was there. Pretty good for a non-turbo engine, and I found the Euro 2 four cylinder, 4.4 litre Perkins motor would happily rev out to its 2250rpm redline. It was more revvy than a turbo engine but I could also feel it was missing the more sudden push a turbocharger gave, telling me its power delivery was very linear. Going up a medium steep hill at 1500rpm I could feel the loading on the engine, but it wasn't significant, and in fact the engine held its own and climbed out pretty easily. It was the same story at 2000rpm. Overall I'd say the power characteristics are pretty good and quite suited for that sized farm.
Totalling 12 speeds (plus overdrive), there are four gears on the main lever, run through three ratios, plus high/low ratio and reverse on the shuttle lever. Gear changing is a breeze due to the position of the controls. On the right is a manual change stick but mounted high up to the left of the steeling wheel is the forward/reverse shuttle lever, which can even be done on the move. The lever is arranged close to the steering wheel, so that an operator can use it while keeping the hand close to the wheel, although still engaging the clutch. But the feature of the transmission is the overdrive position on the shuttle lever, which gives a 30% increase in every forward gear, giving about a half a gear overlap between every forward gear. Top speed is 40kmh. The dry-clutch syncromesh gearbox made real easy work of changing gears. Gray demonstrated just how easy it was by changing down from 3rd into 2nd and again 2nd to 1st - without the clutch. Understandably, he really likes that feature, and the gearbox!
The Powerfarm 85 has 540rpm and 540E PTO speeds, with 1000rpm changed manually, by the PTO shaft. Gray runs most implements on 540rpm, with the spray pump run at 1000rpm.
The hydraulic system has a 60 litre per minute flow rate meaning there's no waiting time for the front-end loader to do its work. Two double acting hydraulic outlets are on the back, with two on the front with a third service for the loader.
A good feature is the four wheel braking, so when you put the brakes on, even in two wheel drive, they work on all four wheels. Going down a steep hill they were really good and hauled the 3330kg Landini to a stop. Exactly the way it should. Gray's machine has a quick detachment system to remove the loader, taking only about two minutes to complete and he is happy with his 1.8m bucket because it saves time when working in his shingle pit.
Power Farming Landini Product Manager Lloyd Salt sums up the Powerfarm 85, "Its best features are its Perkins engine, which is well known in the farming sector. It has a very strong, bullet proof and reliable transmission that has been around a number of years. It has a good gear range with syncro shuttle, front and rear diff locks and a true four wheel braking system with oil immersed front brake discs. It's a product that, if looked after, is good for 10,000 hours."
Overall, the Powerfarm 85 is a non-turbo tractor with a big engine that would perform well on any medium sized farm. Another good machine.
SPECIFICATIONS Landini Powerfarm 85
Engine: Perkins Euro 2/Tier 2 direct injection
Max power (hp/kW): 81.6/60
Rated speed (rpm): 2200
Max torque (Nm): 292
Bore/stroke (mm): 105/127
Displacement (cm3): 4400
Fuel tank capacity (l): 102
Length (with ballast - mm): 4136
Wheelbase (2WD/4WD - mm): 2341/2316
Ground clearance (mm): 430
Min width (mm): 1732
Min turning radius (with brakes - mm): 3500
Weight (without ballast 4WD - kg): 3330
Keep up to date in the industry by signing up to Farm Trader's free newsletter or liking us on Facebook