Diesel Power
---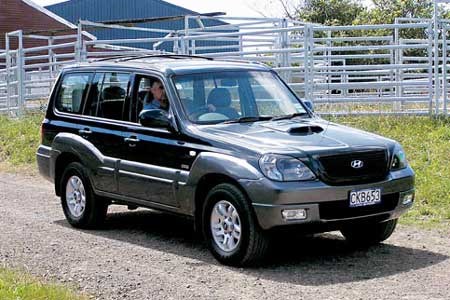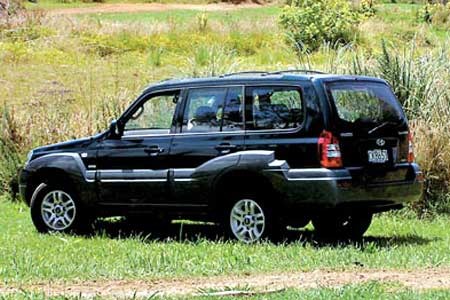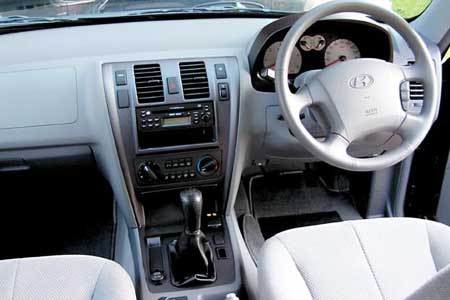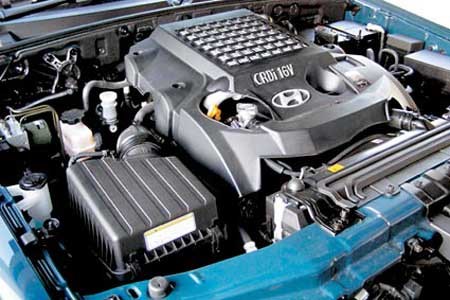 A diesel that drives like a petrol engine - not bad for Hyundai's newest SUV. But that's not its only good point.
By Terry Stevenson
If a farmer were looking to update their town vehicle, some of the things they should consider would be versatility, reliability, fuel type, drivability, comfort, size and purchase price.
I was pleased to accept Hyundai New Zealand's offer to test its recently released Terracan diesel SUV. I wanted to compare it to my own 2001 Holden Monterey SUV (a re-branded Isuzu Bighorn) to see what it could do. Basically, the 2.9-litre Terracan left it for dead. It must have near 50 percent more power than my modern 3-litre SUV, so if anybody knows how to tweak a Monterey, please let me know!
The driving position is fairly low for a large vehicle of this size. It feels like driving a Subaru Forrester-sized vehicle more than a medium sized SUV.
You can take or leave the styling. I think it is appealing in some ways, but viewed from the rear we have lots of window curves clashing with the angular lines of the bodywork - not quite up to the minute in some respects.
The four-cylinder, 16-valve, 2.9-litre common rail turbo diesel engine is very smooth and quiet - you can only just make out the distinctive "clatter" of the engine as you go through the gears. Good point Hyundai. Overall it acts and feels more a petrol engine than a diesel (surprising several passengers), while offering farmers the advantage of using the same fuel as their tractor. Helping that feel is its ability to safely pass other cars on the road. Many diesels, including my own, will run out of steam once you get alongside a car - especially going up a hill with a passing lane. Perhaps the Terracan's strong point, it has the extra power to get past those cars, and do it safely. At 100kph, the motor is turning over at 2300rpm, but still retains good passing acceleration even in top. The drive out of any corner is very good, you can put your foot down coming out of a corner in third gear at say 2000 - 2500rpm and you will really grunt out. The Terracan's power seems to come in around 1600rpm, when the turbo kicks in, and revs cleanly to its 4500rpm redline although most power is in the mid-range.
Top speed is 170kph, and it could sit on 120kph all week. The Terracan is not far different in feel to driving an ordinary car, and the 4WD will take you more places on your farm, or wherever you like to play.
Handling wise it takes corners very well, there wasn't too much body roll for a vehicle weighing some 2270kg. I was quite impressed with its all-round handling and, again, not too different from your average car. The steering is precise and neutral, it doesn't skip or jump across the road bumps too much, or wallow. The ABS brakes are very sharp and come into their own as speeds creep up.
The basic interior is simple but functional, with quite large air vents - as it should. The analogue speedo and rev counter have a white background, which are easy to read at a glance. Driver and passenger airbags, and electric windows are standard, while the clock is mounted above the windscreen. The large centre consol easily flips up to double as an armrest. Underneath is a handy two-level compartment. A two-place cup holder is in the central consol, directly behind a very handy dial for 2WD, 4WD on demand, or full-time 4WD options. To change from 2WD to 4WD on demand, you must be below 80kmh to switch it over on the fly, but to change to 4WD, the driver has to stop first. A 12v 120w power outlet is located beside the gear stick.
The air conditioning, heating and vent controls are situated directly in front of the gear stick, which is probably the wrong place to put them because you need to get around the gear lever to adjust anything. I'm not so impressed with the door locking system on the driver's door - which is located right in front of the door release lever. Several times while pulling the lever to open the door my hand inadvertently pushed the lock closed. This meant that I had to unlock it, but when I opened the door the alarm went off! Which then immobilized the engine for 30 seconds. Another area that could be improved is the dual horn, which would hardly be heard if you were having a silent conversation.
Down the back there is plenty of legroom and head height for all passengers. The middle seats are split and fold away to increase carrying space. Directly in front in the centre consol are another retractable pair of cup holders, plus a 12v 200w power outlet. The rear door tilts up above head height and is held in place with gas struts. Yet another 12v 120w power outlet is fitted at the rear. The two child seats at the back fold out of the way easily, and a very good passenger safety measure is the adjustable headrests for each of the seven seats.
Safety is obviously a top consideration for Hyundai. Standard in each vehicle Hyundai sell is a NZ sourced Wormald fire extinguisher, a comprehensive first aid kit and a high visibility vest.
I really enjoyed driving the "manual" Terracan. Then the crew at Waikato Motor Group suggested that I also try the higher spec diesel A4 model. After a hard drive around some corners, I reckon it almost wasn't any different than a car - and better than some I've driven. That is pretty good for any SUV. I guess if you do a lot of towing, buy the manual version, otherwise pay the extra $5000 and buy the automatic model. You can add the wheels if you choose.
The performance and raw function of the Hyundai Terracan should sway buyers over. If you take a test drive, you'll see it is finished well and has everything a driver needs. But if that doesn't grab you, the $44,990 price for the M5 'manual' will.
SPECIFICATIONS Hyundai Terracan 2.9 CRDi M5
Engine: 2.9-litre common rail direct-injection diesel
Displacement (cc): 2902
Max torque (Nm/rpm): 345/1750-3000rpm
Transmission: 5-speed manual
Fuel tank capacity: 75 litres
Max gross vehicle weight (kg): 2270
Wheelbase (mm): 2750
Overall length (mm): 4700
Min ground clearance (mm): 211
Keep up to date in the industry by signing up to Farm Trader's free newsletter or liking us on Facebook