Greener pastures
---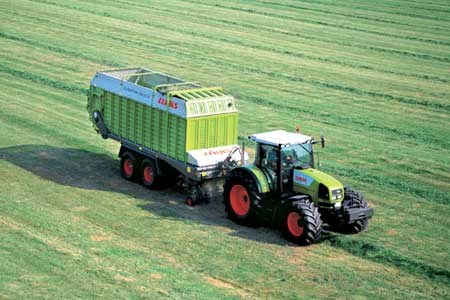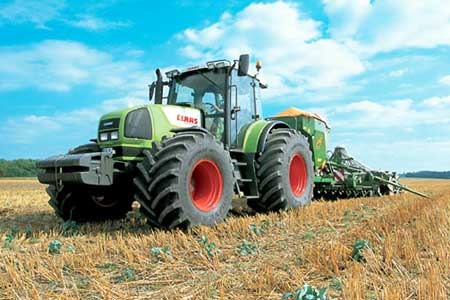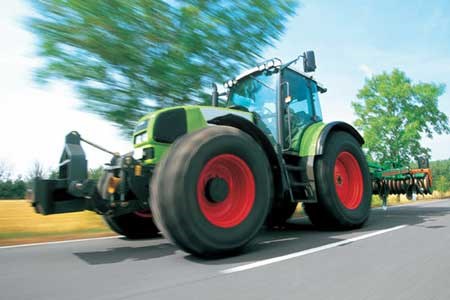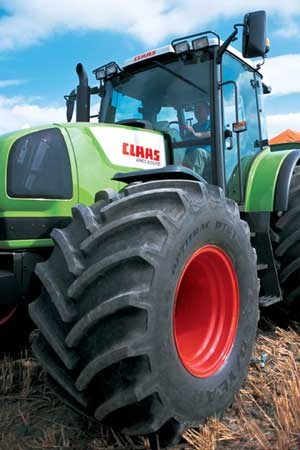 There's a new tractor on the New Zealand landscape - the Claas Ares, a high specification tractor designed for demanding professionals.
Combining leading edge technology and exceptional reliability with unsurpassable operator comfort, the Ares is one of two Claas tractor ranges introduced to the New Zealand market in February this year.
At the tractor launch in Christchurch, Landpower New Zealand's CEO, Graeme Instone, said the company expected the tractors to become as popular as Claas's legendary range of harvesting equipment, which includes the Lexion combines and Jaguar forage harvesters.
Robert Reith, product manager for Landpower, says the Ares is perfectly suited to the needs of large-scale farmers and contractors requiring a tractor that offers superior performance for a wide range of tasks and conditions.
"But the Ares is much more than just a powerful workhorse, it's also a dream to drive," he says.
An efficient system
The Ares RZ range encompasses nine models with maximum power outputs from 96-205hp. Ares 500RZ series tractors - the Ares 546 (max rated power 96hp), 556 (104hp) and 566 (114hp) are powered by a four-cylinder 4.5-litre DPS engine with an electronic governor. The Ares 600 RZ series, which includes the Ares 616 (115hp), 656 (132hp), and the 696 (146hp), and the Ares 800 RZ series - the 816 (164hp), 826 (181hp) and 836 (205hp) - are all powered by six-cylinder 6.8-litre DPS engines with an electronic governor.
Designed for outstanding efficiency and fuel economy, DPS engines are extremely powerful and have a maximum torque backup of up to 33 percent. The tractors' 50:50 weight distribution also means this power is transferred to the ground more efficiently.
All Ares 500, 600 and 800 models are fitted with the QUADRISHIFT II transmission, which incorporates four powershift splitters within each of the four mechanical gears, giving a total of 32 forward and 32 reverse speeds (with 14 speeds between 4-12kph). A creep transmission is also available on all models.
Ares transmissions incorporate a REVERSHIFT hydraulic shuttle reverser, which consists of two oil-cooled multi-disc clutches that control forward and reverse travel. Easy to operate, the REVERSHIFT is a true reverser that enables the direction of travel to be changed with one simple hand movement, at any speed, in any gear and without manual breaking.
QUADRACTIV automatically switches the four stages of the splitter gearbox according to the load, and gives the operator the choice of two modes - Eco and Power. In Power mode, the transmission automatically changes up through each of the four stages at 2100rpm. This takes place near rated speed and ensures maximum power. In Eco mode, the threshold for changes up through each stage is 1700rpm. Used for work that does not require the full power of the tractor, this significantly improves fuel economy.
New heights
One of the greatest strengths of the Ares range is its impressive lift capacity, with 8470kg on Ares 500 and 600, and 11,330kg on the Ares 800 tractors. On all Ares models this is controlled using a dial-based linkage control system. The TCE 25 electronic control system with Active Wheel Slip Control is optional on all models.
The electronic linkage control gives precise matching of the hydraulics to the most varied conditions, and the load-sensing hydraulic circuit (with a 141-litre maximum flow) enables several implements to be used simultaneously.
The Ares has been described as one of the most agile tractors in its class thanks to a maximum steering lock of 55 degrees. Tractive power is enhanced by a compensation of 10 degrees, which ensures the wheels always stay in contact with the ground, even on rough terrain.
Sitting pretty
Another major strength of the Ares range is the high level of operator comfort provided by its advanced suspension system, which has up to eight suspension points. At the heart of this is the HYDROSTABLE cab with all-round suspension system, a suspended seat and the transport shock absorber fitted on all models.
With a width of 155cm between both A pillars, the Ares cab is the most spacious on the market, according to Landpower. All operator controls are colour-coded and arranged within direct reach of the driver, and the well-positioned and intelligently laid-out instrument panel display clearly shows all operational information at a glance.
Reith says that while Ares tractors come with exceptional standard specifications, a range of optional equipment, such as ELECTRO-PILOT and the two-point PROACTIV independent front-end suspension, is also available for operators with specific needs.
For more information see your nearest Landpower dealer, phone (03) 344 0100 or visit www.landpower.co.nz.
SPECIFICATIONS Claas Ares
Model
Bore/
stroke
(mm)
Power rating (kW/hp) @ 2000rpm
Max torque (Nm/rpm)
Max speed (kph)
Unladen weight (kg)
Overall length (mm)
Wheelbase (mm)
546
106.5/127
71/96
368/1400
40
5070
3973
2564
556
106.5/127
76/104
415/1400
40
5230
4069
2564
566
106.5/127
84/114
430/1650
40
5370
4069
2564
616
106.5/127
84/115
457/1500
40
5610
4255
2820
656
106.5/127
97/132
528/1400
40
6100
4726
2820
696
106.5/127
107/146
585/1650
40
6690
4726
2820
816
106.5/127
120/164
664/1400
40
7640
4535
2876
826
106.5/127
133/181
759/1400
40
7960
4535
2876
836
106.5/127
151/20
820/1650
40
8320
4616
2876
Keep up to date in the industry by signing up to Farm Trader's free newsletter or liking us on Facebook