Sweet Simplicity
---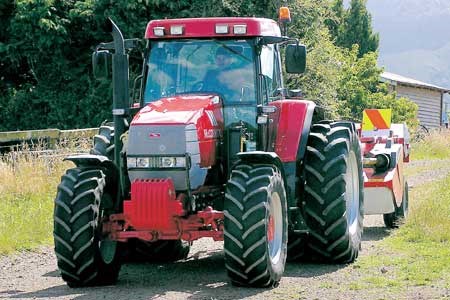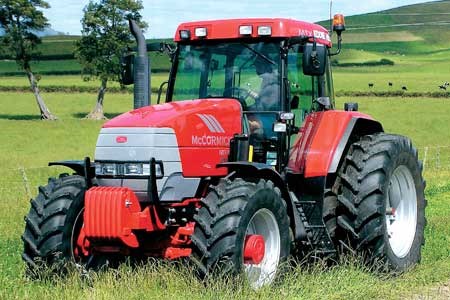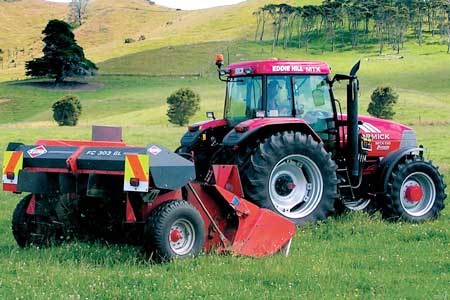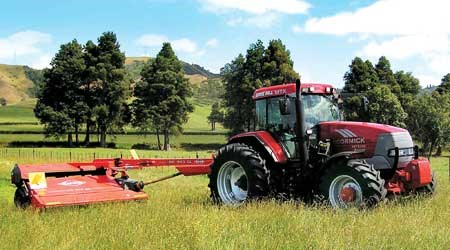 The MTX150 keeps things simple and reliable, while delivering all the functions you need.
By Terry Stevenson
Not all farmers and contractors want the latest cutting edge technology in their tractors. Often they want to keep things simple so it's easy to teach a new driver how to operate it, knowing they won't break something because they got lost in all the technology.
That's where the McCormick range sits. Through Power Farming that old name made a welcome return to the New Zealand market just four years ago and is already making fast inroads to customers wanting simple, basic farm tractors.
Eddie Hill took delivery of an MTX150 last October, replacing a seven-year-old Case MX135. Hill has been contracting eight seasons with his own baler, covering from Tahuna in the east, to Hamilton in the south and as far as Meremere in the north, although typically most work is local.
The MTX150 is used for some cultivation and fertilizer work, but mowing is its main task. It is also used around the farm doing general loader work using the large Pearson 20-42 front-end loader.
For our test, Hill's MTX150 pulled a Kuhn FC 303GL 3m trailed mower/conditioner, but it also hauls a 3m 3002 Kuhn power harrow and a 3m set of rippers.
Although the MTX150 bonnet comes up quite high, overall visibility from the cab is good due to the large and unobstructed cabin windows. The seams on the lower front windows are reinforced with steel to prevent them popping out from suspension movement.
The easy-access cab has hydraulically controlled active suspension, and the arrangement has a pair of hydraulic rise and fall rams which smooth out the bumps to minimise movement transferred to the driver. It works fantastically too as it has a rod to prevent the cab from moving sideways. Without bouncing around all over the place the cab stayed very stable as the suspension soaked up the bumps. The full-spec pneumatic seat swivels about ten degrees and has two air lumber adjustments. There are plenty of lights fitted as standard and the machine also came with non-standard heated, remote power operated mirrors.
With a 152hp output, there's no denying the MTX150 has plenty of power for most work and it didn't blink when Hill put the mower through its paces. The turbocharged, intercooled, six-cylinder two-valve Cummins powerplant may not have the latest electronically controlled common rail injection system but it sure does the job while relying on simplicity and reliability - more than technology.
"McCormick made a decision to keep their engines real basic up to 150hp, so the engine is just a simple two-valve motor. The whole set-up is good value for money. Our machine has bar axles, so we can put our dual wheels on, it's got front suspension and cab suspension." The bonnet and side panels come off pretty easily but you need a screwdriver to get at the radiator.
The cast steel chassis keeps the whole tractor rigid to provide a stable platform for heavy work. A great advantage of cast steel frames is that a true casting absorbs vibration while a steel frame carries, and sometimes amplifies, it. Just like a motorcycle, the frame cradles the engine so doesn't require the approx 200kg heavier sump that is utilised by other manufacturers who share the same engine - but is integral with the overall structure.
The gearbox has 16 forward ratios (12 reverse), made up of four speed ranges. When the tractor is started, it always defaulted to fifth gear, which really needed to be ninth. With a numerical LED readout on the operators stick telling the operator which gear they are in, the button change between gears is as easy as it gets. To skip ranges just hold the forefinger button in and it will go straight into the next range. Do it twice and it'll skip two ranges, or hold both buttons in at the same time to go into neutral. Plus, you can program it to take off in, say, fifth reverse or seventh forward, provided it is in the same range.
For mowing, Hill typically runs the MTX150 in the third range (9-12), and power harrows in the second range (5-8). The soft shift function only works in the highest range.
The two-speed PTO drive spins at 540 or 1000rpm and comes with four hydraulic outlets rated at 109 litres per minute. Any operator will appreciate the linkage rise/fall and PTO buttons fitted to each mudguard. Road stopping on this model is good too, as it came with non-standard disc front brakes - fitted inside the front hubs.
The MTX150 has Ride Control to reduce the pendulum effect from heavy items on the rear linkage, after riding over large bumps. When the system is engaged, hydraulic fluid is pumped in and out of the hydraulic system to compensate for each bounce. Slip Control is another feature.
Every McCormick over 100hp comes with twin batteries as standard for cold starting, a battery isolator and a jump stud - for easy fitting of jumper lead crocodile clips in case of a flat battery.
Overall, Hill is happy with his choice of machine, "You've got to realise you are not buying a top of the range tractor, you are buying a value for money tractor. I think a lot of the bugs over the years from Case IH have been ironed out and improved. Of course we have good back-up from Power Farming in Morrinsville too."
The McCormick MTX150 may not have all the latest bells and whistles but, even with simple technology, it is certainly proving itself as a major part of Hill's contracting business.
For more information contact your local Power Farming branch.
SPECIFICATIONS: McCormick MTX150
Engine max power (PS/kW): 152/112
Rated speed (rpm): 2200
No of cylinders: 6
Bore/stroke (mm): 104/132
Max gross torque (Nm): 582
Fuel tank capacity: 265 litres
No of speeds: 16 + 12
No of speeds with creeper: 32 + 24
Max lift capacity (kg): 6602
Weight with standard equipment (kg): 6160
Wheelbase (mm): 2723
Overall length (mm): 5160
Overall width (mm): 2300
Keep up to date in the industry by signing up to Farm Trader's free newsletter or liking us on Facebook