Big value, big power
---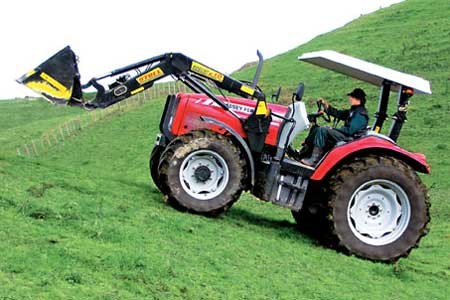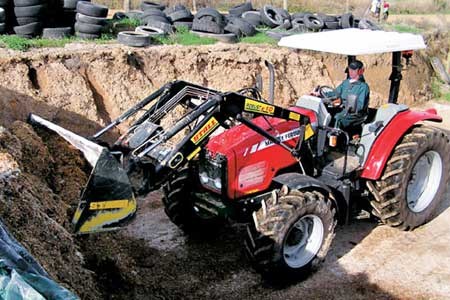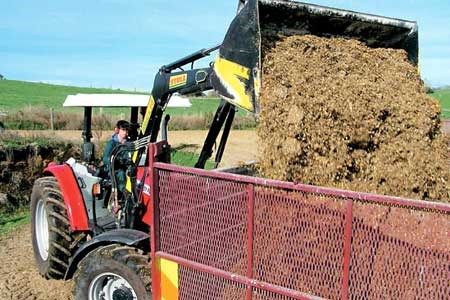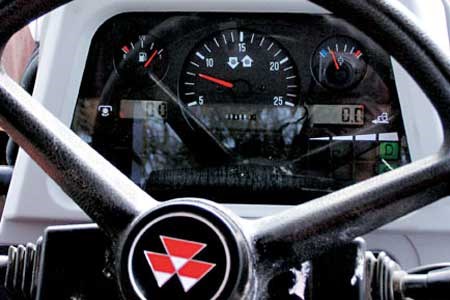 With good power, towing and braking capacity, a Massey Ferguson MF 5445 is proving its worth on a Tirau dairy farm.
By Terry Stevenson
Every farmer has either owned or driven a Massey Ferguson. Many would have earned their keep on the post WWII Ferguson TE-20. Some are still in service today - go to any fishing settlement and you'll spot more than a few still hauling in fishing boats in conditions more suited to seagulls. Many more are parked up in sheds around the country.
Massey Ferguson has come a long way since Daniel Massey opened a workshop in 1847, and then joined up with fellow Canadian Alanson Harris in 1891 to form Massey-Harris. It was one of the first companies to produce a workable 4WD tractor, the front heavy Massey-Harris "Widow maker" in 1930. They merged with the England-based Harry Ferguson Ltd in 1953, to become Massey-Harris-Ferguson. Harry Ferguson invented the three-point linkage system, which expanded the capability of all tractors by allowing the use of implements on a tractor. Five years later, common sense prevailed and the company became Massey Ferguson, which was later purchased in 1995 by the US-based AGCO Corporation.
This month, our Massey Ferguson MF 5445 test tractor was kindly provided by Tirau farmer Jack Steeghs, with teenage sons Brett and Rory sharing the driving duties. The Steeghs milk 270 Friesian cross cows on a 22-aside herringbone shed on their 80ha dairy farm, which has SH1 running right through the middle of it. An underpass solves part of the problem, but only their old cut-down 50hp Fiat 500 tractor will fit through it - its sole job is to scrape out the underpass. A manager runs the farm, which is set in flat to gentle rolling hills. With the land so productive, silage is their only crop, so they buy in around 70 ton of maize each year.
A 1978 60hp International 584 serves as a hack doing odd jobs, including urea spreading. But Steeghs' main tractor was an 80hp Massey Ferguson 390 and, after 15 years of good service and 2500 hours, it made way last year for their new 90hp MF 5445, purchased from Matamata Tractors. Jack explained, "We do a lot more feeding out now than we used to, and probably the time was right to look for another one. We'd had a really good run with it and we didn't want to push our luck too much."
Jack looked at several brands before settling on the Massey Ferguson. Like many farmers today he chose a 90hp machine because he can see the value in having the extra power and functions available on a slightly larger tractor.
"For the price difference, which was very minimal, you can never have too much power," he says. "Seems to be most farmers have the same sort of attitude now. So for the money you've got a bit more horsepower and bigger rubber."
Testing the terrain
With 500 hours under its belt, the 3670kg MF5445 handled the lush green terrain well, the turning circle seemed to be excellent. The brakes weren't quite as good on a steep downhill as other machines I've tested, although they certainly work okay. The Steeghs really like the new four-wheel braking system, where all four wheels slow the tractor down even if it's not in 4WD. Prior to the MF 5445, they had to keep their old model in 4WD full time so that they could slow down on the hills, especially with a seven-tonne (empty) silage trailer on. It has an automatic function for the diff lock, which means when the three-point linkage is down, the diff lock is engaged. Lift it up and the diff lock disengages, allowing the operator to turn without having to disengage and engage it all the time.
The boys really liked the front mudguards, raving about hardly ever having to clean the tractor because the guards prevent so much mud from flying around. Which was certainly the case in my test. As usual I had no problems with the position of the driver's controls on this ROPS tractor. One observation was the flat-floored driver's platform. I like them - the driver sits higher and gets a better all-round view, although it's always one extra step to climb when a farmer is continuously getting on and off his tractor. There's a steel frame around the front of the platform with wide-spaced mirrors mounted from it. The Steeghs find the wide mirror position comes in handy, especially when crossing SH1, doing silage work and driving through gateways with the wagon on to see where the posts are. The exhaust exits slightly lower than the canopy, but even when driving into the wind there hasn't been any trouble with fumes.
The MF 5445 has a built-in safety start-up. The 16 speed high-low ratio gearbox and shuttle levers must be in neutral to start, with clutch in. Ripping through the paddocks it was easy to hit the electric select buttons on the control stick to do range changes and change up or down (21 percent) a ratio in between gears, to obtain that ideal ground and engine speed. The easy to read combined digital and analogue display always told us what gear and range we were in. The gear change had quite long throws between each gear change, which felt a little bit notchy as I took it through the gears going up or down but, again, not really significant and probably just something that you get used to over time.
As expected, the wet-clutch shuttle has proved popular and saves about a quarter of their time, according to Steeghs. There was no jerkiness on take off or anything like that, it was just brilliant.
Power was great coming from the 4.4-litre turbocharged four-cylinder 90hp Perkins 1100 Series engine. With peak torque 380Nm at 1400rpm, its power seemed to be on a par with other similar sized tractors I've tested. Under load it held its power and torque really well from any rev range, even while the engine was labouring up a hill and dropping revs, it still kept its speed.
The three-speed PTO has a pushdown button, turn it to engage and tap it to disengage. Turning it to the right sets off the PTO brake. At the back it has a quick hitch on the stabiliser bars, which Jack also liked. Two hydraulic outlets pumping out 57l/min take care of accessory duties. We didn't unhook it, but the quick attach Stoll F10 front-end loader was well up to the task with a third service and quick dump function.
Our decibel meter showed how quiet this ROPS Massey Ferguson is. At idle I measured 86 decibels from the side, 90 at the front and found it quieter in the driver's seat at 85dB (88 at 1400 revs). A little noise reflection came from the canopy. Drive-by passes gave figures of 88dB at 1000rpm and 86 at 2000rpm. That's pretty quiet for a revving engine, which also recorded 92dB at 2000rpm from the driver's seat while moving.
With good power, towing and braking capacity, the Massey Ferguson MF5445 is definitely up to the task on the Steeghs' farm.
SPECIFICATIONS MF 5445
Engine: Perkins 1104C-44T Turbo
Cylinders: 4
Engine power @ 2200 rev/min (hp/kW): 90 (67)
Max torque @ rev/min (Nm): 380/1400
Specific fuel consumption (g/kWh): 210
Forward speed range (kph): 2.6-38
Max lift capacity (kg): 5000
Cab weight - 2WD/4WD (kg): 3605/3900
Length - links horizontal (m): 4.21
Overall cab height - with standard roof (m): 2.72
Wheelbase (m): 2.46
Turning circle - 2WD/4WD (m): 7.4/8.4
Fuel tank capacity (l): 130
Keep up to date in the industry by signing up to Farm Trader's free newsletter or liking us on Facebook