Top Claas Celt
---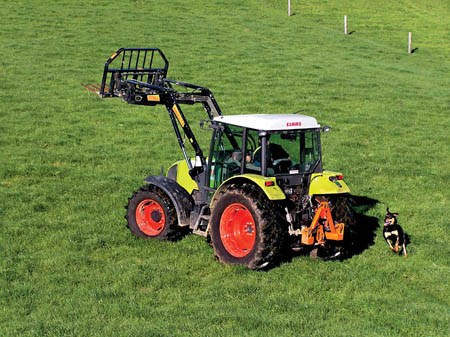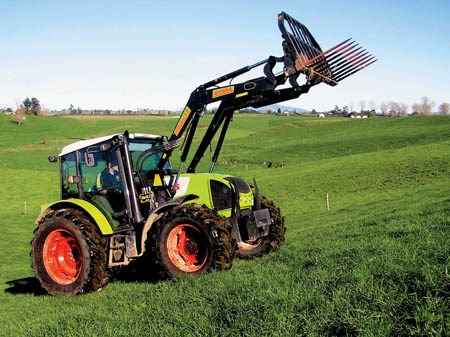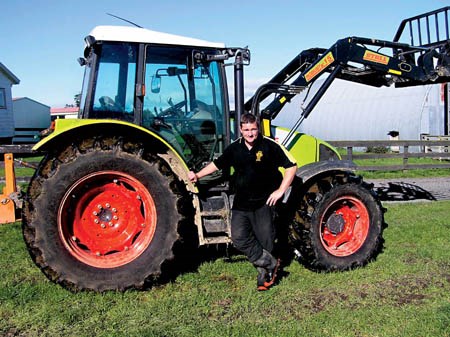 Claas Celtis 446 Tractor Test - Investing in a cab tractor has saved a Te Poi farmer time, fuel and, most importantly, costs
The competitive 90 horsepower tractor market has just got hotter with the introduction of the new Claas Celtis 446. This machine is fantastic and even though I rate most other makes well, this model really does stand out. It's not perfect, which I'll go into more detail about later, but overall it's pretty good. Launched in January, the Claas Celtis 446 comes off the back of the Renault Cergos, with a restyled exterior and cab.
A keen rugby man who likes his fishing, Shane Goldsmith runs a 68ha third generation dairy farm at Te Poi, near Matamata. The area is very central: Tauranga and Rotorua are within 30 minutes, Taupo an hour away, fishing in Coromandel less. And Hamilton is only 45 minutes away, where agents Landpower Waikato are based.
Goldsmith milks around 235 cows through a 20-aside herringbone shed. He went onto single day morning milking in mid-February, and says it has worked out really well as it allows him more time on the farm and to develop a new 33ha block at Okoroire, some 11km away. Silage is produced on the home farm, with maize grown on the new block, the main purpose being to take the pressure off the producing home farm. He also runs heifers there, instead of shelling out to someone else for winter grazing.
With a block 20 minutes away by tractor, it was very important for Goldsmith to buy a cab tractor. The difference meant that while developing it he could stay down there and work in the dark to finish a job. It doesn't matter what time of year it is, or how cold and wet it might be, the job gets completed, saving him having to return the following day to finish the task. This reduces things like stress, fuel costs, time, tyre wear and not least, wear and tear and general running costs of the tractor.
"You hear the odd farmer say, "Yeah, don't need a cab, they just get too dirty", but certainly now I'd never go back to a tractor that didn't have a cab," Goldsmith says.
But isn't it a hassle getting in and out of the cab? "Let's face it, how often do you get in and out of a tractor now - it's not a hell of a lot. I've got a quick hitch to pick the wagon up, and all I do is pick it up and go. And when I get to the gate, I plug my hydraulic plugs in, and open the gate. And that's it! When I come out I shut the gate, pull my plugs out and drop my trailer off. You don't have to get out of the tractor when you're coming home – it all works quite well."
Goldsmith chose to go with a 92hp model because of the extra power required to haul a slightly heavier cab tractor, compared to his old 85hp ROPS machine. He's only had it a few months doing general farm work and already Goldsmith is enjoying its advantages. Feeding out is currently its main job, although a couple of paddocks have been rotary hoed already, plus he's done some post ramming too.

Modern moving
Aesthetically a good-looking tractor, the Celtis 446 has a modern shape low-nose configuration, which gives excellent forward vision. It also has many practical features, such as front mudguards, a fold-down sun visor, a low-height fuel inlet, an easy access radiator for cleaning and an adjustable flow hydraulic outlet.
There isn't anything flash in the flat-floored cab to confuse a new driver. It's all there in basic form and function – as much as any farmer needs, including a couple of cup holders, which Goldsmith makes good use of. The seat is air operated, which he says works quite well, particularly when his daughter Michelle gets in and simply pushes a button to lower it. The handy buddy seat folds away easily, too. The external lights work very well at night and offer good vision, especially at the back. Speaking of vision, the vertical and horizontal cab pillars are somewhat larger than you'll find on other tractors.
Having driven many tractors with good-sized mirrors, I thought the Celtis 446 mirrors were a bit on the small side and could be improved on. The doors hinge from the front, like a car. I'm not a huge fan of this system, but once you get used to the way they work, there can't be much difference in speed of entry between the two systems. Goldsmith has a hands-off approach. When he gets out he opens the door right out and clicks it into position, 180° from closed. He leaves the door alone when he climbs back in, which swings back and shuts automatically from the forward motion of the tractor as soon as he takes off.
The big 4.5-litre Tier II DPS (Deere Power Systems) engine, with only two valves per cylinder and individual injectors, is simply amazing. Although rated at 365Nm of torque (at 1400rpm), the engine management system provides incredible torque back-up for ground or hill work, and, it revs as though it was a petrol engine! That's right, in any gear the turbocharged four cylinder motor will quickly rev out to around 2400rpm – without the typical diesel laziness and delay. Responsive is the word. The difference was easily noticeable and considerably better than other machines. One feature Goldsmith really liked was the engine braking, where he doesn't have to use the brakes, especially with a loaded wagon on a rainy day.
Being so new, the gearbox was still a bit notchy. With a total of 20 speeds via a five speed gearbox and high/low ratio, the operator can also go either up/down near a half ratio through the handy electronic gear change power shift on the stick, which also has a neutral button. The quick shift was a little bit jerky, not bad, and probably in time that will wear in too. The ratios seemed to be in the right places.
The heavy 4410kg Celtis 446 is the first wet clutch Goldsmith has owned, and already he has found it very useful by speeding up loading his feedout wagon. I found the wet clutch works well, although it was quite jerky when I went from forwards to back then forwards again, which could be related to the very wet grass under foot after three weeks of heavy rain.
One feature I liked was the four-wheel drive system where, if engaged, and the driver increased speed above 15kph, it would automatically disengage. Once the driver slows down again, 4WD automatically re-engages.
At the business end, the Celtis 446 has a large one-way hydraulic valve for the likes of post ramming, etc. With two double acting remote hydraulic outlets, rated at an above average 69l/min, one system is adjustable for flow rate at the valve. With many implements only requiring around 35l/min, adjusting the flow down can help save blowing a few hoses. Unlike most tractors, the inlet and outlets are positioned horizontally, rather than vertical to each other. The PTO is the usual three-speed affair.
The Claas has an interesting horizontal joystick mounted on the right rear guard, to control the linkage rise and fall. It works well, but shouldn't it be positioned on the left hand guard – the same side the operator gets in and out of the tractor? Goldsmith has no issue with the quick-hitch Stoll Robust F15 that came fitted. He tends to leave it on most of the time unless doing speed related work
During our sound test we recorded 93dB at idle from the side, 96.5 from the front and 89 inside the cab. The Celtis 446 sounds quiet at idle – but gets down to 82dB at 1500rpm, which doesn't get any louder at higher revs. So she's pretty quiet in the cab! In the 1000rpm drive-by, both passes recorded 91dB, and 90 at 2000rpm.
Just after delivery over summer Goldsmith found the airconditioning unit didn't work. He rang Landpower Waikato at 4.00pm – and the technician arrived by 5.00pm. "They must have just jumped in the car and came straight over, and they stayed till they got it fixed. I was impressed with that!
"I've probably picked up extra horsepower, even with the cab, and there are a lot more features on the tractor," Goldsmith says. "I'm certainly very happy with it – highly impressed and have no trouble recommending it to anyone. It will go anywhere on this farm so that's all I need, isn't it?"
By Terry Stevenson
SPECIFICATIONS
Claas Celtis 446
Engine: Deere Power Systems
Cylinders: 4/watercooled
Bore/stroke (mm): 106.5/127
Displacement (cm2): 4525
Power rating (kW/hp) at 2200rpm: 66/90
Max power (kW/hp) at 2000rpm: 68/92
Max torque (Nm/rpm): 365/1400
Fuel tank capacity (l): 145
Max speed (kph): 40
Unladen weight (kg): 4410
Overall length (mm): 3957
Max overall width (mm): 2510
Wheelbase (mm): 2489
Ground clearance (mm): 420
Min turning circle (mm): 4350
Max lifting capacity (kg): 5800
Keep up to date in the industry by signing up to Farm Trader's free newsletter or liking us on Facebook