All-terrain mowing
---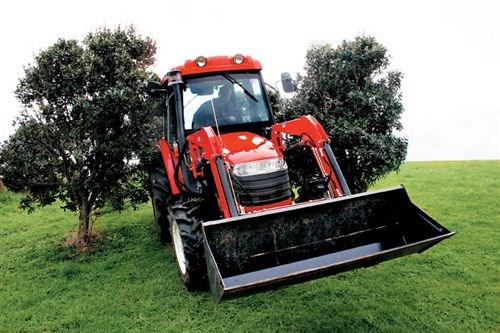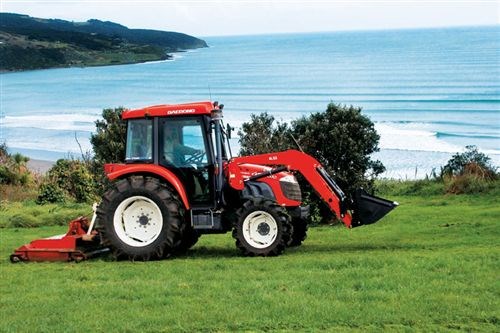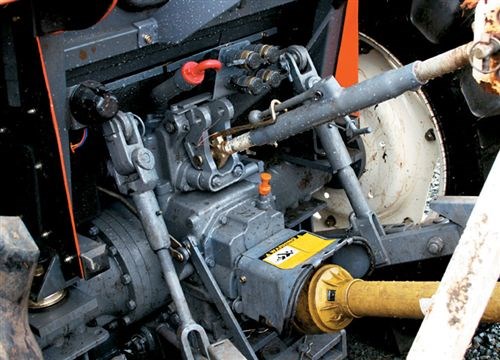 All-terrain mowing Available through Power Farming, Daedong has been on the New Zealand market for five years, and its popularity is growing. After testing the 55hp DK551, Terry Stevenson can see why.
Available through Power Farming, Daedong has been on the New Zealand market for five years, and its popularity is growing. After testing the 55hp DK551, Terry Stevenson can see why.
Daedong was founded in Korea back in 1947, producing its first engine that same year. Technical cooperation with Ford USA in 1968 was followed by improved production systems during the 1980s and '90s, evolving into the tractors we see today.
Dion Gough is a Raglan dry stock farm manager, employed by the Waikato District Council. With around 100-120 head of cattle, Gough manages the Council's 121-hectare Raglan farm and does full-time mowing of the Council's Manu Bay, Whale Bay, Ocean Beach and the Wainui Reserves. Manu Bay and Wainui Reserve are very large parks, each taking around six to seven hours to mow, depending on the season, weather, length and condition of the grass.
Because his work is year-round and in very cold, windy west coast beach conditions, Gough recommended to the Council the purchase of a cab tractor. He would often get wet and, as you can imagine, freezing cold while out mowing. Looking around the 50hp small tractor market, Gough discovered little to choose from, although the Daedong DK551 offered a turbo unit to boost performance to 55hp, slightly more than another tractor on offer. A couple of other features steered him towards the Daedong, namely a very sturdy looking front end, very strong cab framework and good finishing. He chose the 55hp turbocharged model because he wanted the extra power that his 35hp Iseki tractor didn't have.
Gough liked it. "That was just brilliant, but it had an open cab and you get a lot of wind out here, lots of rain squalls, and in summer you have the sun, so we decided to get something with a cab on it – air conditioned."
After only six weeks' use, the new DK551 has allowed him to operate in comfort at any time of the day or season. More work gets done – more often, with a resultant increase in productivity, and working conditions. Travelling to and from work is no longer an issue either. With the Daedong's 30kph top speed, Gough is on site and set to go in less than 15 minutes.
Finding that 35hp wasn't quite up to the job, especially when the grass is long in the spring and autumn, they went for the 55hp model to help get through the thick grass. Gough's choice appears to be a good one for what he does. "With a turbo, it seemed to suit me for the type of work I'm doing. It does tractor work, farm work, mowing, front end loader work – it's an all round good tractor and, yeah, the front-end loader on it is great too."
Implements used by the DK551 include a carry all tray and a grader blade – if you're not in a hurry – for gravel work on tracks and around the farm troughs.
Even though it is a small tractor, the Daedong's turning circle seems incredibly small. It was so easy to drive that anybody could take off in it with minimum instruction. Its handling was great and much easier to manage than a normal sized tractor. With switchable 4WD and 2.8m turning circle, it can go almost anywhere, even with the 1.9m Trimax mower mounted almost permanently on the back.
A low exhaust was another feature Gough wanted as he often has to work around trees with branches sticking out – the old tractor's exhaust used to get heavily knocked around. The DK551 exhaust outlet is on the left-hand side near the front axle, also offering unobstructed forward vision from the roomy cabin.
Once inside the cabin (optional), I was genuinely surprised how much room there was. There is plenty of legroom to the controls as the seat is mounted quite a way back, into the flat-floored cab. The controls themselves were well placed except for the forward reverse lever, which, being on the left and in front of the seat, is a fraction in the way when climbing in and out, although Gough says it isn't an issue. The steering wheel is tiltable and so when Gough is working he pulls the steering wheel back towards him to make life easier, in his special air seat, supplied by Tidd Ross Todd in Hamilton.
Air conditioning was an attraction on the DK551, which I'm sure Gough will use to good effect during summer. The controls are mounted in the ceiling, beside the pop-up roof vent, standard Panasonic radio/cassette player, heater control, and wiper and light switches. There's even room for a tiny spare seat and a couple of cup holders.
Generously sized and in the right places, the mirrors are really good, too. A very strong frame wraps around the whole cabin, which wouldn't look out of place on a larger tractor.
Out in the paddock the four-cylinder Daedong diesel engine was very free revving. Even from 1000rpm, it would zip right up to its 2500 redline in an instant. And up to 2700 no problem at all, but, generally, after about 2200rpm there's not much point revving it. Pretty good power all round really and, while the grass we mowed wasn't terribly long, the engine didn't even notice the extra strain. The engine itself is nestled inside a thick reinforced frame, where the hugely oversized 30mm thick steel plate for the front-end loader mounts onto. The only thing you'll break on that would be the bucket!
In 4WD, I drove it up a couple of decent hills in deliberately tall gears to get a handle on where the 2197cc powerplant ran out of steam. Basically, it didn't. So I gave up after a while, shaking my head as it held its revs on the wet ground no matter where the tractor was going or what it was doing. Not surprisingly, Gough is also happy with the power.
"You'd be able to run a 2.5m mower on it no trouble at all, it's just your gear selection for the terrain that you are going over."
Our test tractor had only 30 hours on the clock, so the gears were still quite stiff. Probably in time they will mesh in better and become a lot easier, but just a bit clunky and took a little while to get through the 12-speed gearbox at this stage of its life.
Gough hasn't used the rear hydraulics yet, but, to give a rundown at the rear, the DK551 has 540 and 1000rpm PTO speeds (both at 2500 engine rpm), a linkage lifting capacity of 1200kg, and a pair of hydraulic outlets pumping a maximum of 36 litres per minute.
The loader came with the tractor and was very simple and easy to operate. Gough says it takes around five minutes to disconnect, and ten to reconnect it. On the service side the bonnet opens up easily on a gas strut to give good access to the battery, air filter and the radiators. Its fuel efficiency is right up there, too, Gough can mow for six hours on only half a tank.
Power Farming's Daedong and Iseki National Manager, Paul Le Prou, says the DK551 has been very reliable. He says although a 55hp tractor is too big for a lifestyle block, farmers are tending to use them as a utility vehicle. Other typical users include councils, where the excellent forward visibility provides good vision for the likes of road sweepers.
Gough is clearly happy in his new workplace. "It leaves a real nice golf course like finish, as long as you keep on the blades and don't hit any rocks."
Does he think he will ever run out of mowing power? "Never, not with this tractor," Gough said.
SPECIFICATIONS
Daedong DK551
Engine: 4A220T vertical, water-cooled 4-cylinder diesel
Engine gross power: 55hp
Rated speed: 2600rpm
Displacement: 2197cc
Fuel tank capacity: 68L
Gears (fwd/rev): 12F/12R 
Min travel speed: 0.42kph
Max travel speed: 27.9kph
Weight w/Ag tyres w/ROPS: 2125kg
Weight w/Ag tyres w/cab: 2316kg
Dimension (w/AG tyres)
Length w/3-point hitch: 3266mm
Width: 1760mm
Wheelbase: 1950mm
Ground clearance: 445mm
Turning Radius w/brake: 2805mm
Turning Radius w/o brake: 3685mm
Keep up to date in the industry by signing up to Farm Trader's free newsletter or liking us on Facebook