Scoop it up
---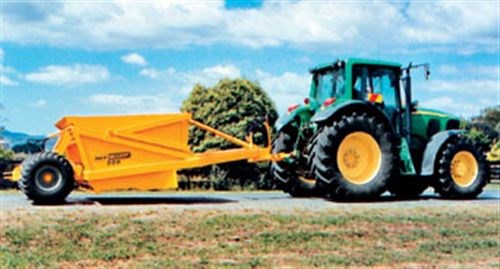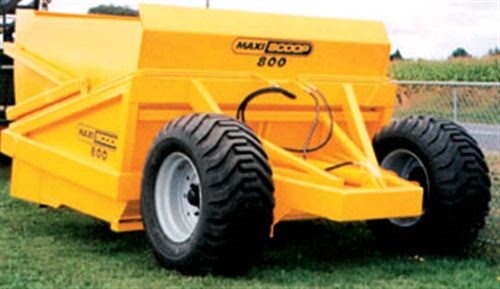 Conceived and built in New Zealand, the earthmoving Maxiscoop range has two new additions
Since 1963, Hautapu Welders have been making tractor-drawn, two-wheeled scoops, which have improved in strength, simplicity and size. Now, two new sizes have recently been added to the Maxiscoop range – the 500 and 800.
The Maxiscoop 500 was a result of customer demand for a 2.4m-wide cut, and they have become the most popular model of the year, handling comfortably behind a 130hp tractor. The Maxiscoop 800 was born of the demand for a big scoop to match a big tractor. Subsequently, it has a 2.63m wide cutting width, holds extra material and needs a 200hp tractor to pull it to capacity.
Specifically designed for tractors, the Maxiscoop is made with a strong frame and strengthening gussets to prevent cracks and twisting over even the roughest terrain. The unique design and wheel placement ensures the weight is transferred evenly over the scoop and tractor so that stress points are minimal. Tractor grip tyres with the correct size-to-weight ratio are used to give excellent traction and the tailgate is fully braced to eliminate any stress when unloading the scoop.
The Maxiscoop only requires three hydraulic rams for complete operation to load, carry, dump, spread and tilt the axle and cutting edge. The tilting axle is now standard, and tilts the cutting edge up to 120mm, or approximately five degrees, to give an angled cut on roadways and hillsides.
The machine is very tough and durable, with a low centre to gravity to ensure stability over various terrain, and rams mounted at the ends of the machine to relieve strain on the frame. It is easily and quickly attached to the tractor plough arms and hydraulic bank with the hoses and drawbar supplied.
The speed and accuracy of the machine means it is very cost effective for operators. All you need is two or three double acting hydraulic banks and a comfy tractor cab to fill up a Maxiscoop in 20 seconds or less.
The Hautapu scoops incorporate many unique features including cutting edges the full width of the machine to cut up banks, and a stepped blade in the centre for a faster bite. Customised extras, options and colours are also available.
The MaxiScoop 500 and 800 are available from Hautapu Welders, ph (07) 827 5153 or 0800 SCOOPS.
Specs
Maxi Scoop M500 M800
Capacity fully loaded 5.5m3 9.0m3
Horsepower required 130hp+ 200hp+
Width of cut 2.4m 2.63m
Depth of cut FULLY ADJUSTABLE
Tyres – Std tractor grip 400/60 – 15.5 500/60 – 22.5
Frame RHS 150x75x9mm 200x100x9mm
Base – plate 10mm 12mm
Side and apron – plate 6mm 8mm
Cutting edge thickness 20mm W/A 20mm W/A
Overall width 2.4m 2.63m
Overall length 5.4m 5.9m
Overall height 1.4m 1.95m
Keep up to date in the industry by signing up to Farm Trader's free newsletter or liking us on Facebook