Future of farming
---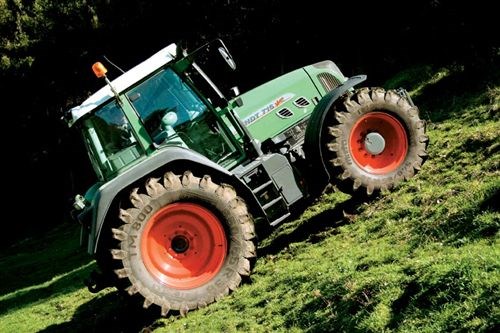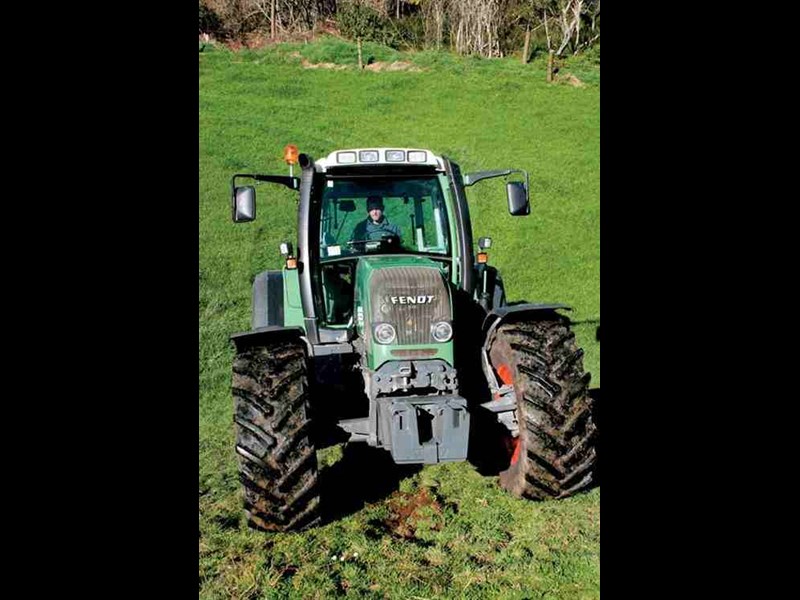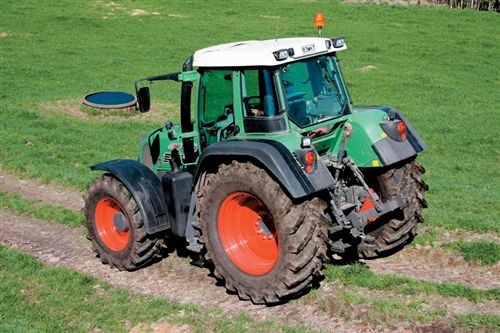 Tractor technology has come a long way in the past few years, to the point where a modern tractor might have several on-board computers running the show. Terry Stevenson tests the Fendt's 716 Vario, a machine that impresses with its electronics.
Marc Diprose is a lower-order sharemilker on his parents' family farm. Situated only 5 minutes from Matamata, the mostly flat 70ha farm is used to run 300 cows milked through an 18 aside herringbone shed by Marc and his father Cliff.
The Diprose's have a 50ha run-off 4.5km away, which carries their young stock and around half the herd over winter. Their farm tractor is an 80hp Massey Ferguson 4235, which tackles the feeding out and day-to-day farm work, including travelling to the run-off. Marc is very happy with the Massey Ferguson, which replaced an old 2WD 265 model, particularly with the sloping bonnet while working with the loader.
The past four years, Marc's second job is doing contract work in the Matamata area – now with his 10-month-old Fendt Vario 716 tractor. It keeps him busy, but not year-round.
Marc explains what drove him into a Fendt. "Basically its reputation is what got us looking at it, and the more you look the more you like it. It is very well made. Aside from its electronics, everything is steel with very little plastic – cast everything, and it's a solid tractor. It's compact – a lot of tractors of that horsepower are quite big and clumsy and for the work I do, that's an issue. Around Matamata especially – with the paddock sizes being a bit smaller than elsewhere."
The 50kph top speed is a great help, too, and Marc raved about how good it was after a long day's work with the front wheel and cab suspension. He's always looking for extra work, he says, as the Fendt is currently mainly used for silage loader wagon work, mowing, undersowing and direct drilling, with only a little bit of cultivation.
Fendt has sold over 35,000 Vario models worldwide as members of the US-based AGCO Corporation, which now includes Valtra, and is the world's third largest manufacturer and distributor of agricultural equipment. Fendt tractors are produced by around 1900 employees in a small town near Munich, Germany, and this year it is celebrating 75 years since their original Dieselross (Diesel Horse) tractor, built in 1930 by Johann Fendt.
Marc's Vario 716 replaced a 135hp Massey Ferguson 6092 and, while he said he doesn't actually need all of the available 170hp on tap just yet, he certainly hasn't looked back by choosing an overpowered machine that does the job more easily.
"We use it all on the loader wagon. Probably 150hp is enough, but a little extra is nice for pulling its weight when full, it can weigh a good 10 tonne. It's plenty for the undersower, but then the undersowers are getting bigger and heavier now. It definitely has plenty of power but once you've had plenty, you don't want to go back!"
With a 2700mm wheelbase, the Vario 716 is a relatively small tractor for its power output. Diprose took it up some steep hills where I thought it would really struggle. Even on wet ground, the Fendt's wheels hardly slipped as it clawed its way upwards in 4WD. The variable drive definitely showed its mettle and worth, because if it can get up those sorts of inclines, imagine the situations it can get out of in a difficult paddock with a large implement on the back.
The cab isn't as big or roomy as I thought it would be. Forward visibility was great, although the cab pillars are quite large, perhaps all the better for safety for a tractor of this weight. About the only thing missing inside this F16-like cockpit is that it doesn't have any sort of storage box, other than a tiny tray for the manuals. If you look hard, you'll find a couple drink holders, but I guess you'll have to leave your sandwiches on the dash where they'll cook! A small kiddy's seat comes standard, along with nice big mirrors and a ton of outside lights. Near the fully digital dash is a comprehensive diagnostic system and on the easy to understand dash is a basic symbol to let the operator know which range they are in. A bar graph advises the level of wheel slip, when required.
The Variotronic controller is the heart of this Fendt. There are three main elements to the Vario system: the joystick, monitor and the control console. There are multi-functions for everything, some even crossover various control modes.
The joystick is the most important driver control, as this is the operator's main take off, accelerate, slow and stop lever all rolled into one. To get going, the driver has to pull in a safety toggle at the back of the joystick, before pushing the stick forward to signal the computer you wish to move forward. Continue to hold it in the forward position and the machine will accelerate to your pre-set speed, or until you bring the stick into the neutral position. Want to slow down? Just pull it back until you reach your desired speed or, hold it back and the 6200kg Fendt will stop in its tracks.
The real value for the contractor is the Vario system that allows the operator to adjust and control just about everything. From hydraulic pumping flow rates and durations, linkage rise, fall and height, transmission, PTO take-up, rpm and slow down speeds, clutch action, wheel slip, pre-set memories for different implements, an area meter, radar/non radar for ground speed (Marc uses this to gain an accurate area count when drilling and sowing), headland management and a multitude of other functions.
The engine is a 5.7-litre six-cylinder Deutz diesel powerplant with four valves per cylinder and six-hole injection nozzles. It pumps out a fat 169hp from 1800 to 2100rpm, and a whopping 724Nm of torque from 1400 to 1500rpm. That's one flexible and very quiet running engine.
One of Marc's biggest surprises was that the Vario 716 uses less diesel than its replacement! "With the gearbox always at the right speed for the job, it's quite efficient. It uses less fuel than the tractor it replaced, which had 30hp less. So it's definitely a bonus in that area."
Even though it has a clutch and a foot throttle, by far the best way to drive it is by setting the engine speed (with two adjustable rpm speeds) on the dial and using the joystick for forward movement. Marc has the engine set at 1000rpm for loader wagon and power harrowing work, and 1200rpm for general driving. For my benefit we electronically swapped forward and reverse control from the joystick to the left hand shuttle, which I'm more used to. But after a short time I found the joystick was a better system, it just takes getting used to.
There are far too many features on the Fendt to list them all, but I was taken by the build quality and sheer strength of even the over engineered steel plates and bars, which the wide front guards mount onto. Check out the big stabiliser bars and the huge cast chassis. The rear guards are extended to cover the entire Pirelli tyres while the seven radiators are all easily accessible to clean – one of the best. By Terry Stevenson
SPECIFICATIONS
Favorit 700 Vario
Model: 711 712 714 716
Engine output (kW/hp): 85/115 92/125 103/140 118/160
Max output (kW/hp) 1800-2000 U/min: 93/126 101/137 112/152 129/175
No of cylinders: 6/water/4-valve technology/turbo
Bore/stroke (mm): 98/126/5702
Rated speed (rpm): 2100
Max. torque (Nm at 1450 rpm): 548 597 672 760
Fuel tank (litres): 300 300 340 340
Transmission field (fwd/rev): 0,02-28kph/0,02-16kph
Top speed (kph): 50
Lift capacity front power lift (kN/kp): 37,5 / 3822
Unladen weight (kg): 54 49 47 41
Payload (kg) / max. payload (kg): 1850 / 3330 1800 / 3330 1750 / 4445 1700 / 4445
Ground clearance (mm): 528 528 576 576
Keep up to date in the industry by signing up to Farm Trader's free newsletter or liking us on Facebook