CAB comfort
---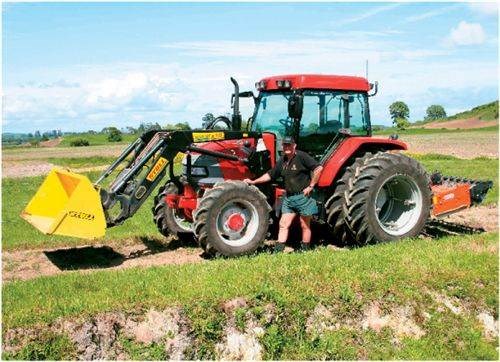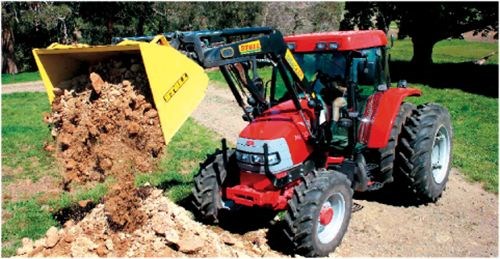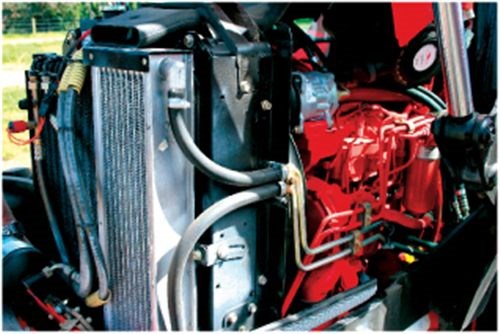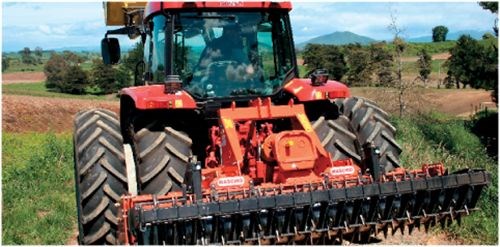 A step up in horsepower and the appeal of working indoors were factors that influenced a Te Awamutu farmer to choose his McCormick CX105
After 31 seasons milking, David Kay left dairy farming for a better lifestyle, but kept the land. Kay has owned his 80-hectare Parawera, Kihikihi, family farm for 15 years, which used to milk 180 cows until he sold nearly everything three seasons ago. He can now go fishing when the weather is good, without having to plan a day off two weeks in advance.
The farm is now split up into 56 hectares growing maize, and 24 hectares running dry stock. It's also host to approximately 500 cows for winter grazing. He still has maintenance on the farm to do and stock to shift each day but, as Kay says, it's not at 5am or 3pm Sunday afternoons! He also does occasional driving for a local contractor and casual work in the area when required.
Almost every farm has one and Kay's is no different. He still uses his Massey 35, which has been on the farm since 1966. It's now relegated to road front topping and simple blade work. Onto the big stuff, Kay purchased his 105hp McCormick CX105 mid winter and clocked up 300 hours before my test, 240 hours of that spent doing ground work from ploughing, power harrowing and spraying, to spreading fertiliser. Because the three-year-old 85hp Landini ROPS tractor it replaced ran so well and he liked it so much, Kay almost bought a bigger Landini instead of the McCormick. He does a fair amount of ploughing, and the electronic sensing, variable speed hydraulic rise and fall system of the 3-point linkage on the Landini is Kay's favourite feature, although he raved about the CD player, too.
"The horsepower of 105 is really good, and I also wanted to go into a cab," Kay says. "I have a 3-plus-1 reversible Lemken plough. The three-furrow was good for the Landini but, if I put the fourth one on, the fourth furrow was too much for that tractor, so I wanted to go up in horsepower anyway. I love ploughing and I try to do a good job whether I'm down the back of the farm or on the front road."
Kay decided to stick with his 2.5m Maschio power harrow, which was as much as the old Landini could handle, and he calculated he'd only gain some eight minutes per paddock with a 3M unit. "Basically the tractor has gone very well. One day it did 17 hours power hoeing non-stop, didn't even turn off, apart from fuelling it - it didn't miss a beat and got better and better."
The McCormick's cab can best be described as functional. Because there aren't many of them, I could learn all the controls in no time and they were easier to get at than most. Perhaps because they are spaced well apart? Entry into the cab is easier because there is no "kiddie" seat to climb around. The flat floor is good and there's a decent amount of space behind the seat for all those bits and pieces a farmer likes to collect.
For ploughing and power harrowing, etc, Kay uses and loves the swivel air suspension seat. The outside cab mirrors are huge and an asset to any driver. There is also a smaller mirror inside the cab to keep an eye on implements. Kay had Power Farming install two extra lights on the top, two on the front sides and two more on the rear mudguards, plus a larger alternator to cope. The toolbox was also removed from under the right-hand steps where it was hard to get at and mounted onto the inside of the left-hand rear guard.
Just a few years ago, only a small percentage of tractors were sold with cabs on them, unlike today, so are farmers deciding to spend the extra for increased comfort? "When I had no cab, I had to have my leggings, rain coat and gloves on every day. Even if it wasn't raining, it was the chill factor. By the end of the day you'd hop off and you'd feel buggered, wind burnt and stuffed in the eyes when I put the fertiliser on. You'd smile and your teeth would be white and everything else black, after power harrowing. If anything goes wrong with an instrument, you can still hear it."
The tractor drove very smoothly and handles everything that Kay needs it for. For his ploughing operations he has set the front wheels in closer which slightly increases the turning circle. With a 4.4-litre turbocharged four-cylinder Perkins engine rated at a maximum of 102hp, the CX105 seemed to have as much power as other tractors of similar size. With a maximum torque rating of 415Nm. Getting in at the radiators to clean them out was easy, too.
The biggest issue I had was with the 24-forward and 24-reverse speed gearbox. The gearbox wasn't working as well as it should going from first to second gear. I had to be quite aggressive to get it into second! This is not the first tractor I've driven with this problem and, for the record, to date the Landini Powerfarm 85 has easily been the best. It's a crucial gear change on any tractor and as it's probably the most used of the lot. Life would be much easier, and sometimes safer, if the tractor didn't stop while the driver fruits around while changing gears, particularly with a heavily laden trailer or implement on the back. On the other hand, the CX105 is easy to move into third, but then a bit more difficult getting into fourth. Going down through the gearbox, it was easy from fourth to third, harder into second, and acceptable from second to first. The 3-way split power shifter was a little jerky going from low to second, but otherwise fine. The shuttle was exceptionally good with a great power take-up curve.
Kay removed the dual wheels off his Landini and put them onto the new McCormick. Mounted on each rear guard are rise/fall buttons for the 3-point linkage. The two hydraulic outlets are rated to a maximum of 60 litres per minute. Especially fitted is a hydraulic dump for the post rammer. Mounted onto the front is a quick-detach Stoll F15 front-end loader with a 1.7m bucket. Kay said he can remove his in around 15 seconds and re-attach it in 30. An interesting invention of Kay's is a spray system mountable onto the front-end loader. With controls off a normal sprayer, an 8m-spray boom was modified it to fit straight where the bucket goes. Feeding the sprayer is an 1150-litre Croplands tank on the 3-point linkage, taking only ten minutes to fit it all on. With the spray unit out front, not only can he see exactly what is going on, when he comes to a trough he can simply lift the whole unit over it before lowering it again to carry on. When he arrives at a race, he doesn't have to fold everything up to go through - just lifts it up out of the way!
The noise level outside the stationary CX105 measured 93dB at idle, and 88dB inside the cab. At 1500rpm I recorded a very quiet 80dB where, like most tractors I've measured, it gets quieter from the driver's seat as the revs increase. The recorder registered 87dB at 1000rpm during a drive-by, and 93dB at 1600rpm.
Kay bought his McCormick from Murray Barclay of Power Farming, Te Awamutu. "I've got no problems with the service from there. If I'm on the phone with something wrong, they're straight out here," Kay says.
"Everything I wanted it to do, it has done, apart from adjustment of the brakes or whatever it is. I'm happy with what it does, it pulls a plough a piece of cake and obviously it will pull a 3m-power harrow no trouble. It has loads of torque – it just hangs on."
By Terry Stevenson
SPECIFICATIONS
McCormick CX105
Engine type: 4 cyl wastegate turbo
Capacity: 4.4
Bore x stroke (mm): 105 x 127
Max power (hp/kW): 102 (75)
Rated engine speed (rpm): 2200
Max torque (Nm): 415
Torque rise (%): 29
Transmission: 40kph standard
Fuel tank (l): 155
Weight LP Cab 2WD (kg): 3285
Weight 4WD (kg): 3770
Overall length (mm): 4209
Wheelbase 2WD/4WD (mm): 2237/2356
Overall width (mm): 2147 (wide fenders)/1964 (narrow fenders)
Keep up to date in the industry by signing up to Farm Trader's free newsletter or liking us on Facebook