A farm bike, but not as we know it.
---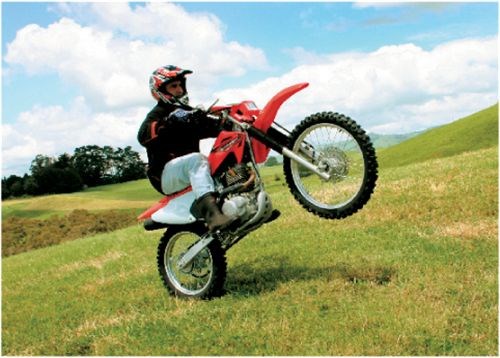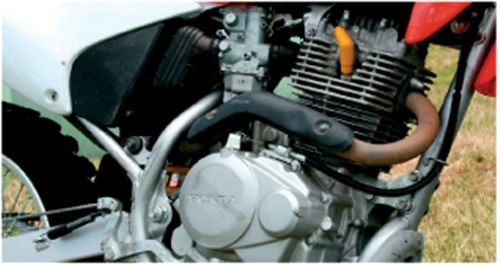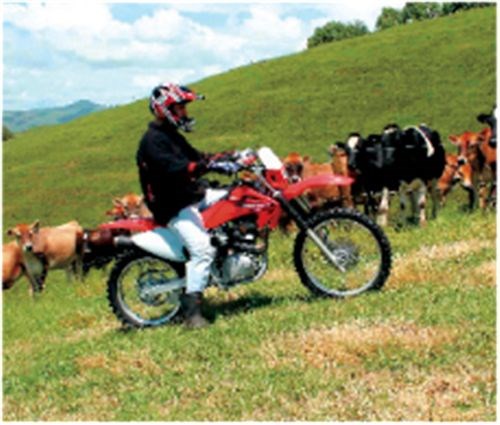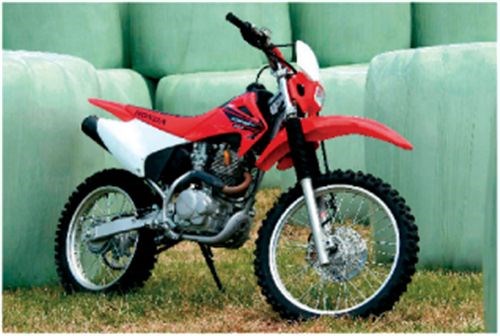 The Honda CRF 230 is a lightweight motorcycle designed to have fun on, writes Terry Stevenson
It's not really a farm bike, yet I've seen a quite a number of the trick Honda CRF230 enduro bikes on farms I've visited recently. The CRF230 is a relative newcomer to the scene and it fits quite nicely in between the more usual 200cc and 250cc categories. It is not as powerful or well spec'd as a full-blown 250, but it is considerably better in performance than any 200cc farm bike on the market.
Don't be mistaken – this is not a farm bike as we know it. The CRF230 doesn't come with sidestands on each side, large carriers or bar protectors, etc. It is a lightweight motorcycle designed to have fun on.
After a ride around Pete Philips' Illawarra Farm, I found our Boyd Honda test Honda CRF230 to be a good step up for a farmer who wants a bit more action than usual. It was so much fun I could have torn around on the CRF230 all day. It had reasonable power, great handling and excellent brakes.
With no less than 241mm of plush travel, the 37mm diameter leading axle, air adjustable, front suspension is supple and soaks up the bumps as though they weren't even there. The Pro-Link linkaged rear suspension has a full 228mm of travel, offering much the same performance as the front, so basically anywhere I went the bike stayed upright, held its line and left me to work the throttle and brakes in relative comfort. That compares pretty well with the dedicated Honda CT200 farm bike's 158mm and 150mm (respectively) travel. Another feature a buyer would like to know about is that the CRF230 weighs in 19kg lighter than the more robust CT200. Helping to keep the weight down is the large alloy swingarm, in lieu of the CT200's steel unit, as a comparison.
While the 223cc air-cooled engine had tons more power than the sluggish CT200, it didn't have as much power in the top end of the rev range as I expected. It had most of its power available down low and in the mid-range, which happens to be the best place for any bike used on a farm anyway.
Powering the CRF230 is a simple Honda two valve four-stroke powerplant driving the rear wheel through a smooth six-speed gearbox. The gearbox is probably the biggest part of the bike, which doesn't suit farm use. First gear is a lot taller than the CT200s lowest ratio, so uphill starts and general farm starts require more use of the clutch and throttle at the same time. A small trade-off if you prefer a bit more action than function. The electric start is an excellent feature on this sized machine, and is one reason why Honda sell so many of them, although there is no kick-starter as a back-up.
Stopping the CRF230 is a disc front brake operated by a hydraulic Nissin dual piston caliper, which offered superb feel for shorter stopping distances from typically higher speeds. A drum brake operates the rear and performed as good as any drum unit.
The low 825mm seat height (823mm on the CT200) places the CRF230 in the category where riders of about any height can stop and still touch the ground, although I warn you, the seat is pretty hard and you wouldn't want to spend all sitting on it. The mudguards are motocross style, which will leave mud flying in all directions, including your back. The front guard is quite short and exposes the engine more than you would get on a well-guarded farm bike, so expect to have to clean the engine fins more often to avoid the engine overheating. Underneath the guards are a 21" diameter front wheel and an 18" rear wheel, shod with grippy Pirelli MT320 knobblies.
There is an optional small single headlight, but that's as much as you get with this model. There is no rear light, turn indicators, horn or even instruments, so forget about registering it for any road use.
Used as a stepping-stone to bigger and more powerful bikes, many of the CRF230s are sold to teenage sons who work on the farm. The whole idea of the $6495 (with headlight) CRF230 is that it can be used for a number of functions, although it is clearly more angled towards recreational riding than farm use. It is the sort of machine you can use on occasional trail rides with a few mates, as easily as you would tear up to the back of the farm to check stock. It goes very well and I'd have one in my shed any day!
For more information visit your local Honda dealer, or visit www.honda-motorcycles.co.nz
SPECIFICATIONS
Honda CRF230
Engine type: 223cc air-cooled single-cylinder four stroke
Bore and stroke: 65.5 x 66.2mm
Compression ratio: 9:0:1
Ignition: CD
Gearbox: Six speed
Suspension front: 37mm leading-axle Showa fork; 9.5in travel
Suspension rear: pro-link Showa single shock
Tyres front: 80/100-21
Tyres rear: 100/100-18
Seat height: 825mm
Keep up to date in the industry by signing up to Farm Trader's free newsletter or liking us on Facebook