A Claas Contractor
---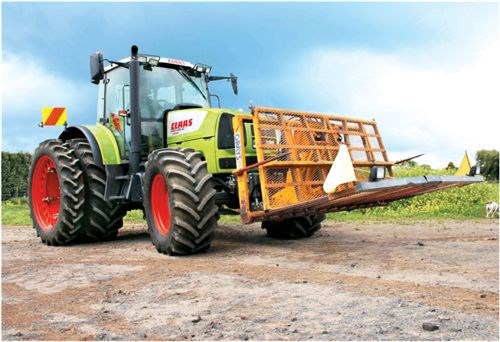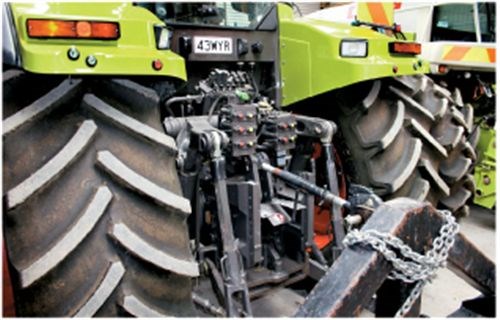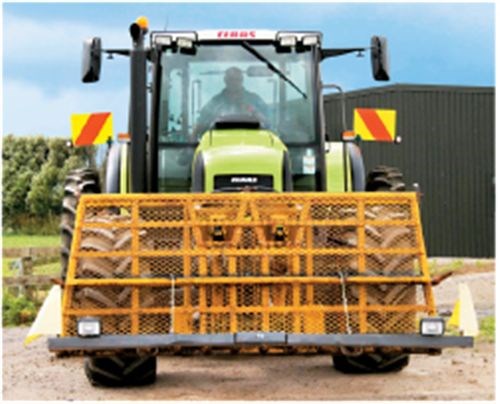 A Waharoa contractor is convinced that his choice of Claas tractors is perfect of his business
Bevan Pratt has several years of contracting experience behind him and over the past three seasons has also been involved with maize and silage. He runs Pratt Ag Contracting, a fencing contracting business, from his leased Waharoa farm. Including his maize and silage contract work, Pratt employs seven full-time staff who work year-round building new or refurbishing anything from wire to wooden rail fences around the local area. He also leases several local Matamata blocks for his own maize production.
Pratt bought all three of his Claas tractors in 2005, beginning with a 181hp Claas ARES 826 with front suspension, before adding another of the same model but, without the front suspension, going on to buy a 132hp Claas ARES 656 to his growing fleet. He chose Claas tractors because he was very happy with the service level from Hamilton's Landpower with his Jaguar harvester over the past few years.
His first 826 is used as a maize planter (Amazone 2.5 tonne planter) and for stacking, while the second 826 is used for maize stacking only. He is very happy with his 656 purchase, used solely as the bin-towing tractor. Because he has so many Claas tractors, our test focused on the front suspended 826.
"The reason we had to go to that sized tractor was to cope with the sheer weight of the three point linkage planter," Pratt says. "You can't just put one of those on any tractor, otherwise you'll do wheelstands down the road!"
I didn't have my decibel meter with me, however, without qualification, I think the Claas 826 must be the quietest tractor I've driven. I don't say that lightly as inside the cab it was uncannily quiet while on the outside the engine noise level was also well below normal standards. Sometimes first impressions count, and I wasn't disappointed with the rest of the vehicle, either.
Due to relatively small sized pillars, the roomy cab has excellent visibility from the comfy, fully adjustable, driver's air suspension seat. The settings on the test Claas 826 seat were set quite low which, combined with the four point cab suspension, meant the seat moved around much more than needed, although it may have suited the current driver better. As with most big-horsepower tractors with a large array of working equipment, the cab controls are well laid out and generally easy to use by the operator. A small kiddy's seat adorns the left hand side yet still leaves plenty of room inside for small equipment, drinkbottles or manuals. One feature inside the cab I really liked was the small, refrigerated space in the top left hand side of the ceiling, with enough space to house a good-sized drink for a thirsty worker.
On his last tractor Pratt said he had to install additional night lights, but not with the Claas 826 as he's mightily impressed with the lighting gear as standard. And, like the Claas Celtis 446, the mirror sizes were above average and well positioned, however, there is one cab feature Pratt isn't too keen on.
"There is a trick to get the rear plough arms to operate, I guess it's a safety feature but if you are not shown how to use it, you will never be able to operate it. There is a bit of a sequence to it, you have to flick a switch three times – it's a bit frustrating really."
The Celtis 446 engine impressed me most on that 90hp tractor, so I took interest in the bigger variant. With a Deere Power Systems built 6.8-litre turbocharged six-cylinder diesel under the bonnet, it's little wonder it felt strong throughout the entire rev range. Pratt said the power it develops is more than enough for their needs, however, with cultivation work possibly on the horizon, 181hp has already proven to cope with demand.
Coupled to the engine is a 64-forward and 64-reverse transmission comprising of an excellent changing four-speed splitter working through a four-speed gearbox with a Hi/Lo ratio. No matter what gear I was going for, I found changing gear was both quick and easy. The Hi/Lo ratio change is an electro hydraulic affair with a simple button conveniently positioned on the gear change stick, just above the splitter buttons. A range and gear display is mounted on the forward right hand pillar for easy reading.
I worked the shuttle several times to gauge its action and found it coped well with a good progressive take-up. Going up or downhill, the Claas Quadshift II gearbox system will select the right gear at the right time for the operator. To maintain the speed you select, it senses when to change the slitter gear by itself, keeping the workload at the same level for best results.
The rear hydraulics are capable of lifting a maximum of 11 tonnes, so the machine itself is very capable. The independent front linkage system can lift up to 5.3 tonnes. A visual glance at the rear shows that everything is heavily engineered to stand up to the rigours of everyday contractor life. The three-point linkage and hydraulic rams are massive compared to smaller tractors. The maximum hydraulic flow rate is a healthy 110L/min from each of its five fully adjustable rear outlets. At the back of each rear guard is a spotlight and linkage rise/fall and PTO stop buttons. I tried the front linkage and discovered Pratt was right in saying the lift control was easy to use with superb incremental control.
One of the biggest differences between Pratt's two ARES 826 models is that one has front suspension – the machine I drove. I took it along a pot-holed track at a speed that most tractors wouldn't handle, as they'd most likely bounce off into a fence or ditch. That about sums up the suspension, as it'll soak up the bumps both fast and slow. Pratt said he isn't so sure about the real benefit of front suspension on a contractor's tractor, and has a point about its rate of return compared to one without, although there can be no doubt it is easier on the driver in the long run – even if there are many more moving parts to grease.
"What I like about the 826 is that everything is nicely set out in the cab and it's big and spacious. The feature I like is the button on the left hand side of the dash, so when I pull up at the gateway and I'm on the side of a hill, generally you'll put the handbrake on. With this tractor you don't have to, you just switch the button and that automatically locks the tractor into park. All you have to do is open your gate and when you jump back into the cab you don't have to touch that button, you just put your selector into forward and drive away, it disengages the brakes for you. That's a real nice feature when you stop/start a lot."
By Terry Stevenson
SPECIFICATIONS
CLAAS ARES 826
Engine
Manufacturer: Deere Power systems
Bore/stroke (mm)/Displacement (cm2): 106,5/127 /6788
Number of cylinders/cooling: 6/water cooled
Power rating (kW/hp) @ 220rpm: 129/175
Max power (kW/hp) 2200rpm: 133/181
Max torque (Nm/rpm): 759/1400
Torque back up (%): 33
Optimum fuel consumption (g/kWh): 200
Fuel tank capacity (litres): 300 + 80 optional
Transmission
Max speed (kph): 40 (at reduced engine speed)
Dimensions and weights
Unladen weight depending on equipment (kg): 7960
Overall length no incl. Front weights (mm): 4535
Max. overall width (mm): 2400
Overall height (mm): 3025
Wheelbase (mm): 2876
Ground clearance (mm): 490
Min. turning circle (m): 4.9
Rear Linkage
Max lifting capacity (kg): 11330
Continuous lifting capacity (kg): 7690
Keep up to date in the industry by signing up to Farm Trader's free newsletter or liking us on Facebook