Next step for Claas
---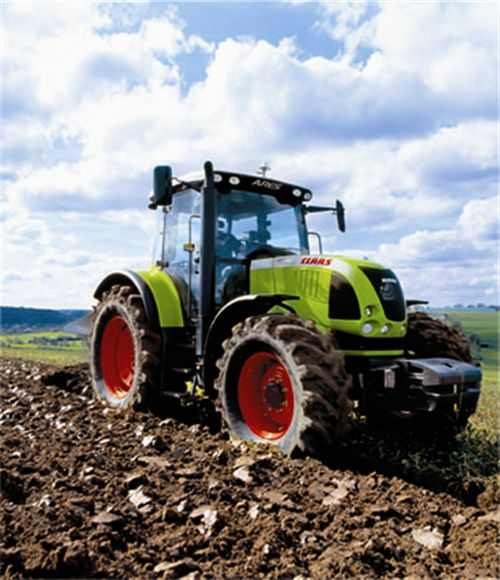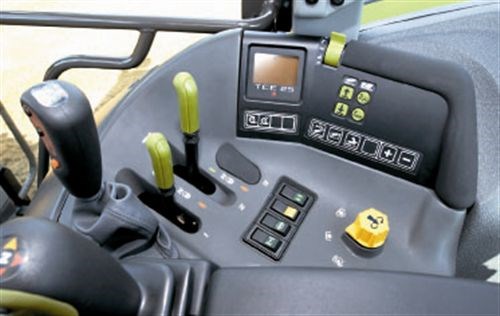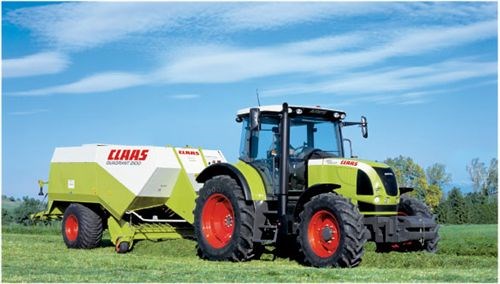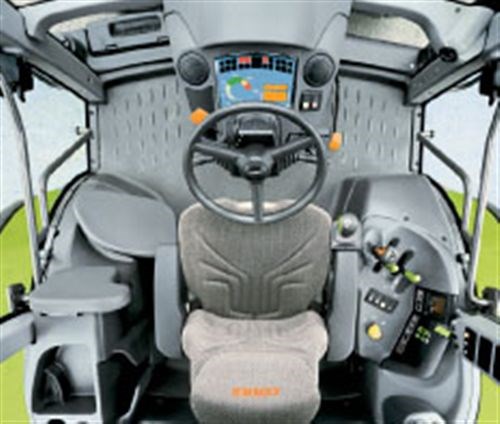 After its highly successful launch of the Ares in New Zealand last year, Claas has now introduced the 500 and 600 series.
Landpower New Zealand has unveiled the new Claas Ares 500 and 600 range tractors, which are packed full of innovative features that make operation as simple as driving an automatic car.
Offering impressive comfort, power and productivity, the new tractors had their first public airing at the Southern Field Days at Waimumu on February 15-17. They will be on display at all the forthcoming field day events through to the National Field Days in June.
Landpower sales manager Roger Nehoff says the new tractors are very easy to operate and handle just like an automatic car.
The driver always has one hand free because the new HEXASHIFT transmission (with six powershift levels) automatically shifts through all stages and gears until it reaches full speed. Reversing is just as simple and the REVERSHIFT shuttle reverser can be controlled with the touch of a finger.
Gears in the main operating range are ideally spaced for fieldwork or for road travel and HEXASHIFT shifts up and down gears automatically to ensure the tractor is always travelling within the best torque range. With a maximum speed of 1950rpm, the ARES can help save fuel while increasing efficiency.
When working hard in the field or reversing quickly with a front loader, the transmission offers accurate speed stepping. An optional creep gear, with additional 24/24 or 12/12 gears, permits a minimum speed of 110 metres/hour or 410 metres/hour.
Operator comfort has always been a priority for Claas engineers and the spacious cab on the new ARES is one of the most comfortable and best-equipped workstations in the tractor sector. All operating controls and instruments are clearly laid out and give the driver rapid access to all of the machine's functions.
The ARES is the only tractor in its class to be equipped with a fully sprung cab, which is supported on four spring elements to provide a smooth ride for the operator. Almost all movements and vibrations are absorbed.
Generously proportion glazed areas and slim cab pillars ensure excellent visibility and the large rear window provides a perfect view over the implement. An optional sunroof, which can be opened upwards, offers good visibility overhead.
An efficient air-conditioning system guarantees a pleasant working environment (automatic air-conditioning is also available) and the cool box in the dashboard is ideal for storing ice-cold drinks.
Comfort and safety are boosted by the independent suspension on the front axle. This "PROACTIV" system improves operator comfort and makes for safer driving when travelling at speed on roads.
The Ares is designed to provide considerable power and efficiency in the field and effortlessly handles combinations of heavy front-loading equipment or mounted implements. This brings enormous savings in terms of cost and working time.
An ELECTROPILOT system gives the driver single-handed control of the spool valves. By using the joystick, the driver can quickly and accurately control the spool valves serving, for instance, the raising and lowering of an implement.
The rear linkage has a maximum capacity of 8.5 tonnes, and the front linkage offers a maximum capacity of 3.8t. The hitch area, spool valve couplings and the three-point linkage are easily accessible and enable rapid hitching and unhitching.
Key Ares tractor elements and components are analysed by an integrated DRIVETRONIC control system, which continuously monitors the engine, transmission, power take-off, linkage and differential. This enables the tractor to be operated with maximum productivity, without driver intervention.
ARES tractors are considered the most agile in their class. A maximum steering angle of up to 55° is possible thanks to the pivoting front wings. This permits a turning circle of just 4.80m. As a result, no real time is lost when turning the tractor and the ARES retains this exceptional manoeuvrability when fitted with a front loader.
With a wheelbase of 2.82m and a 50/50 weight distribution, the ARES has high traction power, excellent lifting capacity and driving stability when travelling at high speed on the road.
The new CLAAS ARES 500 and 600 series tractors are available through Landpower Centres nationwide.
SPECIFICATIONS
ARES 500
Model: 547 557 567 577
Cylinders: 4 4 4 4
Rated speed (rpm): 2200 2200 2200 2200
Hp at rated speed (ECE-R24) (kW/hp): 67,5/92 73,6/100 80,9/110 88,3/120
Engine speed at max torque (rpm): 1500 1400 1400 1500
Fuel tank (l): 180 180 180 180
Power lift: Max lift capacity (kg): 8470 8470 8470 8470
Front hitch: Max lift capacity (t): 2.8 2.8 2.8 2.8/3.8
Wheelbase (mm): 2564 2564 2564 2564
Max permissible weight (kg): 8000 8000 8000 8000
ARES 600
Model: 617 657 697
Cylinders: 6 6 6
Rated speed (rpm): 2200 2200 2200
Hp at rated speed (ECE-R24) (kW/hp): 80,9/110 91,9/128 103/140
Engine speed at max torque (rpm): 1500 1500 1500
Fuel tank (l): 250 250 250
Power lift: Max lift capacity (kg): 8470 8470 8470
Wheelbase (mm): 2820 2820 2820
Max permissible weight (kg): 8000 8000 9250

AT A GLANCE: the new "7 Series" ARES
The new ARES 500 and 600 range includes seven models. Aside from the 96hp, 104hp and 114hp models previously offered, the ARES 500 range sees the addition of a new 123hp model, the ARES 577, while the ARES 600 range includes three models with maximum power outputs of 115hp, 132hp and 149hp.
HEXASHIFT transmission
All the new ARES models are fitted with the latest CLAAS HEXASHIFT one-touch auto-shift transmission. This uses a gearbox designed and built by GIMA, with a new CLAAS designed electronic control system.
The gearbox features four robotised ranges with a hydro assisted change. Within each of these four gears is a six-speed powershift, giving a total of 24 forward and 24 reverse speeds, with 13 speeds in the main working range and a maximum speed of 40kph.
The optional HEXACTIV full auto-shift transmission is a fully automatic gearbox, which features an electro-hydraulic splitter and gear change. Changes in range and powershift are automatically made according to engine load and speed right the way through all 24 gears.

Headland control
In addition to these two operating modes, the transmission also incorporates a new headland control system. This allows the operator to programme a different speed setting for the headland, plus a different range setting when in transport mode.

Front axle
The front axle on the new ARES has a 55-degree steering angle and six-degree castor angle, which gives the ARES 500 a turning circle of 4.40m, increasing to 4.80m for the ARES 600.
Also available is the PROACTIV independent front axle suspension system which can be operated either manually in a low, medium or high position, infinitely variable position or automatically. PROACTIV will also automatically compensate for the weight of a front linkage or weights when fitted.
AT Series cab
The new ARES range is fitted with the latest CLAAS AT series cab.
Two versions of the AT Series cab are available. The ATX is a conventional rubber block mounted cab and only available on the ARES 500 range.
The ATZ series cab features the unique HYDROSTABLE full cab suspension system, which considerably reduces vibration levels and enables an increase in output, is fitted as standard on the ARES 600 range and also available on the ARES 500.
The AT Series cab is described as one of the most spacious cabs on the market and provides unparalleled all-round vision through 320 degrees. As before, the cab features a large fold-down passenger seat and a spacious oddments storage unit with room for a large drinks bottle and a document holder. On the outside of the cab, up to 12 work lights cab be specified.

Hydraulic system
As standard all ARES ATZ series models are fitted with a load sensing, hydraulic system with a capacity of 100L/min at 200 bar.
The ARES ATX series are fitted as standard with an open centre two pump hydraulic system, with the first 46L/min pump serving just the steering and the second, rated at 60L/min at 200 bar, serves the spools and rear linkage system.
The maximum lift capacity across all models is 8470kg and the rear linkage is fitted with a dynamic shock absorber.
Keep up to date in the industry by signing up to Farm Trader's free newsletter or liking us on Facebook