New Holland TS110A
---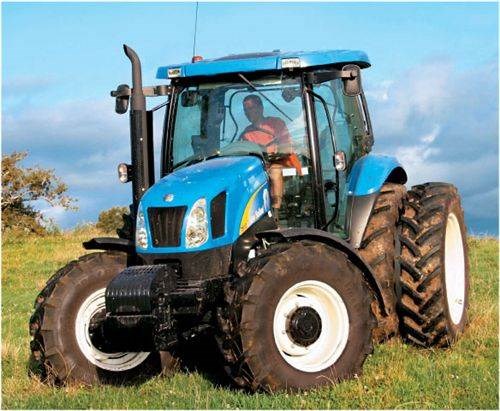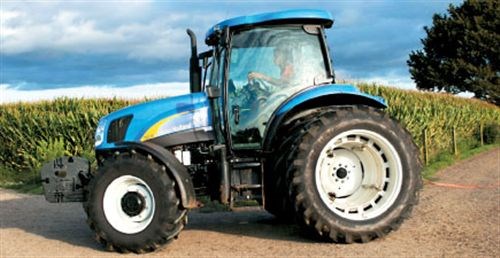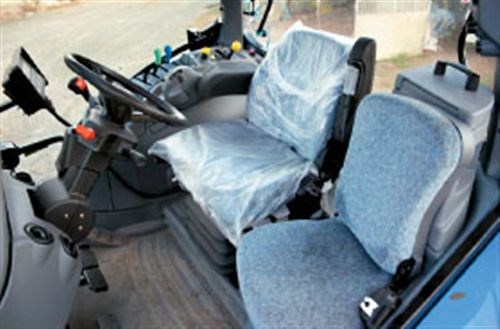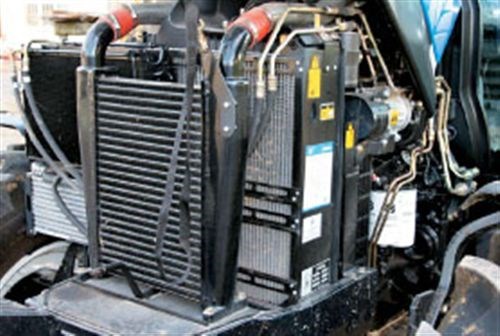 Having a tractor that's up to task is essential on the eve of taking over a 120-hectare dairy farm
Working towards proud ownership, Troy and Michelle Hinton-Bosch have been sharemilking on their retired parents' 120-hectare dairy farm for the past three years. Along with Troy and a full-time farm hand, Michelle helps out with the daily running including milking almost 400 cows through their four-year-old 36-aside herringbone shed. Already they have seen productivity gains from the new shed, which has brought the whole farm into a new lease of life.
Most farmers I speak to are very proud of their farms, and Troy Hinton is doubly enthusiastic as he relayed details of the takeover date in June. The pair currently own two dairy farms totaling 170 hectares running 500 cows in Hinuera – run by managers, but decided to continue the tradition on the Eureka family farm. Their parents are taking over both Hinuera farms and will run sharemilkers. Part of the change is fuelled by the sheer workload of running 900 cows on three farms 30 minutes drive away, but the main reason is that Troy likes to do most of the farm work himself. Troy is a busy character, but freely gave his time to show us his two-month-old New Holland TS110A tractor.
Troy said Craig Berkers from Te Awamutu's Norwood Farm Machinery Centre came up with a great deal to trade in his 70hp New Holland 7066 ROPS tractor. He upgraded for several reasons. Troy wanted a cab tractor, a gearbox with better gear ratios and a surplus of horsepower to handle the baler, as they begin the process of going back to doing everything themselves, such as hay, silage and cropping work.
Troy uses his truck to move his TD95 and 2WD 7092 tractors around the farms, but stations the TS110A mostly at Eureka. Based on the flat Waikato plains, part of the farm was once near the edge of a swamp, which is why the TS110A has dual wheels fitted. Troy is currently planning extra cultivation work to regenerate the peat soil, but the other issue is old tree stumps, and to conquer those is no easy task for any tractor. Troy tells us what he does. "Usually we go through with the rippers first with the tractor and, depending on how many we hit, we either persevere and get them out with the front end loader, or bring in the digger if there's a lot of them," Troy says.
Their main equipment for the TS110A includes a 658 New Holland round baler and wrapper, and a three-metre power harrow. The TS110A rear linkage is designed to take the load as it's the same heavy unit as supplied the big TS135A model.
The TS110A impressed me with its level of interior finish and, as with previous New Hollands, the specification level, technology and function are very good. This is the only tractor I've driven which has a raised and angled footrest for comfortable driving – just like in a car, and a ceiling mounted handhold above the left hand door, so your passenger can remain stabilised while driving. Extremely good visibility from the cab is now one of New Holland's hallmarks. You can judge yourself from the photos, however, there is no replacement for driving the TS110A and being able to look outwards with minimum cabin related obstructions. The roof-mounted skylight is another example where the driver can see more of the front-end loader than other tractors.
Yet the mirrors are only average size, and the lighting kit looked average for that sized machine, although there are 10 lights fitted. I also think the dash layout of the New Holland is one of the easiest to read at a glance, and reflection is reduced to a minimum thanks to a generous overhang panel above the instruments, again, just like your car.
The seat action felt above average as it soaked up all the ruts and bumps easily in the paddock we were in. This seat pivots approx 15 degrees to the right to help ease the job when doing any implement work, and approx five degrees to the left to help the driver get in and out, in combination with the tiltable steering wheel.
Changing gear was typical of New Holland's latest tractor generation. Easy to change, smooth, no problems, which is one of the features Hilton also praised. With a top speed of 40kph, the 16-speed gearbox is split into two separate ranges – changed electronically by buttons mounted both on the stick and at its base. Once you get the hang of reading the LED gear position panel, changing gear on the New Holland tractors is one of the easiest I've used.
"What you can do with the high-spec engine management system, in conjunction with the transmission, is have a transmission that you can programme and set," Berkers says. You can programme the transmission to change gears through a whole series of ranges depending on the work that you are doing, such as changing from first to eighth automatically by itself, with a percentage increase when it changes. You can alter that percentage as well," Berkers said. I liked the "Terralock" button function for doing groundwork, where the tractor would drop out of diff. lock and 4WD automatically when you turn the wheel at the end of a run.
There were a couple of minor things on the TS110A I thought could be improved on. The shuttle lever didn't seem to have much lever travel, so initially I didn't have confidence I'd actually placed the machine in neutral, or reverse for that matter. The shuttle itself had a big surge when taking off and changing direction. That can easily be programmed out but it is something that dealers could look closer at before delivery as I've driven quite a few tractors of all makes with varying degrees of shuttle take-off control.
The tractor itself drives very well, from only 1000rpm the 4.5-litre four-cylinder turbocharged engine barely dropped 100rpm when driven over a small incline, in an abnormally high gear. As expected, without any implements, fitted the TS110A didn't even know the hill was there at anything above idle speed. I found the 116hp and 520Nm rated engine revved out at 2400rpm and, as it was designed, did most of its pulling below 2000rpm. The common rail fed four-valve Cummins engine forms an integral part of the chassis.
The brakes are the best I've ever experienced on a tractor – I couldn't believe it when I braked on the downhill! When you brake, the system automatically goes into 4WD. I've seen that before but this 4790kg New Holland just stopped instantly, sending my gear resting on the larger than normal buddy seat flying straight onto the floor in my sudden first stop.
The turning circle seemed extraordinary. It maintained a very tight line with a low 4040mm advertised radius (unmeasured) thanks in part to a short 2412mm wheelbase. Hinton deliberately chose the short wheelbase so he can access his paddocks and generally get around the farm more easily. The three-speed PTO has an electronically controlled hydraulic soft start system to avoid unwanted shaft damage. At the rear a pair of remote hydraulic outlets offer a very healthy 95l/min maximum single valve flow rate.
For the record, our decibel meter recorded 92dB at 1700rpm on the fly in the cab, and during an outside drive-by 90dB at 1000rpm and only 88dB at 2000rpm.
Troy is still happy with his purchase as it suits his farm well. "I'm pretty loyal blue, but when it comes down to dollars and cents I am prepared to go and look at something else. Norwoods in Te Awamutu definitely repaid some loyalty and came up with a fantastic deal. Their service has been fantastic, they were really helpful in getting things set up how we wanted it, with the baler monitor in and making sure that was wired in properly," Troy says. He chose this size tractor over a smaller model because he saw the value of the extra features and the more economical new generation engine. It looks good and goes even better.
By Terry Stevenson
SPECIFICATIONS
New Holland TS110A
No of cylinders: 4
Capacity (mm): 4485
Bore x stroke (mm): 104x132
Max engine power ISO TR14396 (kW/hp): 90/122
Rated engine speed: 2200
Max torque ISO TR14396 at 1400rpm (Nm): 520
Torque rise (%): 41
Fuel tank capacity (l): 180
No of gears/with creeper (F-R): 16x16 / 24x24
Max lift capacity (kg): 6218
Overall length (mm): 4292
Overall height (mm): 2876
Wheelbase standard front axle (mm): 2412
Permissible total weight (kg): 8100
Keep up to date in the industry by signing up to Farm Trader's free newsletter or liking us on Facebook