John Deere 6520
---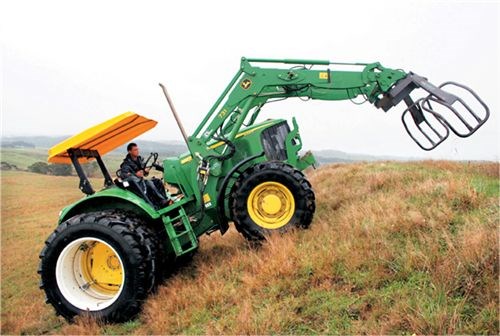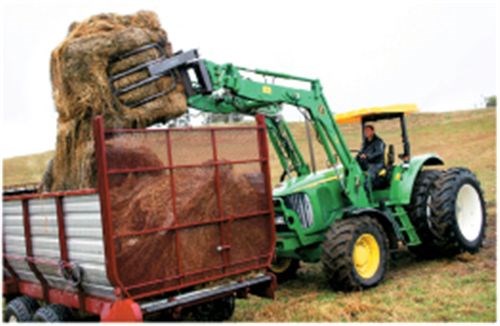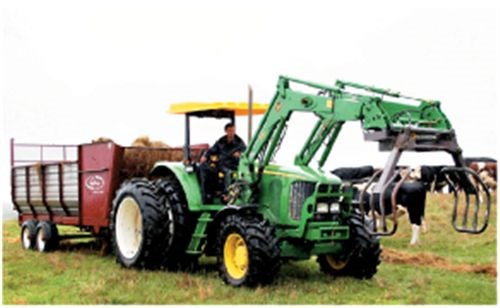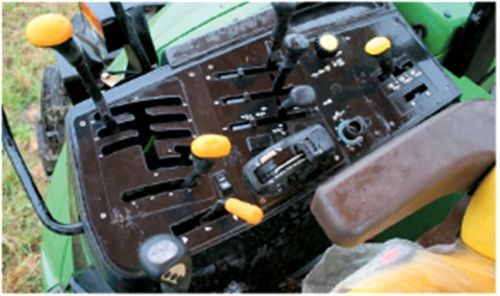 Battling the elementsTerry Stevenson couldn't have picked a worse day to test the John Deere 6520, but the ROPS tractor did well in the wet weather
At Les Wykes' Ruawaro 364ha property in the Waikato is a six-month-old 6520 ROPS John Deere, which has already logged 337 hours. The area is actually three farms run together, and the land has medium rolling hills. Three families live and work on the farm, managed by Ray MacKereth, while Wayne Garrett is Wykes' partner. The biggest job seems to be constantly shifting stock, as they run up to 1000 head of cattle on the property, mostly bulls, from 12 to 24 months. They still cut and rake their own hay, but the past two seasons contractors have done the baling.
Released only last year, the 6520 will appeal to a farmer looking for a large farm tractor without a cab. They would be looking for a heavy long wheelbase tractor with good power and basic controls, so that any one of a number of staff can drive it without a long instruction course.
They do all their own excavation and metal work on the farm, so Wykes spent the first 60 hours on the 6520 using it to help build a dam, along with their on-site excavator. He used the 4740kg 6520 to pull a four-tonne tip-trailer and was very impressed with its performance. Wykes said the 6520 is now used for many things every day, from feeding out, fertiliser spreading, spraying, groundwork and post driving – as they build many new fences.
The driving platform looks and is high off the ground. All the controls are laid out in simple fashion, which even the freshest farm worker could work out in seconds. The linkage draft controls are located beneath a small flip-cover where most people wouldn't easily find it. A single rise/fall button controls the linkage operation to your pre-set position and includes a safety feature to prevent unwanted users from altering the settings.
One of the features that attracted Les was the accessibility of the engine compartment. He raises a good point because under the bonnet, the 6520 is like no other tractor I've seen before – there is a ton of space between the engine block, turbocharger, radiators and battery.
The John Deere PowerTech powerplant is rubber-mounted inside a heavy steel chassis. The 6520 has a very strong six-cylinder turbocharged engine and I would suggest it may have more power than what it is rated for – more so than other 115hp-range tractors. Going up a steep hill in a much higher gear than what I should be, it barely dropped revs and hardly noticed the hill at all!
The electronically controlled four-valve Tier II engine has incredible power and torque, with the added bonus of very good fuel efficiency thanks to the intercooled turbocharger, run through a cooling manifold on the air intake, to cool the air and make it more dense before it arrives at the engine. The fuel is also pre-cooled and with individual Bosh injectors, future running costs may be lower, too.
This John Deere must be the quietest tractor I have recorded to date. I measured a mere 79dB at 1000rpm during a drive-by, 85dB at 1500rpm, and 87dB at 1800rpm! Remembering it doesn't have a cab; from the driver's seat I recorded 85dB at 1000rpm and 94dB at 1500rpm.
Going through every gear of the wet clutch, 40kph, 20-speed Powrquad transmission, was a smooth movement with only a little notchiness in the two lowest ratios. The four-ratio manually operated "powershift" was easy to use and again, very smooth in operation. The only issues I had with the entire system was difficulty with the correct positioning of the shuttle lever and a bad snatch during the transition from forward to reverse, or just into reverse (it can be programmed out). Going forward wasn't a problem.
The brake feel was a little different, offering only a mild braking effect until I pushed the pedal down quite hard, when it pulled the tractor up as fast as anything tested. With the five-tonne feedout wagon on, Ray drove the 6520 up and down decent slopes without problem. The dual wheels had just been fitted to help stability around the hills when using the fertiliser wagon, but Ray could already feel the advantages. The 6520 is a long wheelbase ROPS tractor that can run large implements with a huge 96 litres/minute hydraulic flow capacity for each of the three independently controlled, detented valves. Large diameter hydraulic rams control the three-point linkage, which can also be controlled for rise/fall (no PTO stop button) from the left rear guard, only.
The John Deere 731 front-end loader is built like the old loaders with heavy high tensile steel fabrications. This model loader comes standard with a 2m bucket – again, one of the strongest built I've seen on a tractor. Other features include very large hydraulic rams, a hydraulic shock-drive accumulator to keep the loader stable while driving along with a load (as with the three point linkage, operated off the draft control lever) and has an awesomely fast single lever Euro hitch system to detach the multi-hydraulic coupling, reducing attachment times to seconds. The suitcase weights can be left on without hindering the operation of the loader, which has loader stands with a safety stay mounted on a lifting ram to prevent collapse of the loader for added operator safety in the event of ram malfunction.
Ray now does most of the driving, "I think it's a very sensible tractor, simple to operate, it does everything right and everything that we need it to do. Its best feature is that it has a whole lot of good features, which come together as one, to make a real good tractor! The other thing is that it is very economical. Around the hills I did eight hours non-stop with a four-tonne fertiliser wagon, and I still had three quarters of a tank of diesel left in it." He also said that even though it is rated at 115hp, it would pull some other tractors backwards!
The only beef Wykes had with the 6520 was the exhaust outlet was set too low, leaving the driver to breathe diesel fumes. Farm Services in Hamilton fitted a taller stainless steel exhaust within 24 hours.
The John Deere 6520 ROPS measured up very well in all departments, it drove well, had genuine stump-pulling power and came with a number of good features as standard.
By Terry Stevenson
For more information contact your local John Deere dealer or visit www.johndeere.co.nz
Keep up to date in the industry by signing up to Farm Trader's free newsletter or liking us on Facebook