Isuzu FSR650
---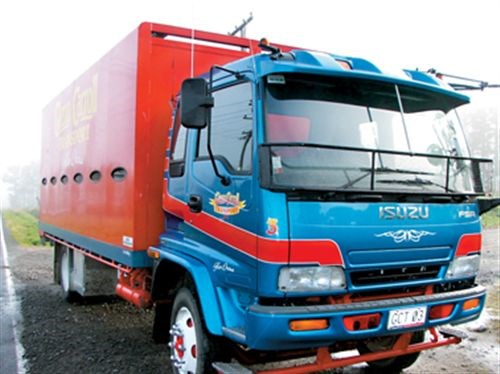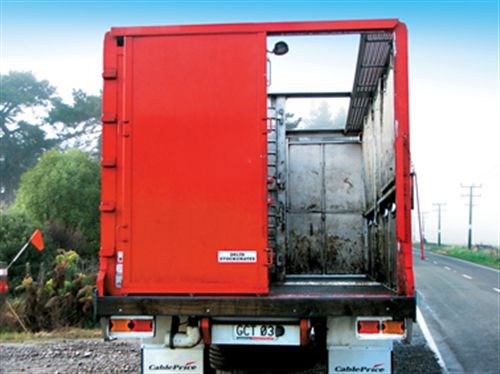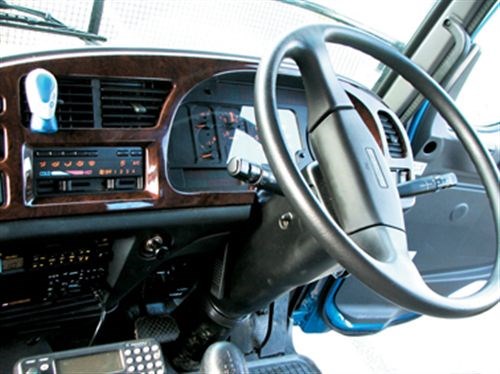 After spending the past few months focusing on long haul heavy transporters and heavy haulage trucks, Kelly Ryan turns her attention to cattle transport, and the Isuzu FSR650.
Currently used as a cattle truck, this Isuzu F series model (5 to 14 tonne) with 4x2 configuration has a transport capacity of approximately 140-150 calves.
This 2005 model truck was purchased through Cable Price in Palmerston North for the specific purpose of cattle transport.
Specifications include an easily accessed 200-litre capacity fuel tank, a 225hp Isuzu engine (6HK1-TCC), which has both a partial flow and full flow bypass filter. The FSR650 has a GVM of 12,500kg and a GCM of 20,000kg. Its turning circle kerb to kerb is 16.2m with an overall length of 8.15m. The brakes are dual circuit with a hydraulic braking system and an air operated exhaust brake.
The transmission comprises of a 6-speed overdrive system as well as reverse (with warning indicator). This truck is fitted with Michelin 255/70R 22.5 radial tubeless tyres.
"She is very stable and rides extremely well and for a small truck," says driver Shayne Gray, who has more than nine years experience in the industry. "She has plenty of power and inclines are no challenge even with a full load.
"I would have to say though that the real bonus is the support and comfort level of the interior. The seats are air inflated with spring suspension so you are able to personalise your comfort level. This is the first Isuzu I have even driven and have to say I am pretty impressed with all its features."
The interior was in immaculate condition (considering it is a cattle truck – not the cleanest business around), and the dashboard had accessible controls including electronic odometer, speedometer, air conditioning and electric windows.
Storage was plentiful and in addition to the standard glove box was both a centre console and overhead storage area. An added bonus was the comfortable fitted sleeper cab, giving more flexibility for long haul trips to be considered.
I also observed a front tow hook, which could definitely come in handy and a grill fitted to the front windscreen. This is quite an important feature for cattle transporters accessing farms on unsealed roads.
The Isuzu FSR650 comes with a two-year, 100,000km warranty.
For more information on the Isuzu FSR650 visit www.cableprice.co.nz or www.isuzu.co.nz
Thanks to Glenn Carroll Transport and Cable Price, Palmerston North.

SPECIFICATIONS
Isuzu FSR 650
Engine: 225hp Isuzu (6HK1-TCC)
Year: 1995
Axle configuration: 4x2
GVM: 12,500kg
GCM: 20,000kg
Fuel tank: 200 litres
Overall length: 8.15m
Wheelbase: 4770mm
Tyres: Michelin 255/70R 22.5
Keep up to date in the industry by signing up to Farm Trader's free newsletter or liking us on Facebook