Kubota M105S
---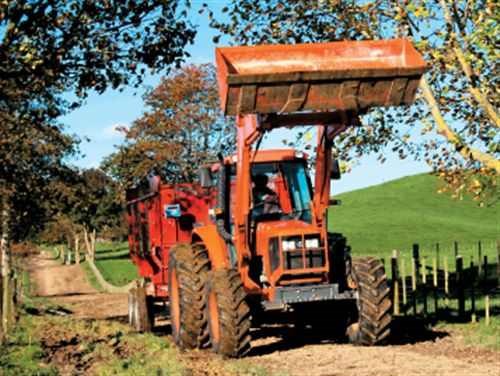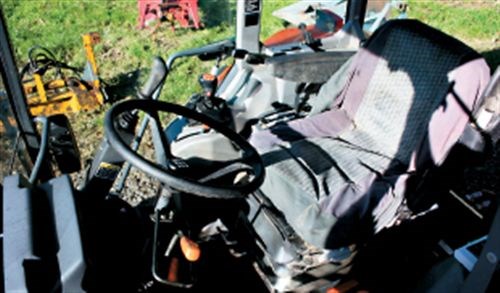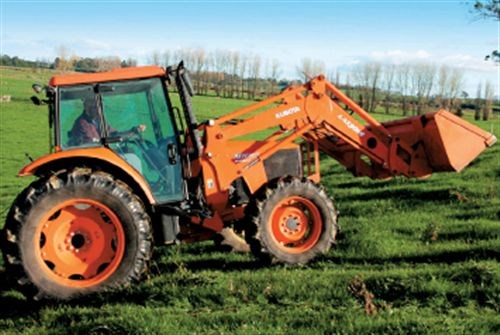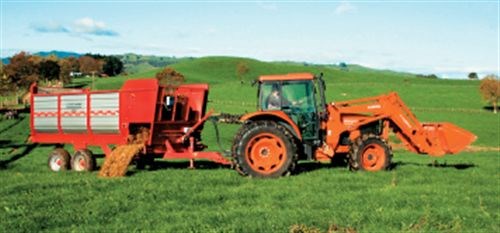 It's not complex, it's not brimming with extras, it's a simple, basic, hard working tractor that's earning its oil on a Puahue farm
Built in Japan, Kubota enjoys an enviable reputation among New Zealand farmers for toughness and reliability. Founded in 1890, Kubota now employs around 15,000 people worldwide and manufactures a range of products including ride-on mowers, diesel engines, a great utility off-road vehicle, numerous small tractors and a good mid-range tractor lineup. CB Norwood has been the New Zealand distributor since 1982 and currently supplies 26 dealers around the country.
Doug MacFarlane Ltd in Hamilton has been agents for Kubota for over 30 years, and is still going strong. It's fair to say the staff know their tractors and, with a Robinson R44 helicopter to use as an emergency service vehicle, how could they go wrong? To prove it, managing director Stuart MacFarlane flew me out to the test site.
On top of his Pemberton Construction business, Russell Pemberton owns two farms set in gentle rolling country at Puahue, in the Northern King Country. Both farms are separated by a road. His 111ha main farm currently has 360 crossbred cows milking through a 29 aside Herringbone shed. What used to be a deer farm on the 61ha second unit now carries only 30 head, as plans are currently underway to combine both farms into a single dairy unit to run 430 cows next season, when the shed will increase to 40 aside, ramping up to around 500-600 cows thereafter. An underpass will have been completed by the time this article goes to print and, not surprisingly, Pemberton says his biggest challenge on the farm is complying with the Resource Management Act!
As farm manager, Justin Gold loves their Kubota M105S and, along with a farm hand, does most of the driving. Pemberton bought the tractor during the 2005 Fieldays, and Gold says it is a brilliant farm tractor for their sized farm. They also have a four-year-old 50hp Kubota 5030.
The Kubota M105S is a cab tractor without the frills. It doesn't have a control consol the size of Texas with the complexity of a space shuttle, nor is the cab a two-person affair. It's basic, but that is what both Pemberton and Gold like, along with a superb steering lock. Gold explains further, "It is really good for feeding out with the tight lock. In the silage pit I don't have to worry about a three-point turn, I just make one turn and dump it. That has been a big plus for us on the farm."
Their 105S is used in typical fashion, from loading the feed wagon, feeding out, to mowing and posthole boring.
With a smallish 2435mm wheelbase, the size of the tractor suits the size of the almost flat- platform cab. There is no kiddie seat – as there is no room for one inside its small and compact cabin. Basic hydraulic and PTO controls adorn the interior in the usual places, which anyone can figure out. The cab is mounted a little forward, so the operator maintains good visibility through the lower window panel to see what's going on with the two-speed PTO, and twin 66-litre per min remote hydraulic outlets. With a corner post exhaust stack and full glass doors, 360-degree visibility out the windows is pretty good and is complemented by reasonable sized mirrors. Of interest to those who don't want to extend the roof height of their tractor shed, it has a visibly low roof height, to the point that some of the nine air conditioning outlets vent almost directly onto the driver's forehead. Again, right in front of the driver's face, a basic car-like sun visor can be used to block the sun out. Other controls including the windscreen washer, lights and the CD radio are mounted inside the roof panels.
Cradled within a heavy steel frame, the 3769cc four-cylinder engine and inter-cooled turbocharger appear to be tiny compared to other tractors of similar horsepower. Kubota say they gain extra power, including low-down torque, from their four valve heads and what they call their Centre Direct Injection System, for optimum fuel delivery and combustion. The key thing is that it pumps out enough horsepower for its intended use on the farm. Out in the paddock it feels like it has a similar power rating to other 100hp range tractors, which is often more than enough for most average sized farms. Even with an empty feedout wagon on the back, the engine didn't drop a single rev as I drove up a decent slope at 1500rpm in a high gear. By all accounts the motor seemed to have a flexible power range and revved all the way to 2600rpm, although it was happier rotating well under the 2400rpm level.
The 32-speed forward and reverse 40kph transmission incorporates a manual high/low ratio lever on the left side of the driver's seat, with a four speed short-stick manual gear change lever on the right consol. Mounted on that stick is a two-speed electronic split shifter button. According to Gold, and I don't argue with him, one of the M105's best features is an electro/hydraulic controlled high/low ratio operated of the same gear stick.
To change into low or high ratio, while in neutral just pull the stick hard over to the left and it automatically changes ratio. This can also be done on the fly – in between gearshifts. What is all means is that Gold only uses a few favourite gears in the paddock and race, darting between ratios as he changes gear, using the same lever. It took a while to go from one gear to the next as I found big gaps between each gear in the syncromesh manual gearbox. The wet clutch forward/reverse shuttle worked just fine, even with the wagon on.
Gold said the farm has some tight gateways and, even with a farm worker, in 10 months they hadn't had a broken strainer yet. With the feedout wagon still fitted, I thought Gold was joking when he turned up the race, against the direction of the gateway. With camera ready I expected a three point turn but he swept the M105 around the gateway perimeter and with perfect precision took the Kubota and wagon around the inside post. He said the steering lock was very good, and after seeing his demonstration I totally agree! I had earlier tried to go full lock but was concerned about the rear tyre rubbing on the drawbar. Not a bad limitation really!
Each front wheel mount is engineered in such a way that the centerline wheel axle is well below the connecting front axle, meaning the M105 has an unusually high ground clearance, allowing 490mm below the front axle and 370mm under the drawbar. The Kubota's rear wheels have cast iron centers for additional weight and have no less than six mounting positions to suit narrow vineyard work, wider applications, or anything in between, with our test tractors wheels set at the widest point for increased stability.
The brakes did the job as well as any tractor, given we had the trailer hooked up, while the 175-litre fuel tank should keep the 3600kg M105S out in the paddock longer between refills. Gold feels the three-point linkage needs quick hitches and a better linkage gear lever at the rear, with a better feel to it. The heavily fabricated Kubota front-end loader lives on the tractor full-time. "It took me a bit to get used to the self leveling loader, but it's a lot quicker – straight down, into it then straight up," Gold says, who can deactivate the self-leveler from a switch inside the cab.
In the cab, at 1000rpm, the M105S averaged a sound level of 89dB, and 91dB at 1500 rpm. I recorded 91dB average at 1000rpm in a drive-by and 94dB at 1500rpm.
Gold said, "She's a brilliant farm tractor, with good low-down grunt. All you want is a simple farm tractor with good gears and a bit of grunt and a good lock on it – that's all you need. A couple of my mates have got Kubotas and they swear by them too. It's farmer friendly and I just know it's going to handle really anything!"
By Terry Stevenson
SPECIFICATIONS
KUBOTA M105S DTQ CABIN
Engine Kubota V3800-Di-TI
Type 4-cylinder in-line, direct injection.
Intercooler turbocharged
Engine nett power (hp) 105 @ 2000rpm
PTO power (hp) 93 @ 2600rpm
Total displacement (cc) 3769
Rated speed (rpm) 2600
Fuel tank capacity (l) 175
Transmission
No of speeds (option) 32 forward/32 reverse
Travel speeds – standard tractor Slowest speed: 1.68kph
Highest speed: 38.97kph
With optional creep speed kit Slowest speed: 0.30kph
Clutch type Multiple wet disc hydraulic
PTO type Independent PTO, hydraulically operated
PTO speed 540 @ 2205rpm
540E @ 1519rpm (optional 1000rpm av. in lieu of 540E)
Independent hydraulic type
Lift capacity at Link Ends (kg) 4000
Lift capacity at 610mm 3400
Weight (kg) 3600
Length (mm) 3900
Wheelbase (mm) 2435
Width (mm) 2095
Height (mm) 2620
Ground clearance (mm) Front axle 490
(mm) Draw bar 370
Keep up to date in the industry by signing up to Farm Trader's free newsletter or liking us on Facebook