Stirling AT9500 tractor unit
---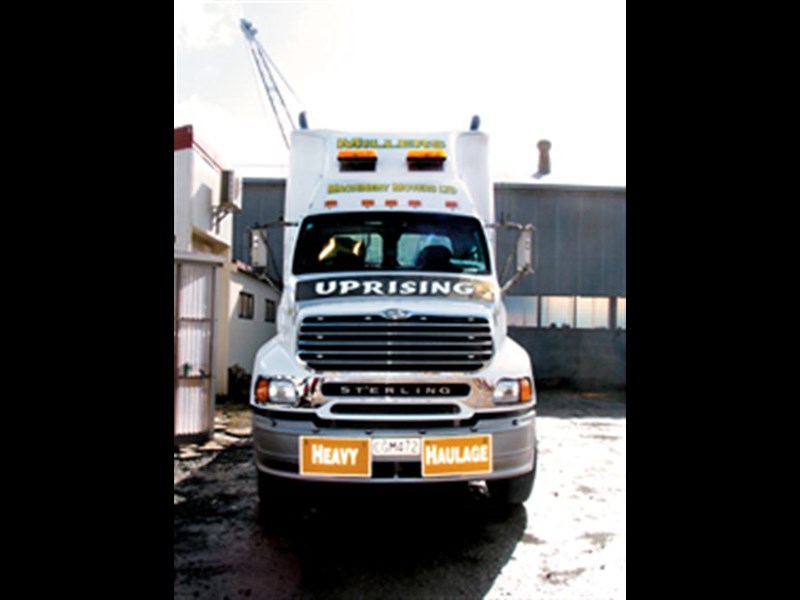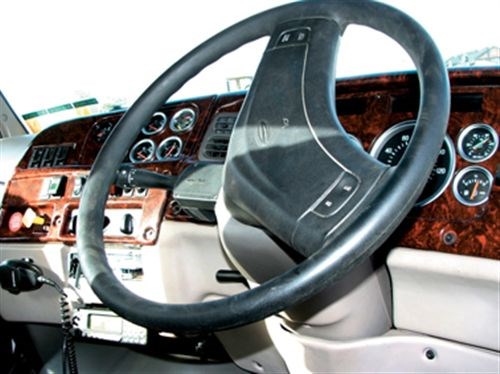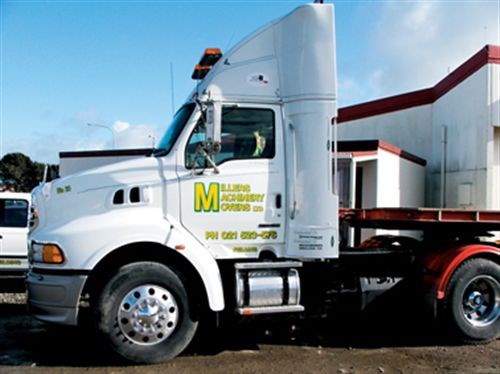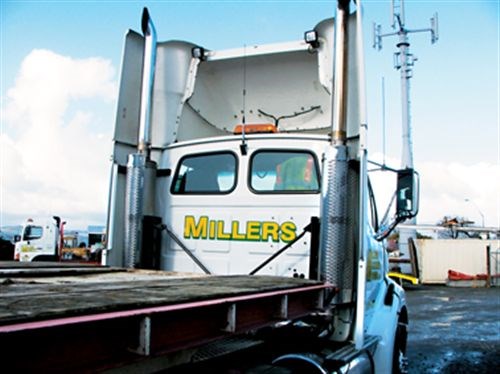 Kelly Ryan shifts up a gear and takes a look at the high horsepower Sterling
A new addition to Palmerston North firm Millers Machinery, the 2004 Stirling AT9500 tractor unit is part of Sterling's "A line" models designed specifically for specialised haulage.
According to owner Dean Miller, the truck has really impressed with its comfort level and performance.
"I have always loved driving trucks, but I have to say this particular addition to my fleet is really something."
Sterling was founded by Freightliner LLC in 1998 and is based in Willoughby, Ohio. The Sterling brand specialises in medium to heavy-duty commercial vehicles and is currently selling to five countries internationally, including United States, Canada, Mexico, Australia and New Zealand.
The bonnets of the AT9500 are described by Sterling as medium length with an aerodynamic shape.
This range comes with a choice of three engine makes and sizes with the Caterpillar 550 horsepower being top of the range.
Dean opted for the best when purchasing his Sterling through Trucks and Trailers in Palmerston North and has never looked back.
Dean's Sterling has been fitted with an Eaton Fuller 18-speed transmission system and the 550hp C15 caterpillar engine to gain maximum power for his often-heavy loads.
The hydraulics is a welcome feature of this truck, making light work of deliveries and pick ups from development sites and uneven surfaces.
Oversize loads are a common occurrence for Millers Machinery and this truck has been fitted with rotating beacons and "oversize" signage to assist with this.
This tractor unit is rated 75GCM and has a three-stage Jacobs Engine Braking System, which, according to Dean, performs extremely well.
The overall visibility from the cab is exceptional and fully adjustable side mirrors give the driver a high level of driver awareness, which in this line of work is extremely important.
The AT9500 has a fully adjustable driver's seat – just another feature that added to the extremely comfortable and high level of luxury this Stirling had to offer.
The diesel fuel tank is very accessible next to the driver's door, and storage is fairly minimal with a centre console and glove box, but is plenty for what is required.
Easy access in and out of the cab is very important with a truck of this size and the handles and footing steps were placed well for safe, quick and efficient entry or exit.
Internal lights all worked well and even in the middle of the day, improved lighting inside the cab. The cab boasts plenty of head and legroom for driver and passenger increasing its comfort level.
The dashboard is has a well-presented wooden panel finish, with everything positioned so at the driver's fingertips, including electric windows, central locking and in this case 2x CB radios.
Another essential feature was the factory-fitted stereo system for driver entertainment, which Dean stated has excellent sound quality. The air conditioning system was very efficient, although at this time of year I would imagine the heater was more of a must to compensate for extremes in climate.
The AT9500 has optional sleeper boxes available, however Dean has no real requirement for this feature.
This tractor unit has been fitted with Michelin 275/70/22R tyres, all of which were in excellent condition.
A tilt lever moves the cab forward for easy maintenance, although with a truck of this size and complexity, a service mechanic is likely to be the only person you would want under the hood.
Dean describes his experience so far with his Sterling as "magic".
"I have had it a year now and don't even think I have really run her in yet. She really is a beautiful ride."
Dean reports that the steering lock is pretty tight and the Stirling in general is very manoeuvrable considering her length and, often, weight. It also comes with a speedometer cut-off that can be set at any speed. This is very handy as it is such an incredibly smooth ride and that just acts as a safe guard.
Dean also stated that he has the benefit of cruise control, however he generally doesn't use it because with the amount of cargo he has on board he is frequently changing speeds for hills and cornering.
Millers Machinery runs this Sterling at about 50-tonne and still manages fairly steep inclines in 5th gear. Braking is smooth and effective and with the additional Jacob's breaking system, nothing is really a problem.
Servicing is completed every 20,000km with a full grease down every 10,000km.
This AT9500 has currently racked up 68,000km over the past year and I believe from what I have seen and what Dean has told me it is destined for a very long life to come. In the unlikely event that anything should go wrong, it's covered by a six-year warranty.
Thanks to Dean Miller from Miller's Machinery in Palmerston North for his time.
BRIEF SPECIFICATIONS
2004 Sterling AT9500
Engine: C15 caterpillar diesel
Power: 550hp
Transmission: Eaton Fuller 18 speed
Tractor unit: 75GCM
Tyres: Michelin 275/70/22R
Braking system: Three-stage Jacobs Engine
Features: Factory-fitted stereo
Electric windows
Central locking
Air conditioning


Keep up to date in the industry by signing up to Farm Trader's free newsletter or liking us on Facebook