Ford XR6 Turbo Ute
---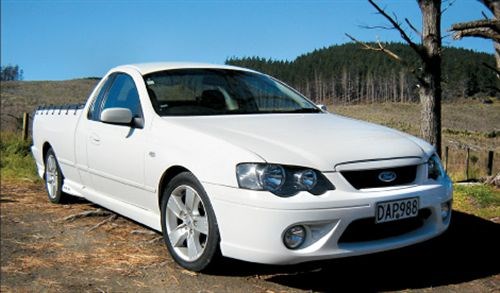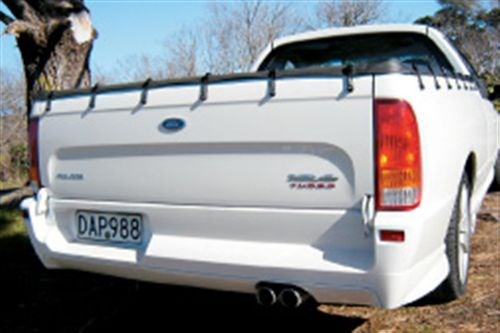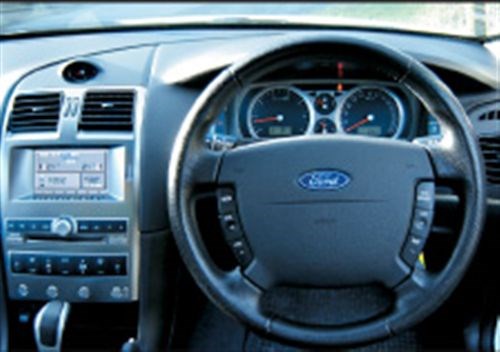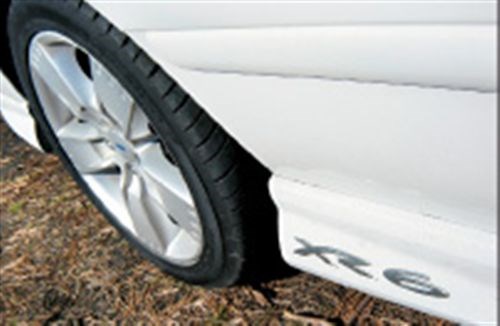 A few adjustments may be needed to get on you on the road, but on or off it, Ford's XR6 Turbo Ute handles it well.
Dreadful thing aging, a lot of printers ink has been wasted on it. Why when the hair has finished growing on the top of your head does it feel the need to sprout out of your ears?
This is almost as perplexing as the theories about the size of men's feet. I can report that it is all wasted nonsense; I have quite big feet.
I was reminded about my feet when I first got into the XR6 Ute. I could not find room for my right foot to fit between the brake and found it difficult to reach the accelerator. I was thinking that it I couldn't easily fit my foot there with shoes on how would a builder with size 13s and work boots manage?
But all it takes is a change of foot angle and there is plenty of room, perhaps I have been driving with my right foot at an odd angle for all these years and never noticed.
It is probably an advantage that the XR6 turbo driver can't just stuff a mighty boot on to the throttle because the results are stunning.
Care and discretion is needed, steel caps and gumboots proceed with care.
If you are stepping into the XR6 Turbo out of an overloaded four-cylinder Ute, step with care you are in for a surprise, a wonderful thrilling surprise mind you, this is one powerful beast.
Another thing that you will notice if you have stepped out of a four-cylinder or worse diesel Ute is fuel consumption. I have driven the XR6 Ute quite carefully for the last week, well you do when it is someone else's. I have limited myself to just a few turbo inspired thrills. The best I can manage according to the computer in the dash is 13.9ltrs/100km. So just like real life all the thrills do come at a price.
While you might kid yourself that you are buying a rugged workhorse just for work the clever people at Ford know otherwise. Even the names of the colours are a give away. You don't have a range of colours like rapid, menace, toxic, vixen and shockwave without sending out a clear signal of intent.
In an XR6 Ute, you would hope that the job site was quite a drive just so that you had time to enjoy driving to work and home again. A gas station along the way wouldn't hurt either.
It is not just the power that you will enjoy. There is plenty of room in the cab. The seats are very supportive and comfortable and are upholstered in a mix fabric and leather.
The dash has very small graduations for the speedo and it is something you need to keep an eye on. It takes a while to work out just what speed you are travelling at. The centre consol houses the heater and sound system controls. There is an LCD display panel that is easy to read in any light even with the sun shining on it. The LCD panel shows all the sound system functions, heater control temperature and displays the onboard computer.
The sound system includes an in-dash six-CD unit with audio controls on the steering wheel.
The heater and the ventilation system are nothing short of fantastic. On a cool chilly morning it gets the whole cab toasty warm in just a few minutes. There is plenty of additional storage room behind the seats as well as a good supply of storage compartments.
The tray is lined with polythene and a standard 1.2 x 1.8 sheet will fit between the wheel arches, well done Ford. The tray also features moldings that a ladder rack will slot into or could be used to slot in boards to divide a load up and keep the scoria away from the toolbox. You can also get a solid tonneau cover for the tray with a spoiler. There are also Ford ladder racks and sports bars available.
The XR6 range is powered by Ford's long serving 4ltr six-cylinder engine with DOHC, but it now has variable valve timing and fly-by-wire throttle control. The non-turbo version puts out an impressive 190Kw but force the mixture in and you get 245kW of power and 480Nm of torque. Not enough power for you? Well, the Boss version of the XR8 puts out 260kW and 500Nm of torque. In New Zealand you can opt for the E-gas engine, which is a factory fitted dedicated LPG engine. Both the XR8 and the XR6 turbo enjoy Fords six-speed manual or auto transmissions. The German-built ZF six-speed auto is very Ford, just brilliant.
Front suspension is independent double wishbone with a Hotchkiss set looking after the rear.
Front brakes are ventilated disks with solid disks in the rear.
All the models in the XR range have both ABS with electronic brake force distribution and traction control. Steering is rack and pinion with 2.8 turns from lock to lock.
Towing capacity will be another consideration for the series Ute buyer and the XR turbo has a towing capacity of a massive 2300kg. You can also load up to 500kg onto the tailgate. That should carry the whole family watching the local rugby.
I think that the new XR 6 turbo Ute looks very sharp, it goes incredibly well. Handles like a dream and has all the creature comforts of a limo. Only if you really, really had to have a 4WD Ute would you want to keep shopping.
The XR6 Turbo is going to set you back something around the mid to high fifty's.
By Gordon Legge
Specifications
Engine
6-cylinder DOHC
With DIVCT and intercooled turbo
Power 2245Kw
Torque 480Nm
Transmission
6-speed manual or 6-speed ZF auto
LSD standard
Brakes
Front ventilated disks
Rear solid disk
Suspension
Front Fully independent double wishbone
Rear Hotchkiss
Dimensions
Length 5069mm
Width 1871mm
Wheelbase 3095mm
Wellside Length 2209mm
Width 1804mm
Height 663mm
Weight
Kerb 1807kg
Payload 473kg
Towing (with brakes)
Standard towbar 1600kg
Heavy-duty towbar 2300kg (not the turbo version, and with the load leveling kit)
Keep up to date in the industry by signing up to Farm Trader's free newsletter or liking us on Facebook