Massey Ferguson MR5340
---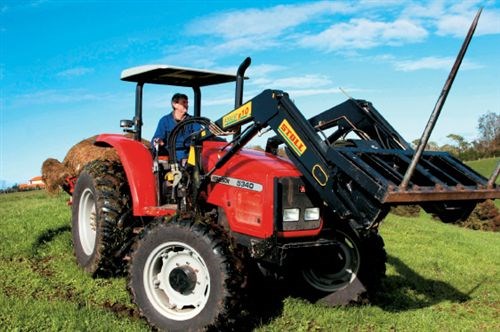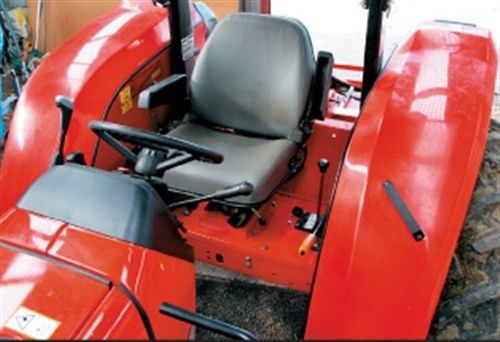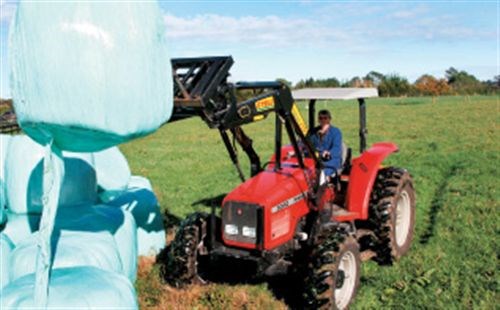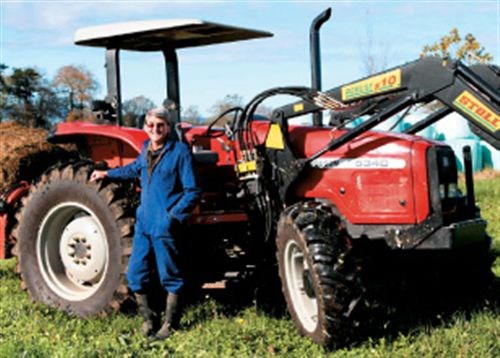 How does an 82hp tractor stack up on a small 40ha farm near Matamata? Terry Stevenson finds out
The four cylinder 4.1-litre Perkins diesel engine kicks out 82hp and 288Nm of torque, but it feels like more! I say that because after three days of rain, driving up a long steep hill with the front-end loader fitted and a loaded bale feeder on the back, the engine performed way above expectation for the load I was giving it.
Trying to lug the engine to see where and when the power dropped off, I did my first run in a high third gear, middle ratio. I tackled it at 1500rpm and by the time I crested the top some 50m later, it had dropped only 50rpm. I thought that was impressive for such a high gear and with a bit of weight on the tractor. So I went up a gear and put it into fourth. Starting from 1400rpm it lost only a thousand revs on the way up until about the three quarter mark, when it quickly dropped down to 1000rpm and almost stalled. I thought it was all over by then and was about to declutch before it died on me altogether, when I sensed that it might hold on and lug it to the top.
I wasn't disappointed as it held onto its revs just before the crest, when it dropped down to 800rpm – and again to my surprise still kept going, although there wasn't much left by that stage! It only just made it over the top but the naturally aspirated Perkins really came through in the end with flying colours.
Typical of non-turbocharged tractor diesels, most of its power is made below 1800rpm, with the powerplant unwilling to rev past its 2200rpm advertised limit. In fact, for a little more outlay you can buy the 92hp turbocharged Massey Ferguson MF5355 ROPS tractor, which uses the same engine, boasting 348Nm of torque.

Unique to the MF5340 is an interesting 12 forward and 12 reverse gearbox arrangement. The driver can change through any one of the usual pattern four-speed gearbox in the normal way and, using the same gear stick, change between any of the three ratios. Although it takes a while to get the hang of the concept and the feel of the whole transmission system, with practice this can even be done on the fly! To change ratio, push the gear stick hard over to the right, where you can select high ratio by then pushing it forward.
Medium is in the middle and, for low ratio, pull the stick hard back. The advantage is one less lever to worry about and, once you get the hang of how it works, is easier and leaves the driver area less cluttered. Each ratio change is highlighted by a corresponding light on the dash to tell the driver which ratio they are in, with the 2WD/4WD indicator light nearby.
The stick on the left of the steering wheel looks like a shuttle lever when in actual fact it is a forward/reverse direction change lever only. As I discovered, you can't move off without using the clutch on this dry-clutch model.

With these features, how does an 82hp tractor stack up on a small 40ha farm near Matamata? Our test tractor this month is owned by Chris and Helen Russell and most farm work is grazing for a local farmer, averaging 100 to 120 head. Helen runs Esprit Stud, a miniature cattle stud, and breeds Dorper sheep on the property. Helen is also a New Zealand-renowned breeder and broker of miniature Hereford and low-line Angus cattle, with a lot of business coming from lifestyle block owners.
As manager the past 30 years, Chris sold their Auckland family pharmaceutical business six years ago to follow his dream and go farming. They moved onto a 200ha farm at Scotsmans Valley when, after three years of improvement, they received an offer and next headed to Matamata, three years ago. He enjoys the hard work and the rural aspect of living, particularly near a small town. Day to day, Chris is constantly shifting stock on Amberlea Farm, moving breaks and feeding out, so needs a tractor that is reliable and capable of meeting his requirements. He is continually improving the farm and the purchase of a good tractor added value to the operation.
The MF5340 replaced an older 65hp Case 595, which he really liked but chose to buy a heavier tractor for the extra stability and safety reasons, particularly when moving heavy round moving bales with the quick-detach Stoll front-end loader. "The biggest aspect for me was that is was safe," Chris says. "Trying to justify spending that sort of money on a block this size, with what we're doing, buying a tractor is probably something the accountants wouldn't advise." Russell had owned a couple of Massey Fergusons on previous lifestyle blocks, "A Massey Ferguson is synonymous with NZ farming." Russell says, who had dealt with Kevin Morey from Matamata Tractors and Machinery buying and selling implements so went straight to Morey for his new tractor. "His customer service has always been first rate, and that was part of the decision making process!"
"I wanted something not high-tech or with too many gizmos, but something that would be a good basic tractor." Chris said he got exactly what he wanted and has clocked 116 hours in nine months, so has a good idea how it works for them. He uses it for bale loading, feeding out, topping and with a hoist trailer.
Out in the paddock the MF5340 performed as well as expected in every area we took it. The 55-degree steering angle gave the 3652kg MF5340 a good turning circle from its 2350mm wheelbase and heading downhill the brakes were more than adequate stopping on the wet grass, with a load on. Although I didn't measure it, the front wheels appear to have a wide wheel track, which would obviously help with stability. The tractor seems to have the horsepower and for endurance, a good-sized 125-litre fuel tank will keep the MF5340 running for some time between fills.
At the back the two hydraulic outlets are each rated at 28 litres per minute, which Russell said is more than enough to operate his bale feeder and hoist trailer, and has an auxiliary adjuster beside the driver to increase the flow rate up to 66 litres per minute, without the front end loader. The PTO is a two-speed arrangement rated at 71hp with a hydraulic clutch, while the maximum rear linkage lift weight is 2600kg. A single spotlight is fitted at the rear, where there is no remote lever for the linkage rise and fall.
There are two steps up to the flat operator platform, which has a healthy 10mm thick rubber base to reduce vibrations transmitted to the driver and for greater general comfort. With a third service, the Stoll F10 front end loader seems to be a good size for this model tractor, and one which Russell really likes to use.
Massey Ferguson is part of the AGCO Corporation, offering a comprehensive range of farm tractors and implements around the world, with annual sales in the $2.3 billion region. Russell is very pleased with his purchase, "I wanted something I felt safe on which would do the basic farming activities. All round, it is very good for what I need. It's a good basic tractor, priced right, which does the business."

Want to read more tractor tests? Go to farmtrader.co.nz
SPECIFICATIONS
Massey Ferguson MF5340 Specs
Brand MF
Model 5340
Drive 4WD
Operator Environment ROPS
Chassis Type RIGID
Cylinders 4
Capacity (CC's) 4100
Engine HP 82
Rated Engine Speed 2200
Torque @ RPM 288NM @ 1400RPM
Transmission Type Synchromesh
Shuttle Type Mechanical
Speeds Fwd x Rev 12 x 12
Min Speed (KPH) 1.7
Max Speed (KPH) 29.2
Clutch Type DRY
PTO Type Independent
PTO Speeds (RPM) 540/1000
Hydraulic Pump Type Open Centre
Maximum Flow (Litres) 66
Number Spools Fitted 2
Linkage Category 2
Draft Control Type Top Mechanical
Linkage Capacity kg 4000
@ Location Ball Ends
Standard Front Wheel Size 12.4 - 24
Standard Rear Wheel Size 18.4 - 30
Minimum Overall Width mm 2060
Turning Circle mm 8000
Dry Shipping Weight kg 3729
Keep up to date in the industry by signing up to Farm Trader's free newsletter or liking us on Facebook