Ford Territory
---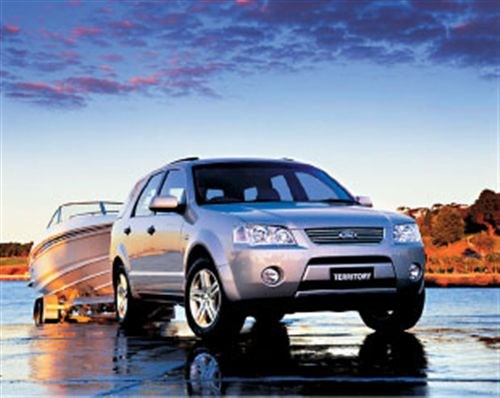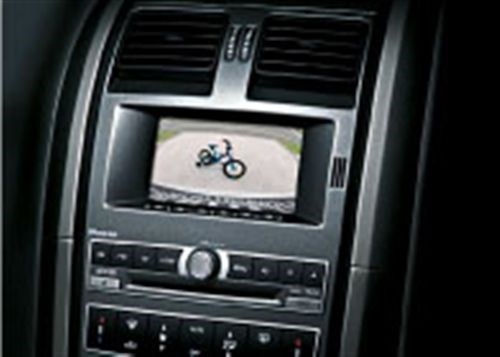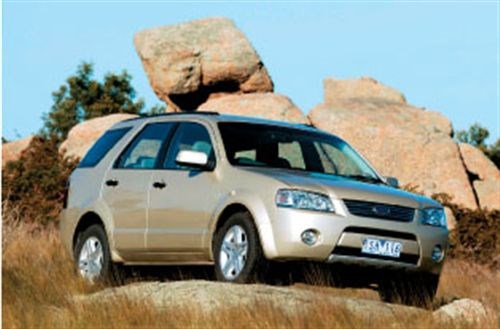 The Ford Territory can cunningly label itself as a family station wagon that happens to be 4WD, rather than one of those nasty thirsty evil SUVs
The current fuel price lift has provided a perfect excuse for the cardigan wearers to proclaim the SUV as the greatest threat to the planet since nuclear fission. Naturally this is perfect nonsense, cardigan wearing that is. If they thought about it, they would find that many SUVs – especially the diesel ones – are very fuel efficient. They are also very useful versatile vehicles that often allow you to use the one vehicle for two different tasks. Yeah, sure, lots of them never go off the road and the last time I did that, I slid straight into a lake, but I digress and do read the manual.
Ford Territory is a bit of a thirsty beast, after an hours motorway running the computer on the dash showed 11.3ltrs per 100km and after a weeks use with about a half of that around town, it had worked its way up to 14.3ltrs per 100km. I was driving quite carefully, as you do with someone else's vehicle. I have talked to other Territory drivers who have experienced use up to 16ltrs per 100km and report up to 18ltrs per 100km with more enthusiastic throttle use. You are carting around a shade over two tones, so it is going to take some power to get all that weight moving.
However, Territory is not going to single handedly drain the planet so lets get back to the many good points of this wonderful vehicle.
There is a base model Territory with just 2WD and they move up through the Ghia range with V8 and turbo power options.
All three models features Fords unique Acutrac suspension control system. The 4WD models come with Acutrac "plus", which has the added safety features of ABS with electronic brakeforce distribution, grade control logic, and traction control. There is also the option of adding both Dynamic stability control and hill descent control.
Ghia models come with a wonderful reversing camera, just such a terrific feature.
There are plenty of storage compartments on the Ghia, at the back of the boot is a large wet storage container that is a great for everything from wet swimming togs to ski boots. There are more storage containers under seats and a waste bin the even has a washable liner, top idea Ford. Unfortunately, the interior has a few too many ill-fitting pieces of plastic trim.
While the more expensive European 4WDs might scoff at the trim they might well be shaking in their designer pumps at the handling.
The ride and handling of the Territory will put most of its $100,000 plus European rivals to shame.
Millions of kilometres of testing have gone into setting up the suspension system and it has been worth every kilometre.
The virtual pivot point control link front suspension gives the driver great steering feel and offers all the passengers a wonderful comfortable ride. Suspension and ride comfort in the Territory are what give it a distinct edge over its opposition.
Territory is available with either two (five-seater) or three rows of seats (seven-seater). Row three and row two can fold flat to open up a huge load carrying space.
Power to keep this rolling along comes from Fords classic 4ltr 6. The powerplant offers 190Kw and 383Nm of torque. This is boosted in the new turbo version to 245Kw and 480Nm of Torque. Getting all this power to the wheels is a wonderful 6-speed ZF gearbox that has a sequential mode for a more comfortable drive over the hills.
You will be able to walk out of the dealership with a base model 2WD Territory after parting with just under $50,000, and if the top of the range Ghia takes your fancy, you will be looking at spending close to $70,000 to claim a piece of Territory.
By Gordon Legge
Keep up to date in the industry by signing up to Farm Trader's free newsletter or liking us on Facebook