Jeep Commander
---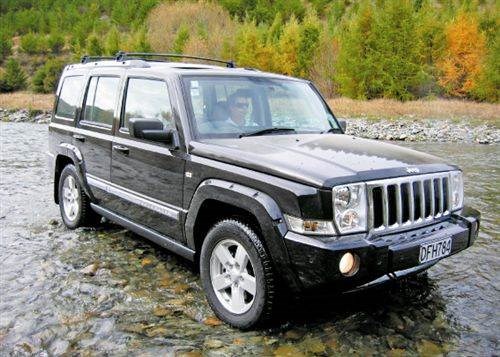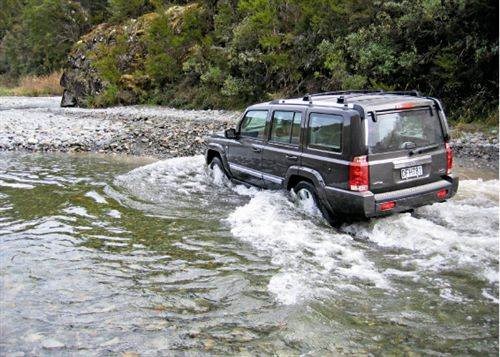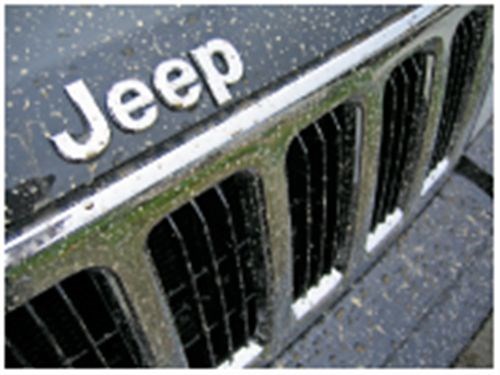 The new Jeep can handle a variety of assignments
I found the Commander to be a bit of a compromiser, which is often a necessity for both senior officers and 4WD vehicles. In the engineering department, they call them "design trade-offs", and they're not always such a bad thing.
Take the Jeep's body lines, for example. Perhaps only its mother could love its looks, but there's a point to the Commander's slabby lines. That squared-off rear allows a third row of seats, or a useful extension to the cargo space over the base Grand Cherokee. It's principally that space - and the associated $1000 premium - which differentiates the Commander from its Grand Cherokee sibling.
Where the Grand Cherokee's rear lines look smart, the Commander initially seems clumsy - as if a miffed designer with a marketer's gun in his back wielded a ruler to determine the roof line. But get in it and it works. The extra 7cm of roof height allows each row of seats to sit slightly higher than the one in front, so everyone gets a decent view out. That higher roof - as well as the 3.5cm extension in length - increases luggage space too, with 1030 litres with two rows in use, and 1950 with the second row folded. That's a useful 52- and 42-litre increase over the standard model.
Like the Cherokee, the Commander gets either the 5.7-litre V8 Hemi or the 3.0-litre V6 CRD common rail diesel. That V8 - also shared with the 300C - cuts four cylinders under light engine loads to improve fuel economy. But those wanting a SUV to do a job, rather than win the traffic light wars, will opt for the more frugal diesel - Chrysler claims a 10.8l/100km figure overall.
At 160kW and 510Nm, this diesel's got more power and torque than the equivalent Land Rover, and even Toyota's update to Prado's 3.0-litre diesel doesn't hit the mark - by 100Nm, in torque terms alone (though of course it's also more frugal).
All that grunt goes to the wheels via a five-speed auto gearbox and Jeep's clever Quadra-Drive. Commander is permanently in all-wheel-drive - sending power to whichever wheel, or wheels, have grip. If three are spinning, you've still got motion.
Select low range and head into the rough and this thing's performance is impressive. There's so much torque on tap you can virtually chuff along at idle, picking your lines while Quadra-drive sends the torque where it's needed. You can turn ESP off completely if you need to control momentum on a steep, slippery uphill.
Better still, that extended load space doesn't compromise approach and departure angles, which are identical to the Grand Cherokee's, while ramp-over angle at 20 degrees is only marginally less favourable than Grand Cherokee's 20.4. Certainly the off-road package is sufficient to snare it NZ 4WD magazine's SUV of the year - an award not made to soft-roaders.
Not that Commander's hard work on road. Jeep's "quiet steel" tech involves three layers of bonded metal to reduce NVH, and it is quiet enough. But what most impressed was the electronic roll mitigation. Commander feels noticeably more composed than Cherokee, with less roll and a more controlled ride.
Interior design looks rugged; the heated leather seats will wipe clean and the flip-up rear glass is useful when chucking small items in.Commander's features list is generous, with triple zone air con and curtain airbags that stretch all three rows for security when carrying the kids and their mates. There are ABS-equipped brakes, traction control and ESP, on-board tyre pressure monitors and rain-sensing wipers among a long list of standard fripperies. There are options aplenty - you can add two extra sunroofs to take the total to three, though two won't open, so forget your trio-go-possum-shooting plans. And you can tow 3500kg, braked.
The picture's not perfect, of course. There's no reach adjust for the steering wheel - surprising in a $79,990 car, and shorties may find it hard to get comfy. The centre rear headrest obscures rear view; the hand brake is mounted on the passenger side; and it needs a roof-mounted passenger's grab handle - the A-pillar one is too far forward for bracing during rough going.
Those compromises may be worth it if you want a name brand with a powerful motor that's genuinely capable in the rough, and appreciate the added space allowed by those workaday lines.
By Jacqui Madelin


Keep up to date in the industry by signing up to Farm Trader's free newsletter or liking us on Facebook