John Deere 5020
---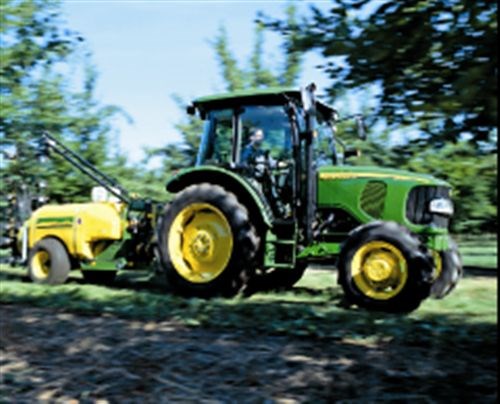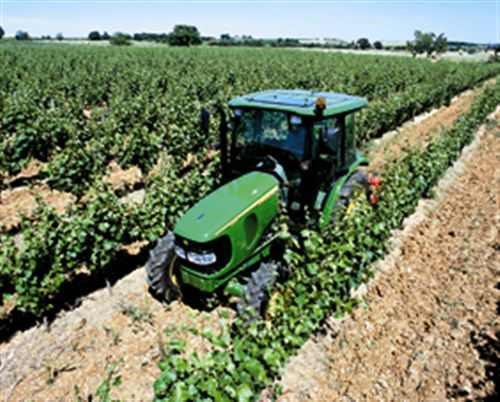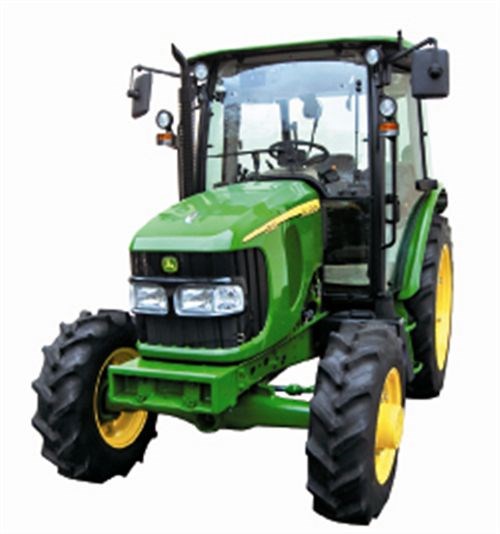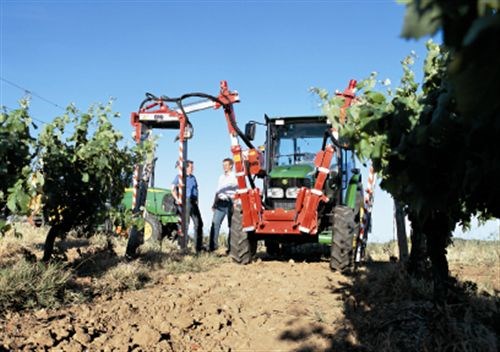 John Deere 5020 Series Tractors in narrow configurations fit easily in tight spaces
Growers with restricted space for tractors will welcome news that John Deere 5020 Series tractors are now available in narrow configurations. With excellent all-round visibility these compact and manoeuvrable tractors are suitable for use in wide vineyards, wide orchards, in and around farm buildings and in other confined spaces.
Designed and built at John Deere's Mannheim tractor factory in Germany, the 5020 Series tractors borrow many of their advanced technology features from the higher horsepower 6020 Series tractors. They incorporate Tier II compliant John Deere PowerTech four cylinder constant power engines with a rated PTO power of 44kW (59hp), 49kW (66hp) and 55kW (74hp) for the 5620, 5720 and 5820 respectively.
The full-frame design of these tractors feature a low overall weight of 3700kg and compact dimensions with a high payload capacity. Larger, heavier implements can be carried without placing extra stress on the engine and drivetrain components, which concentrate on transmitting the power.
This approach has led to the development of lighter, stronger, more versatile tractors with better weight distribution ideal for front loader applications - 40 percent on the front axle and 60 percent on the rear as standard. There is no need to fit expensive sub-frames with this design as the loader is bolted directly to the steel frame. The full-frame concept is also fully compatible with an optional front hitch and PTO.
John Deere's popular PowrQuad 40km/h 16-speed transmission with Perma Clutch II is fitted as standard, and includes four powershiftable speed ranges and a left hand power reverser with neutral, for easy shifting under load without clutching.
Automatic speed matching on the optional PowrQuad Plus transmission, which features single lever shifting, allows the correct gear to be chosen when shifting though the fully synchronised ranges. An additional 16 speeds are available as an option on both transmissions, giving a minimum speed of 1.5km/h.
In terms of operator comfort, the flat floor 5020 Series cab is the most spacious in its class, providing excellent all-round vision, curved rear corner window and rear implement window. An optional glass roof hatch is also available for even better loader visibility.
In addition, the 5020 Series Tractor cabs incorporate air suspension seating, a foldable passenger seat and admit a very low noise level of 75db(A).
To accommodate the smaller design the narrow configuration features narrowed rear fenders, inboard footsteps and handrails, narrowed 114 litre fuel tank and standard MFWD front axle. The overall tractor width is 1740mm (at the ground) on 11.2R20 front tyres.
The 5020 Series tractors include a high capacity pressure compensated hydraulic system with load sensing, and a 56 or optional 65 litre/min pump. The HMS II headland management system as featured on larger tractors in the John Deere range is available on PowrQuad Plus models, and the category II three point hitch has maximum lift capacities of 3700 and 4200 kilograms, depending on the model, with electronic hitch sensing and hitch dampening.
Vegetables, vineyards, orchards and high value crops need highly specialised equipment and that's why John Deere manufactures tractors in a wide range of configurations to satisfy the specific needs of your operations: narrow tractors for vineyards and tightly planted orchards, low-clearance models that can cruise underneath overhanging trees, and high-crop models to tower over tall crops. Each model offers a wide range of features and options to meet the demands of growing, tending and harvesting high-value crops.
For more information contact your local John Deere dealer, tel 0800 303 100, or visit www.deere.co.nz.

SPECIFICATIONS
1720mm overall tractor width rear with 12.4R36 rear tyres
1740mm overall tractor width front at the ground with 11.2R20 front tyres
1840mm overall tractor width front with 11.2R20 front tyres
1840mm overall width front axle
1640mm flange width front axle
8400mm turning circle
Keep up to date in the industry by signing up to Farm Trader's free newsletter or liking us on Facebook