Polaris X2 HDS EFI
---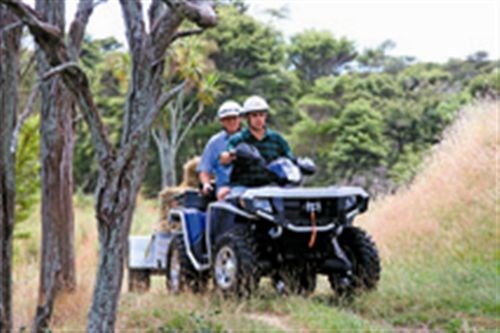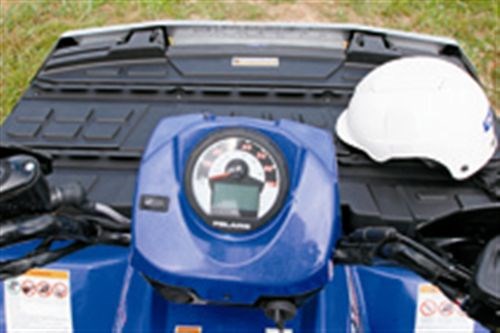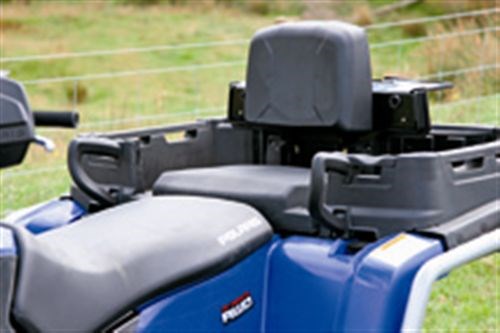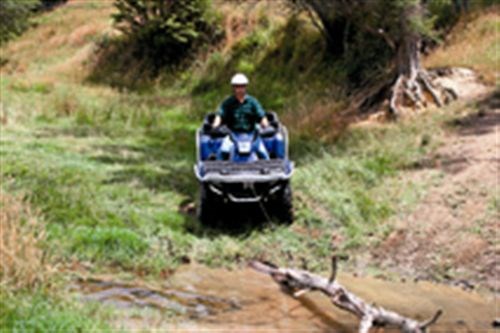 The Polaris X2 500HDS offers features for two
You're at the back of the farm with one of your farm hands working on a long fence on the hottest day of the summer; both of you are burning under the midday sun and in dire need of water. It's lunchtime, both of you could do with a cold drink and there is a ten minute drive between you and the refrigerator in the house. Lucky you've just bought the latest Polaris ATV that, although looking like a single seater, actually has a hidden fold-out second seat
The 2007 Polaris X2 500HDS (heavy duty spec) is an ATV bursting with features and is designed especially for the New Zealand market. The X2 500HDS model comes standard with two seats but, like me, you wouldn't know it to look at until someone showed you how it folds out. That's right, the X2 looks, feels and goes like a normal ATV, but can also carry a pillion passenger in safety because the passenger has their very own seat, footrests and handholds.
The fold-out rear seat took me 20 seconds to get ready for my passenger to sit on – it is very simple. During the day we must have folded it out at least a dozen times, thanks to the patience of Ngatea Polaris dealer, Frank Fullerton, of Hauraki Plains Motors. All you have to do is turn a pair of knobs on each side of the seat a quarter turn, lift up a hinged rear tray section through 90-degrees, fold the backrest down - that becomes the well-padded pillion seat - and finally pull the toggle to raise the backrest into position. Okay, the seat does eat into the rear carrying space but there is still room left on each side and behind the seat.
In everyday use, farmers would fold the seat away to make use of the 181kg maximum load rear tray, which has a handy gas strut assisted tipper. But the real advantage of the X2 is that you can add a passenger at any time without compromising safety in any way which, on its own, will generate sales.
The rear tray itself represents a difference from other ATVs, so it has useful high sides and a solid floor - allowing tools, chainsaws, fencing materials or even your dogs to be carried along for the ride. It has a fold down rear gate for oversized items or for easier loading and unloading of heavier things – like the water pump I loaded onto another model a few years ago. The waterproof front tray can carry loads up to 40kg and you'd be surprised what you can fit inside to keep away from the rain - or your hungry dogs!
The X2 is based around a slightly lengthened Sportsman 500 frame, keeping all the jewels of that model and adding a few new gems of its own. I always enjoy testing the Polaris quads because they handle so well with the MacPherson strut suspension system, where each wheel rides the bumps independently. To reduce body roll, a torsion bar is fitted and kept the X2 stable when I test rode it sideways along a hill (don't try it at home). Being slightly longer than the Sportsman 500, the X2 is a little slower steering around terrain, but most people would not be able to tell the difference.
Engine technology has been changing rapidly these past few years, mostly in the area of fuel metering. The single cylinder four-valve liquid cooled engine really pumps out a lot of power! Gone are the carburetors of the old days and in are new electronic fuel injection systems – just the same as you've had in your cars for the past decade or so. And the difference it makes to your riding pleasure is astounding. Firstly, it is more economical on fuel consumption, meaning it can travel further per litre, making it easier on the wallet. Secondly, all throttle actions are super responsive which makes the ATV more fun to ride and then, of course, there is more power available when you need it.
With a maximum towing capacity of 555kg, I carted around a trailer load of hay bales up and down some fairly steep tracks and the X2 never had a problem. I always had more power up my sleeve in case I needed it to crest a hill. And, what is better, that was also carrying a passenger too! Mighty impressive.
The Polaris Variable Transmission (PVT) hardly makes a sound and, without a gear lever to worry about, anybody can jump on, slip it into gear and ride it with minimum instruction. This model has the gearbox and differential housed inside a single, sealed unit, avoiding additional drive shafts and general wear and tear.
New from Polaris is a front wheel engine braking unit which works when in 4WD mode. If you ride around in 2WD, the X2 still offers rear wheel engine braking through the transmission system – good on its own. But go down a steep hill in 4WD and try out the four wheels engine braking – it was so good the X2 nearly stopped and I actually had to throttle on to get down the hill!
The X2 has a third transmission mode which unlocks both rear wheels driving at the same time - used when riding on grassed areas to minimise turf damage such as a golf course, school, or council sports grounds.
All three wheel drive modes can be selected while travelling along, "on the fly" and, the yellow button on the left handlebar is a safety override button for when reversing. Leave it alone while backing and, no matter what drive has been selected, it will drive the rear wheels only, with a rev limiter to prevent over-speeding. Push said button while reversing and it deactivates the rev limiter, permitting full power, and activates 4WD, if that is the originally selected drive mode. All that means is that I could back up a hill without loosing much traction.
New is the electro-hydraulic front wheel engine braking system, called "Active Decent Control" (ADC), adding an incredible amount of downhill slowing down power without using the brakes, as described above. With 4WD engaged, this ECU controlled unit automatically activates the ADC when the X2 is moving less than 24km/h and the throttle is at idle – all worked out through the electronic system.
The advantage is that it makes the X2 easier to ride and your brake pads will last a lot longer! There's no compromise to braking performance either, still standard are the superb braided brake lines fitted to all four wheels.
Rated at 680kg, the Polaris winch has to be a boon for a number of farmers because it means you can pull logs out of streams or help clear paths. You'll find a dozen uses for it but I found the winch to be simple to unwind and hook around a log, and even easier to press the left handlebar mounted in/out button to pull it in.
The only limiting factor was the traction of the wheels with the ground, as our test bike was pulled towards the stuck-solid oversized log I chose to have a go at!
About the only concern I have with the X2 is that the steering is heavier than the other Polaris ATVs I've ridden but, on analysis, there is a logical reason for that. Right up front is the winch, which weighs a few kilograms, then there is the new ADC unit, and finally Polaris have shifted the battery to near the front end of the ATV.
A couple of features I also like are the big 22.7-litre fuel tank for longer trail time between refills, a plethora of grease nipples and the impressive 286mm ground clearance, thanks to the extra long travel suspension.
Not forgetting the handy two rear working lights either. Polaris accessories fitted to our test bike included the front bumper and side bars, as well as the hand guards, and Polaris has a host of other accessories available.
The standard alloy mag wheels and the iridescent paint work set the X2 off and make the whole package come together for a great looking ATV. At $13,995, the two seat Polaris X2 500HDS is a very clever design and is highly practical for farmers, forestry workers, hunters, or even adventure ride companies, who all work or play alone – but sometimes in pairs.
It has excellent handling, great power and tremendous versatility like no other ATV on the market. The larger engined X2 800HDS retails for $15,495.
By Terry Stevenson
Keep up to date in the industry by signing up to Farm Trader's free newsletter or liking us on Facebook