Smart and Hard
---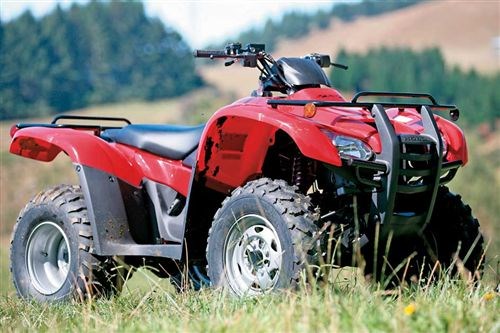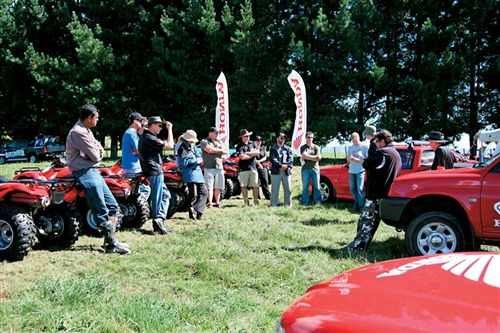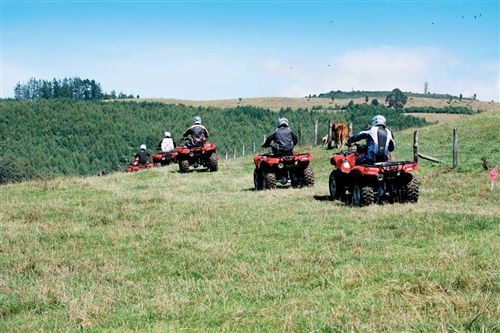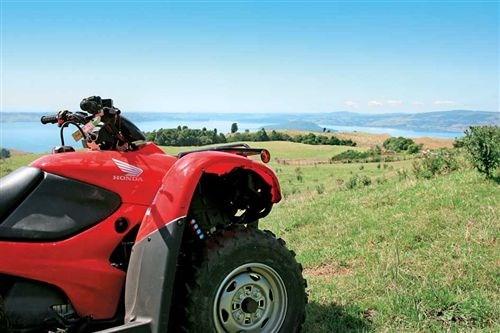 These are the words Honda uses to describe its all new TRX420 ATV, but will it live up to the legacy of the TRX350?
Lake Rotorua was the breathtaking backdrop to Blue Wing Honda's most important launch of the year. With more than 600,000 of the previous model sold worldwide and 10,000 of those sold in New Zealand, this new model has some big shoes to fill.
A huddle of journalists gathers around Honda's marketing mManager Anthony MacLean as he explains why "Smart & Hard" is written on his sleeve. In general, Honda felt the ATV market was going soft and getting away from what farmers demand in their utility vehicles. Their challenge was to build an ATV that exceeded the strength and durability of its predecessors while keeping in mind that farmers tend to believe "basic is best and technology equals' trouble".
During development, Honda focused its engineers on durability and making the machine more useful over a wider range of terrain, as well as adding features to suit the kiwi farmer.
Smart is the perfect word to use in describing the TRX420 as it's not just technically smart, but also visually smart. Honda has once again set an example for the others to copy. From its aggressive looking headlights and curves through to the LED tail lights, the designers have done a beautiful job in styling a bike while working within the tight confines of practicality.
Offered in two versions, the two-wheel drive TRX420TM and four-wheel drive TRX420FM, both machines feature an all new 420cc longitudinally-mounted engine. With an increased bore and stroke, larger air filter and valves, this extra performance is now more stable with the addition of liquid cooling. This will be a welcome upgrade to farmers who have experienced overheating issues on air-cooled ATV's in situations such as following slow-moving stock. With the extra cooling performance there is no longer a need for an oil-cooler, thus reducing the weight slightly.
The same Keihin fuel injection system found on the TRX680 has been added to further increase power. This will also reduce the chance of fuel starvation on steep terrain, improve cold starts and help performance at varying altitudes.
After a quick run down from Hondas technical team on the new features, we were able to throw a leg over and get a feel for the new machine. With a comfortable seating position, all the controls seemed to be set out in a logical order and were easily accessible. On turning the key (which is a nice security feature), the newly designed digital dash springs to life clearly displaying speed and selected gear in large numbers. The single cylinder engine gives off a deep yet restrained rumble through its stainless steel exhaust.
Our guides for the day, Pure Dirt Tours take us through a familiar course of rolling farmland, then through a series of obstacles to demonstrate the capabilities of our new vehicle. The first thing I noticed was the fantastic throttle response, just the slightest touch and the power was there instantly. The automatic centrifugal clutch let me click through its five gears hassle free. First gear was quite low in its ratio and I soon found that even the steepest obstacles could be taken in second gear. That first gear being designed for some serious towing capability.
Reverse was easy to find and even more low ratio than first gear. The steering was responsive and easy to turn; it felt quite light and nimble as we snaked in a line through the obstacles.
After proving to our guides that we weren't likely to kill ourselves, or at least giving that illusion, we were lead off high into the hills of Rotorua for the really challenging terrain. We had a nice mix of mud, gravel, grass and every type of track to put the ATV through its paces.
For the first time I actually began to really use the brakes, until now the engine braking had been sufficient and I'd hardly needed them. New for this model is the addition of disc brakes on the front. The 185mm dual discs certainly pull up hard and even more so when assisted by the 160mm rear drum brake.
Towards the end of the day, we really picked the pace up as we ripped through a twisty forest section. Although the suspension felt quite firm it had no problems dealing with the rough track. With independent double wishbone suspension on the front and a single damper on the rear all wheels give 160mm of travel. Considering the functionality required of a utility vehicle the handling was great and a step towards that of a sports quad.
Our particular test model for the day was the FM, which has optional four wheel drive (The TM is rear-wheel-drive only. Two wheel drive ATV's are dominant in Australia whereas our terrain and conditions make the four wheel the favorite option here). Located on the front left fairing of the FM, is a hand lever to change from four wheel drive to rear wheel drive.

Everything I needed for the day was tucked neatly away in the under-seat storage compartment; surplus to my requirements was the large cargo rack on the rear that can carry up to 60kg and the smaller front rack which can carry up to 30kg. There's also a trailer hitch with a towing capacity of 385kg.
With 72 percent of all ATV's sold in New Zealand being farm utility vehicles, It's understandable why Honda have dedicated so much of their research and development into the TRX line up. In this instance the result is a practicable usable work vehicle with great handling and performance.
The TRX420FM (four wheel drive) model is available for $12,495 and the TRX420TM (two wheel drive) is $10,895 incl. GST.
For further information contact your local Honda dealer or visit www.honda-motorcycles.co.nz
By Stephen Ross

Specifications TRX420 TM (two wheel drive) and FM (four wheel drive)
Engine type: Liquid-cooled, four-stroke, OHV single-cylinder
Displacement: 420cc
Max. Power Output: 18.3kW / 6000rpm
Max. Torque: 30.3Nm / 5500rpm
Carburation: Electronic fuel injection
Fuel Tank Capacity: 13.7 litres
Ignition: Electronic
Transmission: Five-speed with reverse
Ground Clearance: 165mm
Dry Weight: TM: 237kg FM: 254kg
Suspension Front: Independent double-wishbone; 160mm wheel travel
Suspension Rear: Single-damper swingarm; 160mm wheel travel
Brakes Front: 185mm dual disc, single piston calipers
Brakes Rear: 160mm sealed drum
Keep up to date in the industry by signing up to Farm Trader's free newsletter or liking us on Facebook