Easy handling big Grizzly
---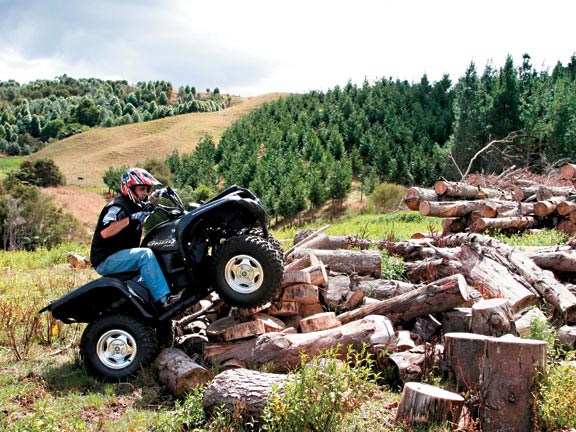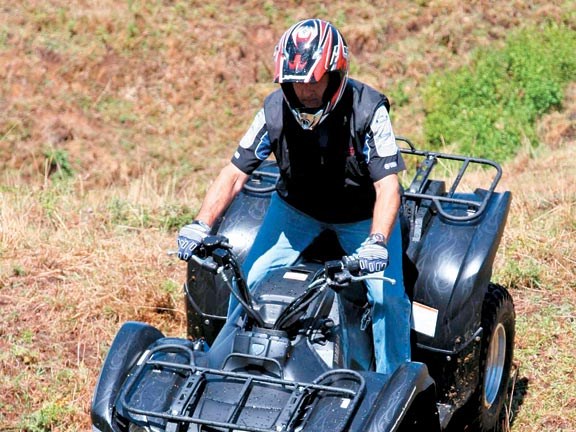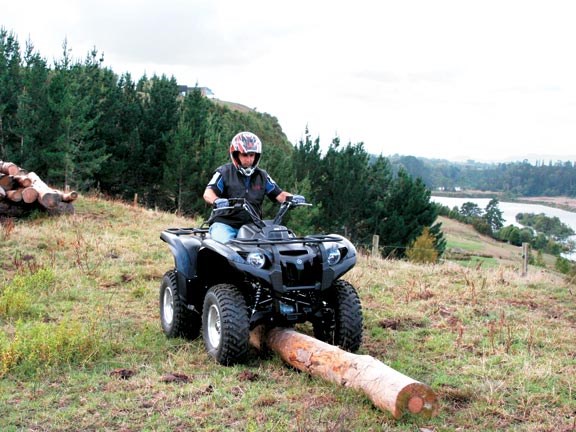 Terry Stevenson puts the Yamaha Grizzly YFM700FAPSE special edition to the test
Large ATVs can be fun to test but not everyone wants to own a large capacity ATV. However, there are many advantages to consider for those who do, such as farmers with serious drainage problems; so bad that in winter they can't take their heavy tractor through gateways or paddocks without cutting deep grooves into the soil – a real dilemma when they have to feed out each day.
Then there are the farmers who are keen hunters and like a big ATV to help bring their pigs or deer out.
The Yamaha Grizzly YFM700FAPSE Auto 4x4 Special Edition ATV certainly fits the bill when it comes to hauling heavier than normal (up to 550kg) ATV trailers and calferterias around the farm, and there'd be little problem throwing the odd trophy stag over the back, too (pity we don't have bears)!
The big Grizzly 700 rests proudly at the head of the table of a large Grizzly ATV family which goes right down to the small Grizzly 125. All Grizzly models have Yamaha's fully automatic transmission system called Ultramatic, leaving the manual gearchange Big Bear as the only other ATV in the Yamaha farm line-up for those who still insist on a gearbox ATV.
Perhaps the biggest breakthrough with any large ATV is Yamaha's adoption of power steering – the first on an ATV of any size. The obvious advantage is the Grizzly 700 is easier to ride, especially over rough terrain. This opens up the possibility for women to be out riding a heavier than usual quad, without the downside effects of heavy-quad steering.
In practice this was much better than I thought. The Grizzly 700 has an incredible turning circle compared to other large ATVs and the power steering came into its own when I turned the bars past the 15-degree mark, just when a normal ATV's steering becomes heavy. Easier than steering 250cc ATVs – perfect!
Perhaps the only downside is that it might lull the rider into complacency and, combined with the supple suspension and really soft seat; allow them to think they are travelling slower than their true speed.
To me the 274kg Grizzly seemed quite small, certainly a turning circle that would rival 400cc ATVs made it feel that way. Handling-wise, the Grizzly 700 literally floated over multiple rough paddock bumps as I gunned it for all it's worth.
To compare, I then rode a near new Yamaha Big Bear 400, which by comparison picked up every single bump, and that has very good farm suspension to start with. All four wheels sport a five-way spring adjustable shock absorber with a healthy 180mm of travel up front, and a whopping 241mm at the rear.
The other reason I found I could ride over bumps and around hill sections while retaining good control is Yamaha's independent double wishbone suspension set-up.
The Grizzly 700 is quite high, which usually means it has more potential to roll over than lower ATVs, but not so with this model, thanks to the entire suspension package. To help keep the weight low, Yamaha mounted the fuel tank below and to the rear of the seat.
The Waikato Yamaha-supplied Grizzly 700 Special Edition performed remarkably well under all conditions I put it through. The Special Edition test ATV I rode includes a slightly more powerful head from the 700 Raptor sports ATV, and gnarly graphics.
The liquid-cooled 686cc four-stroke engine shares the same 84mm stroke as its 660cc predecessor, but enjoys a 2mm larger diameter piston running inside a slippery ceramic composite plated cylinder bore to help boost the power. Which it does in spades!
And, just like Valentino Rossi's Yamaha M1 MotoGP racer, gone is the five-valve head for a now more efficient four-valve head. A non-rusting stainless steel exhaust with a quiet muffler reduces the probability of a costly replacement later down the track.
Out in the paddock, the biggest Grizzly of them all has so much power even I was surprised. Most of the power comes from the very high torque output from the single cylinder powerplant, which now comes standard with an electronic fuel injection system (EFI), where a 32-bit electronic control unit (ECU) controls the fuel flow instead of a carburetor.
The benefit to the owner is increased economy due to more efficient metering of exactly the right amount of fuel into the combustion chamber. I've ridden both two- and four-wheel bikes with the old carbureted 660cc engine, and I can easily notice the power difference. The engine starts readily, runs cleanly and I could feel how much better the engine responded to throttle inputs.
Laying all that power to the ground is Yamaha's Ultramatic variable speed unit, meaning there are no gears to change other than selecting either high or low ratio before hitting the starter button and setting off. This ATV is so grunty I went everywhere, including up some steep inclines in high ratio, without the engine flinching.
Other than the two forward ratios there is park, neutral and reverse. When reversing, a rev limiter kicks in to ensure rider safety; there is, however, a handlebar-mounted override button the rider can press to speed things up.
It was super easy flicking it in and out of two- or four-wheel drive while on the fly via a handlebar mounted switch. Even the nearby diff lock button was simple to select. The Grizzly's straight drive shafts also mean no high-wearing universal joints.
Another advantage of the Ultramatic transmission is on the steep downhills where the new Grizzly 700 incorporates an all-wheel engine braking system to complement the four wheel hydraulic disc brakes, which you're likely to need because it goes so fast!
Yet another great feature was the groundbreaking 300mm high ground clearance with a composite full-length skid plate, which I had fun taking to its limit riding over big logs.
A fully digital dash and 35w halogen headlights complete the picture.
Waikato Yamaha partner Campbell Hicks says the Grizzly 660 was a very popular ATV, and now the Grizzly 700 will be even more sought after.
"A lot of people like a bigger bike and more power, but the big plus is the power steering – there is nothing like it. You don't get so tired; you can turn in a sharp circle easily, which makes a huge difference. There are quite a few farmers who like a bigger bike for towing, and fuel usage will be heaps better than the old 660, or any of its competitors," Hicks said.
For $16,595 the Grizzly YFM700FAPSE Auto 4x4 Special Edition adds up to a very good package. Or, pay only $15,995 for slightly lower spec 'Yamaha blue' Grizzly 700EPS. On the back of years of success with the Grizzly 660, I'm sure either will more than prove itself on the New Zealand market. And if it weren't for your Grizzly, where would you be?
Keep up to date in the industry by signing up to Farm Trader's free newsletter or liking us on Facebook