John Deere 5025
---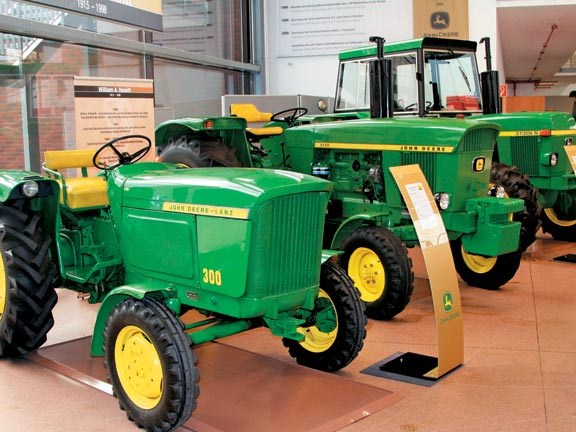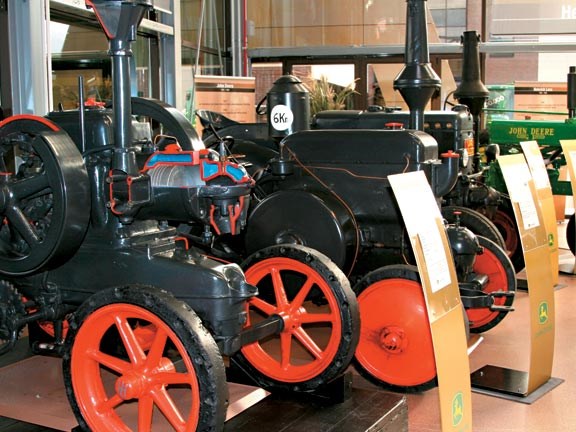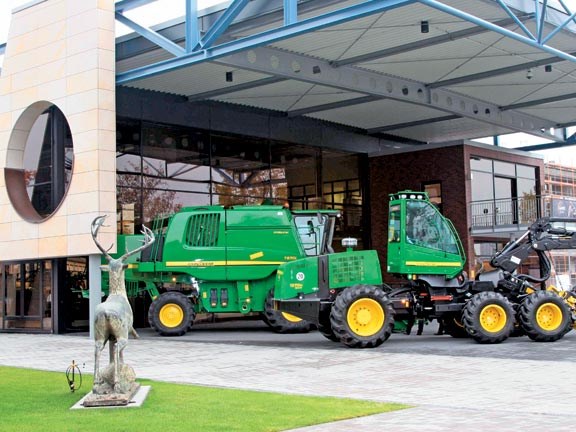 John Deere 5025 Series tractors are designed with timesaving solutions to bring more productivity
The name John Deere is synonymous with quality, reliability and durability. John Deere enjoys a loyal following from New Zealand tractor owners and a market share which other manufacturers can only aspire to.
It all began back in 1837 when 33-year-old blacksmith John Deere fabricated a polished steel plough to make it easier for US mid-west farmers to work their sticky soil. It didn't take long for other farmers to place orders, so Deere soon found himself building 100 ploughs per annum by 1842, and over 2000 in 1848.
Son Charles Deere took over the company in 1858 and ran it for 49 years. Buggies, wagons, corn planters and even bicycles (for a brief period) were produced from the late 1800s. John Deere himself passed away in 1886.
But it wasn't until WWI, when John Deere bought the Waterloo Boy tractor manufacturer, that the company began selling tractors, starting with the existing Waterloo Boy Model R in 1918 – even though these were not sold under the John Deere name.
Sales fell until the successful Model D was produced in 1923, the first tractor sold under the name John Deere.
Prior to WWII, John Deere celebrated its first 100-year anniversary, and during the war was directed to also produce military tractors, ammunition and aircraft parts.
As late as 1948 saw John Deere's first production diesel-powered tractor, the Model R, which featured a small twin-cylinder engine started by a twin-cylinder petrol engine, itself started by an electric motor.
In 1956 the company built its first overseas plant in Mexico, and bought into a German tractor manufacturer called Heinrich Lanz AG – famous for its Lanz Bulldog range of tractors.
During the 1960s John Deere introduced the first commercially available tractor roll-over protection system, and later released the patent free of charge. Still used today, 'Nothing runs like a Deere' ads began their run in 1971 and, by the end of the decade, staff numbers had attained an all-time high of more than 65,000.
Today, John Deere employs around 47,000 people worldwide in a number of businesses, including Agricultural Equipment, Commercial and Consumer Equipment, Construction and Forestry, John Deere Credit and John Deere Power Systems, who produce engines.
 
With all this history and huge following, including my Wairarapa-farming brother Richard, I wanted to see what goes into making these tractors the brand that they are. While in Spain testing a MotoGP race bike recently, I also visited the John Deere factory, based at Mannheim, Germany.
Visitors can walk around the John Deere Forum – a small visitor's centre where the company displays a selection of current models and tractors from the past, associated with both John Deere and Lanz. A large retail store stocks just about everything to cater for the most avid souvenir hunter.
For my tour I was teamed up with a crew of people from an English speaking Norwegian dealership – each year approximately 20,000 people are given factory tours, in 11 different languages.
I was limited to just a half-day tour before catching my flight back to New Zealand, reluctantly missing out on the cabin production factory in nearby Bruchsal.
Our helpful guide gave us each an ear-set with a built-in receiver so we could all hear her clearly as we walked through the working factory. As the tour began I was informed that unfortunately cameras are not permitted inside the factory.
The extensive tour took us six kilometres around the large site, where approximately 3000 staff work two seven-hour shifts, five days per week. Due to high demand, the gear manufacturing shop operates around the clock. The workers rotate their jobs on a weekly basis, so they learn a minimum of four different tasks within each area.
At Mannheim, the 7000 Series tractors (up to 200hp) was recently added to the 5000 and 6000 (up to 164hp) Series production line. Any tractors or machines above 200hp are produced in the US.
John Deere operates 70 factories in 31 nations, however it doesn't have a foundry on site due to local emissions regulations for this very central city factory, so all castings are brought in from several companies. John Deere has five engine factories, with the diesel engines for Mannheim coming from France.
What became clear early on was that this JD factory operates a 'Just In Time' (JIT) system, where very little stock is held. In fact, it has it down to a two-hour shelf life for most parts before assembly on the production line! An incredible and ongoing achievement for any factory that turns out around 200 tractors every day.
The factory was divided into several huge buildings linked by a long overhead conveyor line leading from the very beginning to final tractor assembly. Inside each building are machine shops, localised sub-component and component assembly areas, and finally the complete tractor assembly building.
First up we entered the rockshaft area, where they are also made for John Deere factories in other countries. These are heated up to an incredibly high temperature to harden them before machining. Each component has its own job card so it can be tracked through the factory and, in particular, fitted to the correct model, which could well be different to the next tractor on the line.
Next up we saw the highly complex PowerQuad oil clutch housings being assembled, both manually and on a CNC machine which automatically positions and tightens 48 screws. Imported from Japan, there are different housings for the 5000 and 6000 Series.
Of course, each clutch and transmission unit is built up just as specified from the customer. Each assembled clutch is tested before fitment to the transmission unit in the next phase of assembly. Again, here each unit is tested before moving forward on the production line, which travels at a constant 1.5m/min.
In the transmission area is an impressive full-size cutaway of a complete clutch, transmission and rear axle unit, used as a visual aid for the assembly workers.
Starting at 6am, by 9.30am when we went through, the team had built 205 clutch and transmission assemblies. And, because many units are shipped to overseas John Deere factories, their target for the shift was to complete another 142.
The next stage of assembly includes the mating of transmission and axle units. The large rear-axle housings are CNC machined by no less than 58 separate actions on five-axis CNC machines with automatic loading and unloading.
John Deere invested $100 million Euros on high-tech machinery over the past five years; the most recent were installed the week before my visit. JD says its high level of CNC machinery make it the only tractor manufacturer who makes its own gears and shafts on site.
I was impressed with the level of CNC machinery used in the accurate and repeatable production of the engine and transmission parts, although CNC machinery is used for other castings and components too.
In another building was a machine shop where the ring gear, planetary wheel cutting and heat treatment section take place. Here JD has 48 production cells where each component produced comes with an individual code to ensure all parts are assembled correctly. This is also where the axles are machined from solid steel.
The final building we walked through was the tractor assembly area – like the preceding buildings, it was huge. A sign proclaims: 'Welcome to the most modern tractor assembly line in the world!'
From a central elevated viewing ramp I could see the entire process as the engine, clutch, transmission, rear-axle and rear-linkage entered as one unit via the overhead production line and where each unit was mated onto a chassis, which itself had just received the front-axle.
Further along, all of the other sub-assembly units and components are added, such as the fuel tank, cabin, air conditioning unit and steps. Not forgetting the wheels, which are fitted after the engine run-up section with exhaust ducting.
An amazing 38,000 John Deere tractors left this plant in 2006, and they expect to make 40,000 this year – a new tractor comes off the line every three minutes. To ensure maximum quality is maintained, before shipment a tractor will be randomly pulled aside and completely stripped and measured for tolerances.
From beginning to end, this is why your John Deere tractor lasts so long and has a high resale value.
Keep up to date in the industry by signing up to Farm Trader's free newsletter or liking us on Facebook