McCormick MB85 ROPS Tractor
---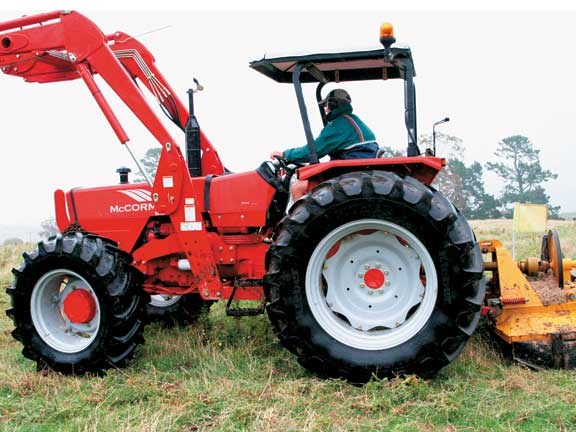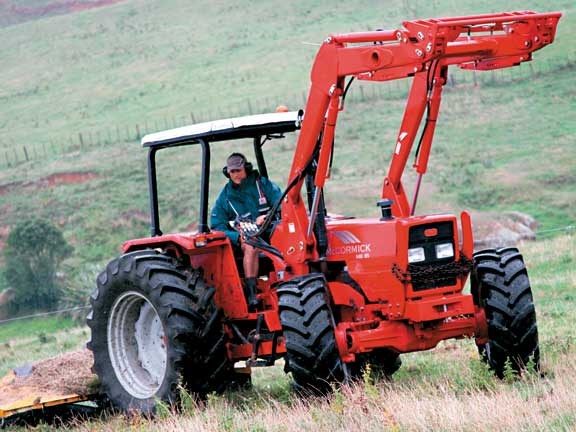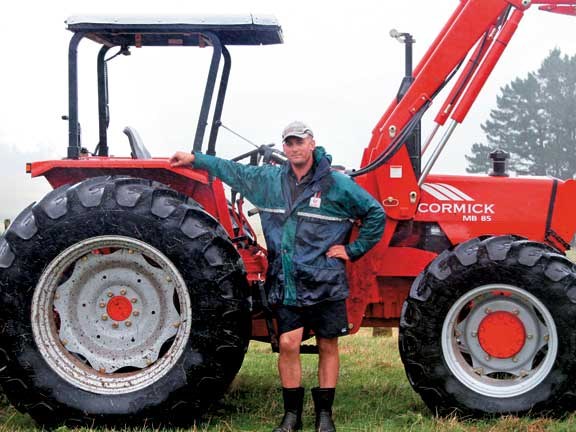 A Hill-Climbing Workhorse
Often it's the smaller tractors that lead the way for farmers who just want to get the job done with less fuss. They don't want to be trained how to drive their tractor, nor are they interested in looking up a manual to see how a gizmo on it works. A typical small farm might use an 80hp level machine as its main tractor, while often a large farm might have one or more smaller tractors to carry out the daily farm chores.

Chris Lewis is the proud owner of this month's McCormick MB85 test tractor. He bought a 384ha dairy farm near Pukeatua in the South Waikato in mid-2007, and has extensive plans to convert a couple of recently purchased neighbouring properties, to milk up to 1000 cows through a soon to be installed Waikato Milking Systems fully automated 60-bale rotary shed within two years.
He also runs some dry stock and is currently milking around 600 cows in a 36-aside Herringbone shed, with three permanent staff and some part-time.  Lewis clearly likes farming and has a well mapped-out plan to change from Fonterra milk supply to Open Country Cheese, with the sale of his Fonterra shares funding his expansion, at the same time avoiding the costly purchase of additional Fonterra shares because of his increased milk production.

His farm is made up of rolling to steep hill country – more than a challenge for any farmer, and his tractor. Replacing a 15-year-old 78hp Massey Fergusson 275, the McCormick MB85 is only nine months old and complements his almost three-year-old McCormick CX95 ROPS tractor. Lewis bought the CX95 from Power Farming, and had no hesitation buying a second tractor, stating a really good service record from that company.  "We bought the first tractor off Mike Whitman; he's a good person to deal with and we liked the first tractor a lot, so we said to Mike we want another tractor for post ramming and doing some topping – basically as a second tractor. We needed some cheap horsepower that had to be stable on the hills, and easy for staff to drive," Lewis says, who also wanted more powerful hydraulics to run the post rammer. "We needed something able to take the weight, up to one and a half tonnes on the back, and be able to pull out posts at the front." The bigger McCormick CX95 still does the hard work around the farm, such as towing the heavy feed out wagon and tip trailer, plus mowing. Lewis explains, "That is a really good tractor! We've given it a hiding and had no major repair bills, other than servicing costs."

Yet, it is the MB85 which appears to be the most useful by taking the smaller jobs off the CX95, such as mowing and topping. The biggest job it took off the CX95 was post ramming and, with the heavy ram fitted, Lewis is very happy with the performance of the MB85 for that task. "It'll go hard-out post ramming for one or two hours, then sit for the rest of the day. It's often left outside, too."
To look at, the MB85 is old technology with a square bonnet and design. This is exactly why I chose this model, because there are a lot of farmers around the country who just want a simple small tractor that is capable of performing most tasks around their farm without fuss. It may be old, but I found it still has some good features. By design, this McCormick has a low centre of gravity, translating into a more stable tractor on the hills around Lewis's farm – especially, he said, while driving sideways around a hillside during topping. To aid stability, Lewis also requested the wheel rims be turned around before delivery, to offer a wider wheel track. Adding to this, the rear axle has a similar design to Landini and old David Brown tractors by way of a planetary gear system on the back end.

Instead of the drive shaft coming straight out from the diff, the rear wheels are mounted rearward from the axle to give an increased wheelbase. This allows the rear wheels to effectively be positioned further back than a straight axle tractor, giving a more stable tractor going up or down the hills. Lewis agrees: "It goes well on the hills, especially with the wide wheelbase. We've only towed it once, so that is saying something! The staff feel comfortable with it. Stability is a big issue for us, especially with a steep farm, and it is extremely good for that."  Only two steps up to the driver's seat highlighted this tractor really is low to the ground, although it still has a 380mm ground clearance. The controls look like they were designed and laid out by several people working in a spaghetti factory. Situated all over the place, they still worked OK once you knew what each handle or lever did – just not what I'd describe as user-friendly.

Out in the paddock I was pleasantly surprised how well the MB85 performed. Nothing it did was exceptional, and I really didn't expect it to be, since it is in the price conscious end of the market. The 80hp output engine made a bit of noise, but not uncomfortably so and definitely a lot less than at least one I have driven. What it did do well was get up a medium to steep hill well in second gear with a mower on the back. Well, almost. The four-cylinder 4.4-litre Perkins engine delivers a healthy 261Nm of torque, and I used it all. The powerplant is naturally aspirated and, even without a turbocharger, held my chosen 1500 revs for longer than I expected on the hill but, when it did load up, it went fairly quickly. Thankfully, the effective brakes held it on the slope, so I successfully tried a high ratio first gear handbrake start on the hill. It wasn't a picture perfect hill start on an unfamiliar tractor; however, it did pull away on wet ground without too much problem.
I found the dry clutch transmission worked quite well with four good gear ratios within all three speed ranges, making for 12 forward and reverse speed options. On a small slope I could change up fast enough on the Syncro gearbox to avoid the tractor stopping – something which most tractors are prone to do, except some Landinis I've driven. Although, changing down from second to first while moving required some skill.  Whether in two- or four-wheel drive, the turning circle remained the same. I've seen tighter turning circles, and I've seen wider turning circles, so the MB85 was about average in that department.

At the back are two hydraulic outlets, one with a good 53L/min maximum capacity with the second rated up to 24L/min. The PTO offers two speeds: 540 and 1000 PTO rpm and the Perkins engine was strong enough to start with the PTO inadvertently still engaged and the 2.5m mower on the ground.  Lewis is also complimentary of the service levels from Power Farming. "We service our tractors every 250 hours and do a big service every 1000. They always come out within a few days of asking and, with a breakdown, are generally out within a day.
 
"As we are 35km from town we needed someone who could be on-farm for servicing, and that was one of the qualities for buying tractors through Power Farming.  "Mike Whitman is a bloody good salesman and he's a good bugger who keeps offering to take me out fishing, and one day I'll take him up on his offer!" Our test was conducted on Chris's father's 202ha dry stock farm near Maihihi, Otorohanga. Sam Lewis is the current Chairman of Affco NZ Ltd. A couple of times each year Chris takes the MB85 to Sam's farm, taking 1.5 hours for the 46km road trip on the 30kph MB85.

At 2767kg, the ARGO Tractor's Italian-built McCormick MB85 has a good power to weight ratio. Coupled with its low centre of gravity and simple layout, it makes good sense as first choice for farmers with a similar requirement on their hill property or as a second tractor.
Keep up to date in the industry by signing up to Farm Trader's free newsletter or liking us on Facebook