Simple sophistication
---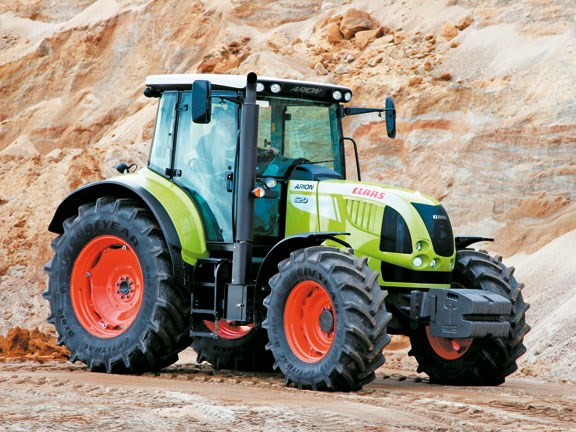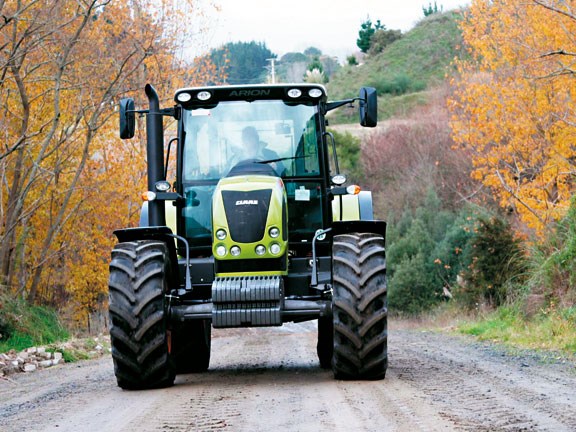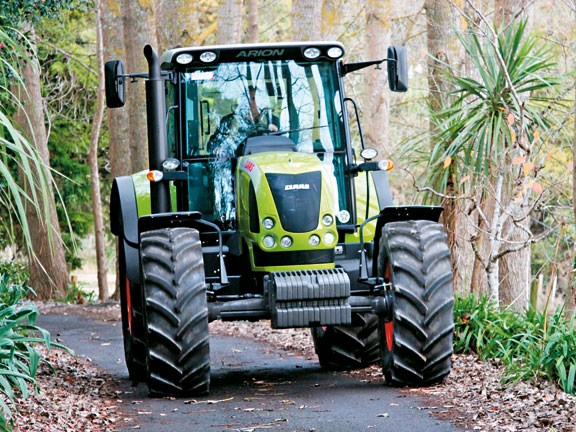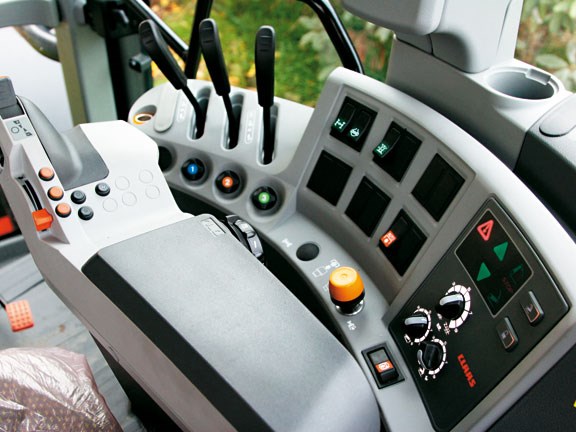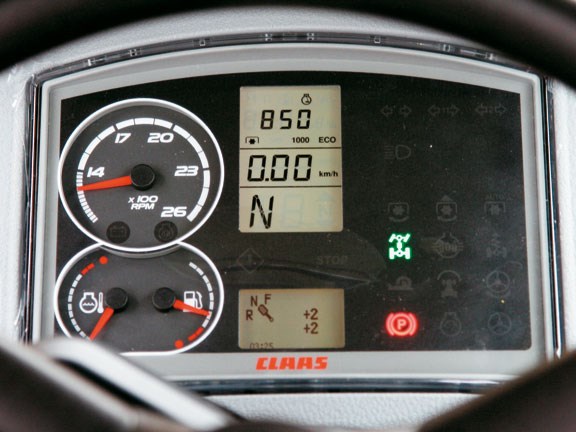 The all-new Claas Arion 620 CIS
This year will be remembered by New Zealand farmers for two things: a severe nationwide drought and massive fuel increases. So, it's good to know that technology over the years has increased fuel efficiency on our tractors, largely brought about by the adoption of the European Union Clean Air Act, starting with Tier I (1996-1999) then Tier II (2001-2004) emission limitations for non-road equipment. Tier IIIA levels officially end this year, overlapping the tougher Tier IV (2008-2012) regulations.
Spurred on by this, diesel engines have also become more powerful through the introduction of a number of mechanical and electronic advances, including electronically monitored fuel injection systems by Electronic Control Unit (ECU) with increasing injection pressures and accuracy, more advanced combustion chambers, and wastegated, variable geometry turbochargers with intercooling – features that Claas incorporates on its new range of 500 and 600 series tractors.
Claas is a long-established manufacturer currently employing around 8400 people. Almost a century ago, in 1913, August Claas established his business in Westphalia, Germany, where Claas produced straw binders. By 1930 Claas was building combine harvesters and, just four years later, its first pick-up baler. When 1983 came around, Claas began marketing its new range of still popular Jaguar harvesters (celebrating 20,000 units by 2004!); by then it had opened and bought up several factories around Germany. During the next 26 years, a whole raft of agricultural machinery was added to the production list presently leaving Claas, with a highly successful worldwide market and product range, including the integration of Renault tractors back in 2003. 
Last year saw the introduction of the Arion series, taking the place of the successful Ares range. Recently released onto the New Zealand market, the Claas Arion series is the first fully Claas-built tractor brought into this country.
The Arion 500 series comes with a 4.5-litre, four-cylinder powerplant, starting from 110hp and going up to 135hp (plus power boost to 155hp for the top of the four-cylinder range 540 model). The 600 series has six-cylinder engines rated from 120hp to 155hp (plus power boost to 175hp for the top of the six-cylinder range 640 model).  The 500 range tractors share the same wheelbase dimensions (2560mm) and weight (5470kg), while the weight of each model in the 600 series increases parallel with horsepower rating, still sharing the same wheelbase dimensions (2820mm).
Each model can be purchased in two different options: CIS, with mechanical control valves and a more basic control system; and CEBIS, which has electronic control valves plus more in-cab functions and controls for contractors.
Capping all this, Landpower is importing a lower spec, lower cost Arion 600 C model, which has a two-valve per cylinder DPS engine and non-suspension cab. So, Claas really covers the market.
Owner of a previously tested Claas Ares tractor, Brian Glass, kindly let me use his paddocks located next to Mystery Creek for our test on a six-cylinder Claas Arion 620 CIS, just prior to the Fieldays. The sort of buyer for this size and type of tractor is going to be a contractor wanting a lighter tractor for some of their jobbing work, or a large-scale farmer wanting a machine with real-world horsepower so they can put a heavy front end loader on and tackle about anything. The Arion 620 weighs in at 5950kg, which uses the engine, transmission and axles as part of the modular chassis. With the Arion range, Claas chose to stick to its knitting and wisely retained Deere Power Systems (DPS) as its main engine supplier. The Arion 620 uses a DPS 6.8-litre Tier IIIA diesel engine producing up to 135hp and a very healthy 580Nm of torque.
The DPS powerplant includes several features worthy of mention. The air filter unit incorporates a self-cleaning system, where air is occasionally forced inside the air filter to push blocking dust particles away, meaning it has to be cleaned less often. The turbocharger has intercooling to draw in cooler/denser air, increasing the fuel-air combustion chamber burn, and available power. Just like a variable pitch aircraft propeller, the vanes on the turbo are variable pitch, allowing faster power boost times according to varying engine demands. The common rail fuel injection system is electronically controlled to provide instant variables to driver throttle inputs by adjusting pressure, timing, duration and number of injections per cylinder. Not to mention the more efficient four-valve per cylinder valve configuration.
While our new test tractor didn't have anything hooked up to it, it was pretty easy to feel the available power when loading up the engine in a higher than usual gear while driving uphill.  Yet, even with its amazing features, the Claas Arion 620 is all about the transmission. In basic language we still have 24 forward and 24 reverse speeds with a top speed of 40kph on this model. That is where it ends.
I've driven a lot of different tractors over the years and this one is pushing the level in an upwards direction. That is, in technology, function and ease of use. All the same, it did take me a while to get my head around the stubby push-lever to change up or down when in manual mode, one of the three transmission change options. In manual, to engage gear I had to push the 30mm or so long end-of-armrest (Drivestick) mounted button/lever in a forward direction, and the opposite to go backwards. This button/lever has two stroke ranges, so if you want to make a range change going in either direction, then push it a little further past the detent which you can feel, and the range change will take place. The second transmission option is to have automatic split shifts, with manual range changes by pushing a button. For road use I could change the gearbox into auto mode at the press of a button, even on the fly, where it would change into any one of the six split gear options and into any of the four available ranges. Overlaying all this is the Claas speed matching, meaning wherever I drove I didn't have to work anything out other than use the foot or armrest throttle for my speed setting. All gears and ranges are well displayed on the RH front pillar mounted (Hexashift) LED panel.
Your favourite starting gear can, however, be programmed into the CIS unit, along with the gear shift points which may suit the terrain best. Located on top of the stubby button/lever is the headland toggle switch, allowing the tractor to flick into a pre-programmed but slower gear and ratio at the press of a button. A pair of buttons located right beside the auto transmission button can be used to set two different engine rev ranges for in-paddock use. This allows the operator to select the desired rpm to maximise the available power or take advantage of the extra economy this sort of feature brings. Rather than thinking your tractor is in the best power zone, or thereabouts, this ensures it is.
The tractor I drove was pretty much brand new so it took a while to work out what everything did. Claas makes great tractors, but some take a bit more figuring out than others, mostly in the transmission area. Hats off to Claas in this direction, because instead of five miles of buttons and complicated looking screens is a small two-button arrangement on the dash. In seconds I could work out how to change operational parameters, such as the shuttle take-off speed. From the factory I thought it changed forward to reverse direction pretty well, until I slowed it down by pressing and turning the dial two of the four notches – or take-up speed options.
The cabins on all the Claas tractors I've driven are fantastic. They have excellent visibility, loads of space – more than most – and are about the only tractor where I can sit in the 'kiddie' seat and still have space for my legs! The cab on our test 620 comes standard with four-point suspension, which will iron out the bumps you'll encounter on a daily basis. On the outside I counted no less than 16 driving and spotlights adorning the Arion 620 to make night-time work that much easier. Big mirrors, lots of places to store things and general tidiness make the Arion 620 nicer to drive. On board, the only unqualified comment I could make after driving the Arion 620 is that I felt the steering lock could have been sharper.
Up front, a rear hinged single-piece bonnet makes for easier access to the mechanicals. At the rear, wide rear guard extensions will help keep your tractor cleaner than the neighbours, too. Both redesigned mudguards contain remote linkage and PTO buttons. A trio of load-sensing 110/min hydraulics are available for the most demanding jobs you'll be able to throw at it, and each line can be removed and replaced with the pressure still on, thanks to handy push levers on each unit.
There are many more features, however, it is clear the Claas tractors really are a great piece of machinery and overall score highly on my list.
Keep up to date in the industry by signing up to Farm Trader's free newsletter or liking us on Facebook