Stirred... but not shaken
---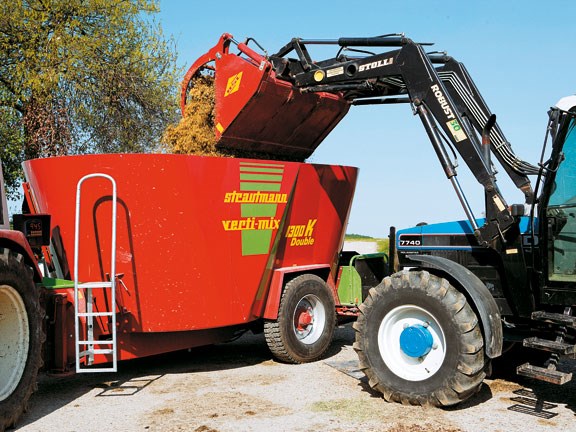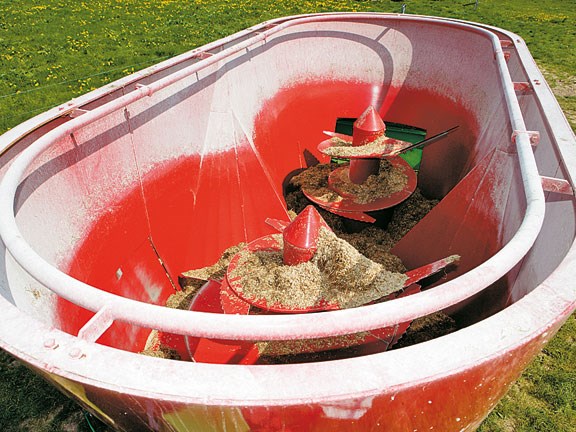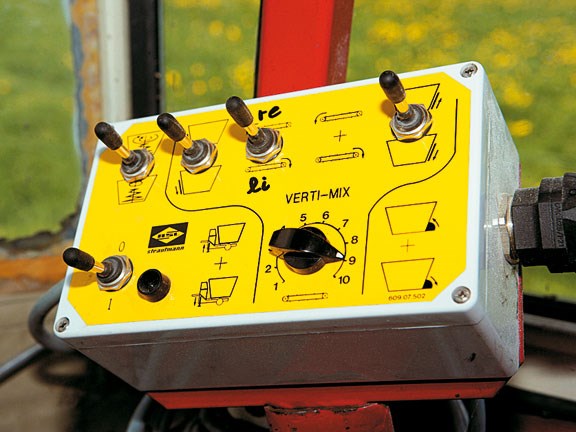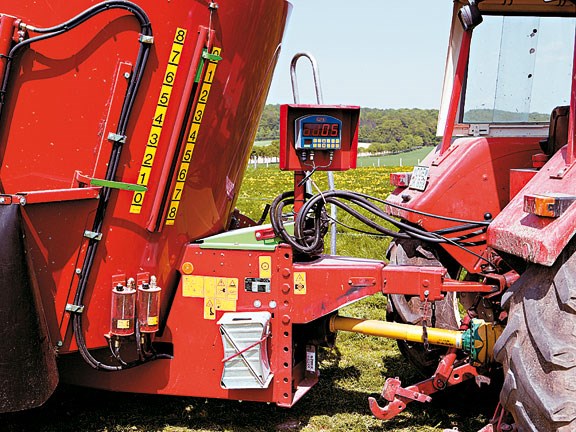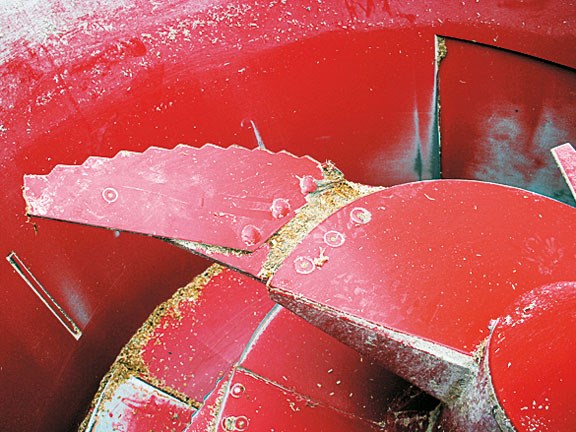 Build height has long been a criticism of vertical-auger feeders when mounted over conventional running gear. Strautmann's solution? To develop the Verti-Mix Double K, a machine that combines compactness of construction while still retaining a decent 13m³ capacity and substantial footwear beneath. Here, the test team at Profi magazine (UK) picks out the pros and cons of the design
Not all livestock farmers, both in the UK and across mainland Europe, revel in the luxury of working on a greenfield site complex. Vast expanses of power-floated concrete flooring, tall and airy buildings, and inviting 6.0m+ wide passageways – the stuff that dairy dreams are made of.
Now that's the ideal world, yet sadly one in which few of us actually reside. Even today, it's still much more common to drive into yards that have developed piecemeal – a new shed tacked on to an existing one as and when circumstances, and funds, have allowed. Logistically, it's far from perfect and, for that matter, efficient. Yet for many it's the only affordable way of growing their business.
Which is where the featured Verti-Mix 1300 Double K feeder comes into its own – in and amongst older building layouts that would see many other vertical-auger machines struggle to gain access. Taking into account its two vertical augers and 13m³ tub, the Verti-Mix 1300 stands out as a surprisingly compact feeder – 2.36m high, 2.27m wide – vital stats that have been achieved without resorting to the use of skimpy tyres; standard spec are amply proportioned 315/80R22.5 boots. Even the largest model in the line, with  its 21m³ tub and 385/65R22.5 footwear, measures in at 2.95m high and 2.45m wide according to the manufacturer, which lists the full Double K model range as offering 13, 15, 18 and 21m³ wagon capacities.
Key to the above tightly packaged body dimensions is that the two main mixing  chambers (one chamber for each auger)  are of different diameters. In the front chamber, the 20mm thick floor diameter stretches out to 2.15m, whereas the rear equivalent limits itself to just 1.49m, thus enabling it to accommodate those taller-than-is-customary tyres. The main advantage of the chunkier rubber is that it is better able to handle heavier wagon loads and also gives smoother road travel between sites – an important factor for some.
Switching attention up to the head end of the feeder and working through the driveline, we hitched our test Verti-Mix Double K up to an old International 844 tractor. The Strautmann wagon drawbar options are many, and as we ended up testing this machine over on the Continent, not surprisingly we were supplied with a Continental-type hitch to match that of our ageing IH. As a result, we can't comment on turn angle with the standard UK ring, but some caution was certainly required with our Continental hitch to avoid carving out big chunks of rubber from the 844's rear tyres.
This was made worse by the front weigh cell being secured by protruding bolt heads, though Strautmann has replaced these items with a tyre-friendlier design since our test.
When uncoupled from the tractor, the 5.3t wagon rests on a tough-looking wind-up jack. Sadly this jack has just the one gear, so hitching/unhitching can become a bit of a labourious chore if the operator is constantly having to drop the machine off – for example, if the feeder tractor is also the means of loading the Verti-Mix with its various feed material contents.
In the above instance, it may well be worth going for the hydraulic jack option. Many UK farms, however, stick an old tractor on the feeder and leave it there, in which case this hitch-up/unhitch sweat really is not an issue at all. The pipework/cable routing isn't too messy but could still do with some tidying.
From the powering tractor, the drive runs from a wide-angle joint, down a shaft – Walterscheid or Bondioli & Pavesi – into a choice of gearboxes. Then it is a direct in-line drive through to the two augers, the second smaller unit demanding less spin muscle than the front one. The Profi Double K wagon was also supplied with Strautmann's two-speed gearbox option, which converted our test 844 tractor's 540rpm PTO speed into an auger speed of either 20.5rpm or 31.0rpm, the latter coming in handy for a faster feed out. Swapping between the two speeds is electric, and the selected setting shows up on the drawbar-mounted display unit. Or it should do. The test machine's read-out wasn't too clear although, like the weigh cell mounting system, this item has also been improved since our test.
As for the all-important quality of mix, we've no complaints here. Without the use of any of the counter knives, we filled the wagon and stirred a cocktail of maize silage, chopped grass silage and assorted other concentrate materials to deliver a fully homogenised final product.
We also found the top auger flight's knife to be effective at breaking up our round bales. And, while on the topic of dealing with bales, the optional overflow rail (UK standard fit) also helps here. This factory-fit item either bolts on to the top of the rim to increase overall tub capacity or, as on our machine, fixes inside the tub, to keep the effect on overall machine height to a minimum.
To give a feel for Double K bale handling performance, with the augers rotating at 31rpm it took us about six minutes to process a 360kg square bale (80x90x180cm) of unchopped, high dry matter grass silage (60 percent DM), added on to an existing 1200kg heap of maize silage (38 percent DM). Had we wanted, there's also the option to swing counter knives into the tub by four, five, nine or 13cms – to reduce the fibre length of any coarser feed material. The knives can be moved manually (standard spec) or hydraulically.
When it comes to feeding out the wagon contents, there are, yet again, a number of options; a front right door is standard, with an optional front left door, and there are also side elevator options – 880mm or 1240mm – that can be fitted on to the right door. The rear cross-conveyor is handy for dropping feed in a dead-end passage and, lastly, there is a rear straw blower option.   
Our test machine's rear cross-conveyor was better in this regard, on both counts. No matter how much material we threw onto the belt, it continued to cope and deliver a constant stream out to the side.
The hydraulic motor is quite demanding in terms of oil flow but, importantly, not so demanding that our old tractor's 30-litre/min supply was unable to keep the belt spinning at maximum speed. To alter the belt's speed, as well as belt direction, front/rear slide opening and mixing auger speed, there is the option  to site a neatly laid-out electro-hydraulic control box in the cab.
Our test machine, though, made do with the 'entry' direct-off-the-spools spec – two double-acting, one single-acting and a free-flow return – while there is a third option of taking a cable/lever package.
Further Profi test plus marks go to the  electronic weighing unit supplied on our Double K – the programmable FC40 (UK standard fit) from Italian manufacturer PTM. The display's large red digits are very easy to read, while the box itself can  be turned to both sides and locked into position for inspection from either the ground, the loader or the feeder tractor. Memory options are similarly impressive, the system allowing a total of up to 40 different ration recipes to be stored. And each of those rations can include up to 20 individual ingredients.
As an aside, PTM is far from the only weigher option, and Strautmann lists a number of alternative kits. Top spec is another PTM unit with  the facility to transfer data to a PC. There were no tester comments on the weigher, other than to note its extreme accuracy. We used calibrated weights to verify the three cells' performance and couldn't find any significant deviation in the results. Top marks.
Other points worth mentioning:
-- Rear conveyor discharge takes a long time to empty the wagon when feeding out on a slope – a common problem on two-auger mixers
-- Lighting set-up at the rear has been relocated for better maintenance access to the cross conveyor tensioning system – much better for servicing etc
-- Feed tends to cake to the rear auger tube, an issue that Strautmann is looking to address. Overall, the test machine did an effective job of emptying itself on level  and firm ground. The wagon operator needs to take care when removing the electric cable from the rear of the tractor. It's an easy design to overstretch and damage.
-- Galvanised access steps are supplied as a standard fitment
-- Build quality and two-part paint finish are beyond reproach
-- Wagon maintenance requirement is not too onerous. The pair of reservoirs for the mixing gearboxes is clearly visible. Eleven grease nipples require attention.
-- For safer operation, the 'luxury' of a reversing camera merits consideration
On initial inspection, the twin-auger, 13m³ Strautmann Verti-Mix Double K feeder has two distinctive features – its low build height and large tyres – and it is these two traits that turn out to be the machine's major assets.
Compared with some other mixers, the Double K is better able to access low-roofed stock sheds, and it rides with more reassurance over rougher ground too. Just as importantly, the quality of mix was on a par with that of any other vertical-auger model we've tested in the past.
There are a few design items that either have already been updated by Strautmann or remain in need of attention. These include tidying the cable routing from mixer to tractor, creating a tighter turning circle from the various drawbar arrangements, and bringing the weigher display closer to the tractor cab.
As for the price, the base Verti-Mix 1300 starts off at approximately NZ$61,000, including wide-angle PTO joint, front right door, programmable weigher unit, direct tractor spool control, 22.5in tyres, manual counter knives and external overflow ring. Add in a left door, 880mm elevator, two-speed gearbox and full electric control, and the figure climbs  to approximately NZ$75,000.
Keep up to date in the industry by signing up to Farm Trader's free newsletter or liking us on Facebook