Mahindra 5500 tractor
---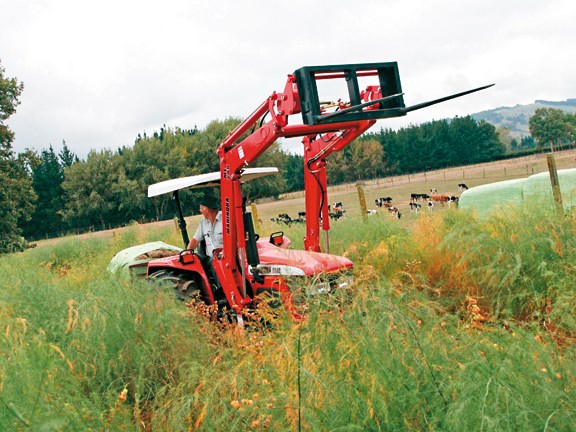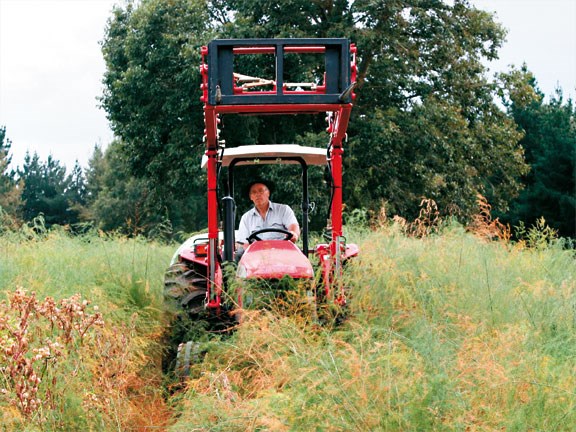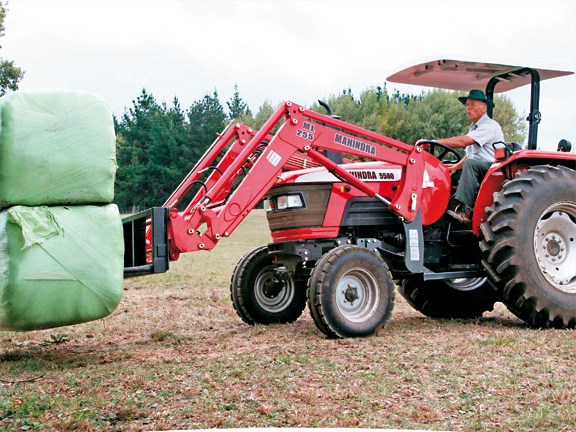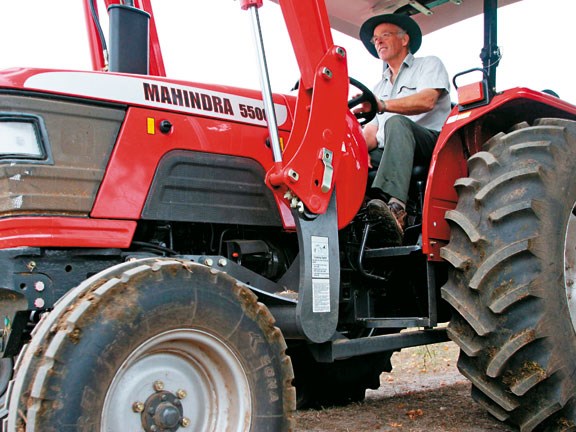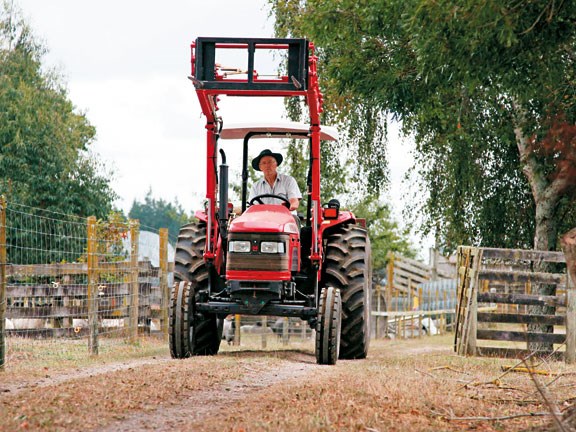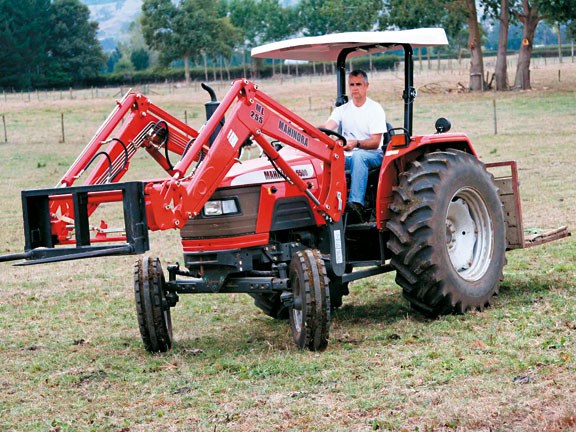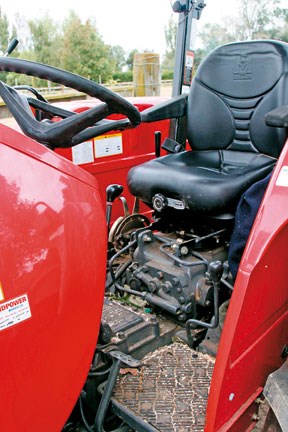 The perfect choice for asparagus farmers John and Val Kells of Waikato
I own a medium sized farm block running 120 grazing-only dairy heifers and want to update my old tractor. I only use it for three to four hundred hours each year, mostly for asparagus production, so I can only justify something under 60hp. Shopping around, I can't find any used tractors in the size and price bracket my small farm warrants and everything else I've looked at comes out of either Pakistan, China or India.
These were the issues that Cambridge farming couple John and Val Kells faced recently when searching for a value for money tractor that could do the job slightly better than their 30 year-old 50hp International 484 tractor. After being introduced to the new Mahindra 5500 tractor, the Kells continued looking for a good used tractor but came to the conclusion that there isn't much choice below 65hp. So they decided to give the Mahindra 5500 a chance.
The Kells own a 40ha farm on mostly flat ground near Cambridge. Around 5ha is planted in 17 year-old radiata pine trees and 5.5ha is used to produce organically grown asparagus plants. Like many other farmers, this is the driest the Kells' have ever seen the Waikato. Last year they made 145 large square silage bales, this year only 43 because they didn't have the spring growth. As a result John Kells says he had to reduce stock numbers.
2008 is the Kells' sixth asparagus season. The four month asparagus picking season runs from early September through to Christmas, and all produce is supplied to a packhouse. During peak times there can be six or more pickers working every day and there is a very small timeframe (one day) that the asparagus must be picked. By October, the asparagus grows from ground level to 250-300mm in just three days!
John didn't want a heavier tractor that would compact the soil between the rows of asparagus, but wanted a bit more power to drive the 1.5m wide mulcher – one of the key tasks for the Mahindra. After the picking season closes, the asparagus plants grow wild to upwards of 1.5m tall before being mulched entirely to ground level in May. To minimise under-belly friction and to run better between rows, John wanted at least 500mm ground clearance, so he had the Mahindra fitted with a pair of 2" larger 30" diameter wheels. The only problem with this was that it restricted him to a 2WD tractor, as a 4WD needs the same diameter wheels in keeping with the transmission.
The price was a big factor for John as well. "The price wasn't much different than a second-hand tractor, and by buying it locally I'm able to have it serviced without any hassles."
Built in India, Mahindra is apparently the second largest tractor manufacturing company in the world.
On close inspection I found the build quality of the Mahindra 5500 much better than expected. Form and function appeared to be about right for the horsepower level of tractor it was, albeit built heavy with the technology of a solid tractor chassis design that looks a couple of decades old. In saying that, the 5500 looks reasonably modern on the outside. There are grease nipples everywhere and all appear easy to locate and get at.
Under the modern looking bonnet is a three-litre NEF water-cooled engine, producing 54hp at 2100rpm. And rev it does! Our test tractor was only a couple of weeks old with 13 hours on the clock, and that's all it wanted to do. Weighing 2252kg, the 5500 has a good power to weight ratio, so the tractor could take off easily from idle in high gear/low ratio. After that it just wanted to rev hard right out to 2600rpm. I didn't get the chance to test its mettle on a good hill but I got the feeling that if you choose the right gear and keep the revs going, it'll take a decent load up some respectable slopes.
Behind the four-cylinder Tier 2 diesel engine is a dry clutch running through a high/low ratio transmission, with four forward speeds on the stick. The 'partial synchromesh' gearbox was a bit tight getting the stick into each 'gate'. I think part of it was because the tractor is almost new – I'm sure it will get better as it's run in.
I had the biggest trouble changing down, mostly into second then changing into first, where I just had to stop the tractor each time. Not unlike many European-built tractors. Changing up was a bit tight, but pretty normal.
As expected, the turning circle of the 2WD Mahindra 5500 was very small, one feature that the Kells required due to some pretty tight gateways. Compounding the need to get around the farm easily is the not so small carry tray on the back. The 5500 also carries a heavy 1000 litre spray unit.
On testing the brakes I discovered there is a lot of play before the brakes came on, which should be adjusted out. Masked by the long pedal stroke, the Kells were concerned about the stopping power, however, after testing them I reassured him they work better than a lot of tractors I've driven. Because I'd locked the rear wheels up on dry grass as I came to a stop!
I was mightily impressed with John's demonstration when he picked up two 600kg wrapped silage bales with the factory-fitted Mahindra ML255 front end loader, and the 5500 lifted both together easily. I fully expected it to struggle, however the engine kept the pace, allowing the 41-litre/min hydraulic system to work without a problem. That is good lifting in anybody's language, and rivals what many larger tractors could handle.
John adds, "I wanted it to be able to pick up a tonne for our 1000-litre fish fertiliser pods. The front-end loader is rated at about 1500kg, it's amazing as I can walk away with a bale of silage, and two bales isn't a problem. It must have a big hydraulic pump, it is very quick, there's no struggle and it's the same at the back. She just lifts up and walks away!"
The loader came standard with a self-levelling device, which John reckons will be very handy next season for loading asparagus pallets onto the truck.
I thought some tractor function controls are positioned in odd places, particularly the PTO engage lever that could inadvertently hook the back of the driver's foot as they dismount. The clutch is partly in the way and also required my foot to be in just the right place not to have my toes scraping the panel directly in front. To get off I needed to always look at where I placed my feet so as not to wrong-foot myself. A good thing there is a grippy rubber mat fitted to help prevent mishap. OK, it is a small tractor where the controls are typically closer together; however I need to take everything into fair account when testing them.
It's still early days for Mahindra to prove its reliability under New Zealand conditions but for the Kells' operation, it appears to be a good choice.
Keep up to date in the industry by signing up to Farm Trader's free newsletter or liking us on Facebook