Honda TRX420FM ATV
---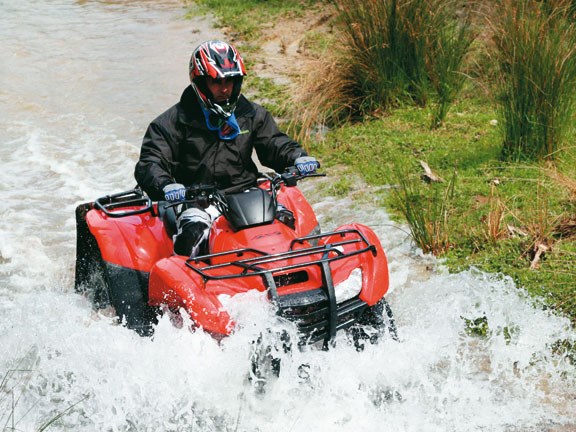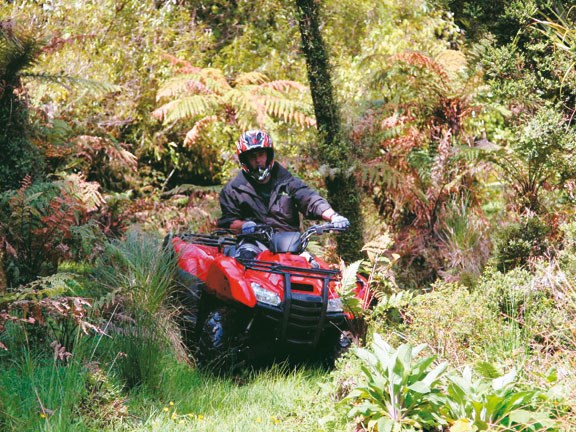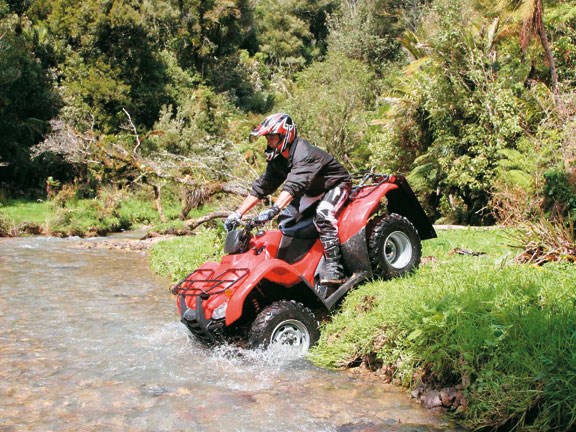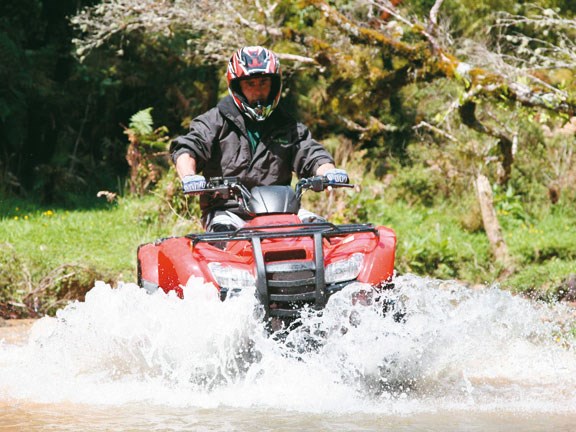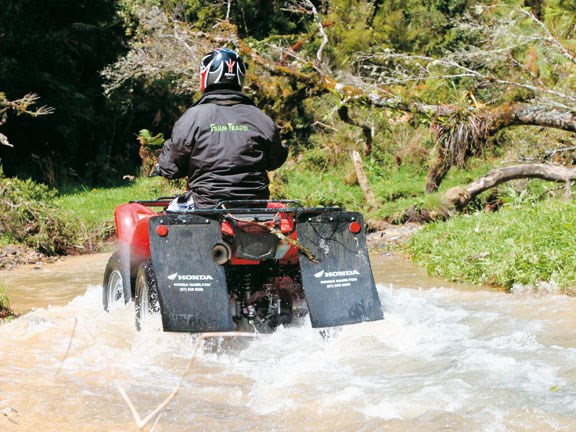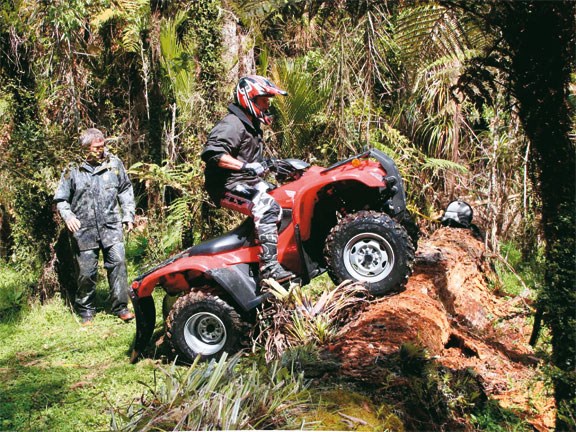 Terry Stevenson takes the Honda TRX420FM ATV cross country and discovers this model is tough in the rough
Some may say that riding all day through rugged creeks, logs and bogs is no fair way to test any dedicated farm ATV. As it turned out, the Honda TRX420FM came out relatively unscathed compared to the rider after a full-on day at Tony and Kyrie King's Te Mata property, near Mt Pirongia.
My test model TRX420 was kindly supplied by the new Honda shop based in Hamilton, named Honda Hamilton. This particular model has been on the market for a while now.
Neighbour Edward Hayes joined us on our ride and has owned his TRX420 for over a year. Hayes also owns an older TRX350, so he was in a good position to compare the power advantage, considering I saw first-hand that he knows how to get the most out of his TRX420!
Hayes originally bought the bike as a farm ATV but the same machine doubles as a play quad.
What surprised me most about the TRX420 was the healthy power and response of the 420cc engine, compared to what felt like a larger 500cc-sized chassis.
Constantly riding in and out of challenging steep and slippery creek beds gave the quad a good workout.
Although I had to fully stop to change from 2WD to 4WD, much of my time was spent in first or second of the five gears, in 4WD to secure the most traction.
Many of today's ATVs only come with fully automatic transmissions, yet the TRX420 has a manual foot lever gear change system, incorporating a centrifugal clutch.
I prefer the auto option simply because it's easier, however during my ride I experienced many times where I was thankful of being able to choose which gear I either went up a slope, or slowly downhill. Often this was second gear so I could let the tyres bite into the mud.
Certainly the large 24" diameter front and rear tyres helped when riding over a 600mm log, but it was getting in and out of the creek that impressed!
A bit of throttle, and the liquid-cooled engine would pull the 250kg TRX420 up the bank and away I'd go. I've tested dozens of ATVs and within a minute I knew I was riding a quad with fuel injection: when feeding the power, the response time is just that much faster and the crispness and feel through the throttle is that much better than a carburetted motor. Carburetted motors were good in their day but are now slowly being overtaken by EFI systems on all types of off-road bikes.
They'll make a definite saving on your fuel expense account too, because the EFI meters out the fuel/air ratio into the combustion chamber much better.
A new feature allowed me to start the engine while in gear – good work Honda! All I had to do was pull the right handlebar brake in and press the starter button.
The engine would deliberately stutter for a second or so to prevent the ATV from roaring off from perhaps an inexperienced rider who may let the brake off before climbing aboard.
Getting it into reverse took a bit more deliberate effort. Push the red left handlebar mounted button down with the thumb, pull the left brake lever in, stomp down on the gear lever by however many gears you're in, and go through neutral, then finally into reverse. When finished just lift the lever up to hook first and away you go.
Swingarm rear suspension systems on a farm bike are getting to be a bit old-hat in the technology stakes now, as they don't ride the bumps quite as well as an ATV with independent rear suspension. However, swingarms do hold one distinct advantage – they still have a slightly better roll-over point, meaning I didn't get into as much trouble as I may well have in the tight, technical sections than with an independently suspended quad.
What Honda should do to catch up with the rest is install adjustable spring preload suspension units on its TRX420 so farmers can adjust the springs if they regularly carry a heavy load. The three current units each offer 160mm of travel for 165mm of ground clearance – enough to keep me out of trouble in the bush, well, most of the time.
Although brand new, the brakes didn't offer as much power as other ATVs I've tested, it didn't help that the single rear drum brake was frequently wet after all the creeks we crossed.
Following a long spell of technical creek and solid bush riding, we took to the hills and more open tracks where I could rev the TRX420 out.
Here I mostly used 2WD and often found it had more than enough power to tail slide through the turns. As expected for a farm quad, most of the power the motor delivered was in the low to mid-range area.
Overall the Honda TRX420 gets my approval because of its strong EFI engine and ATV history which stands behind every Honda ATV sold in this country. 
Keep up to date in the industry by signing up to Farm Trader's free newsletter or liking us on Facebook