Honda TRX420 and 500 quads
---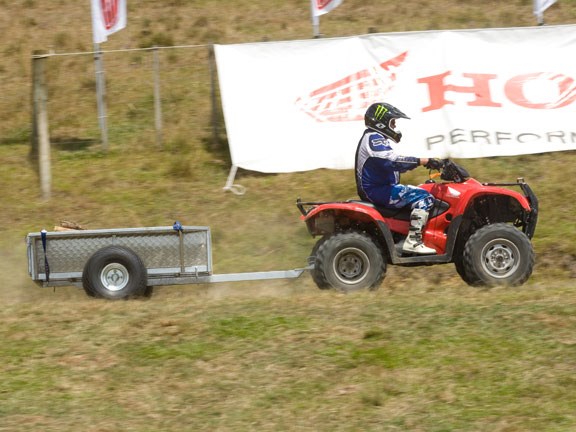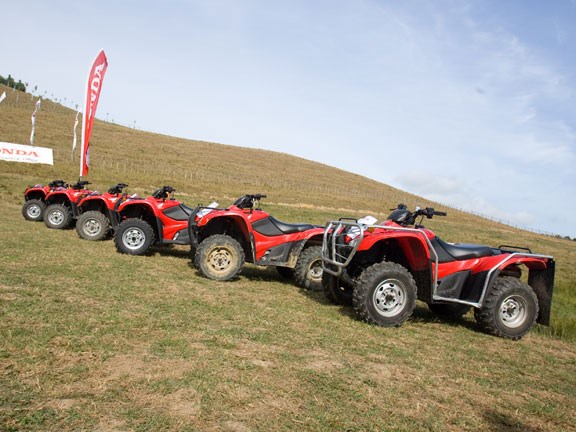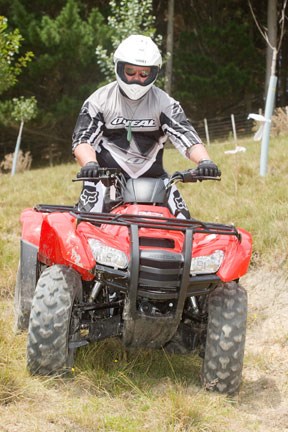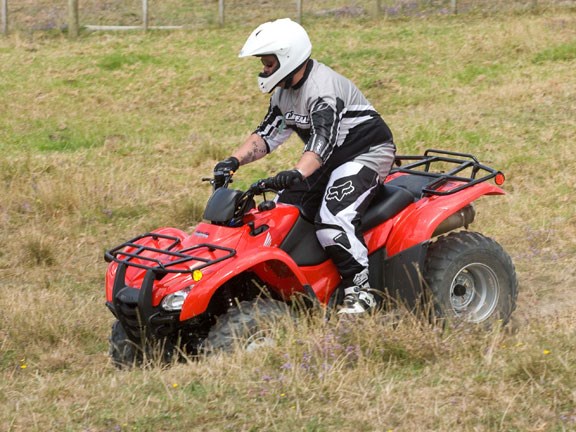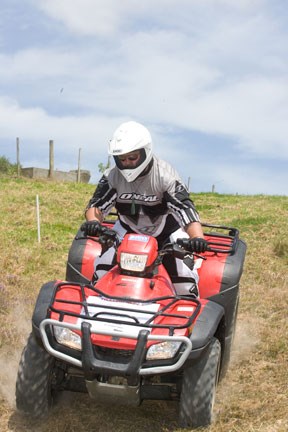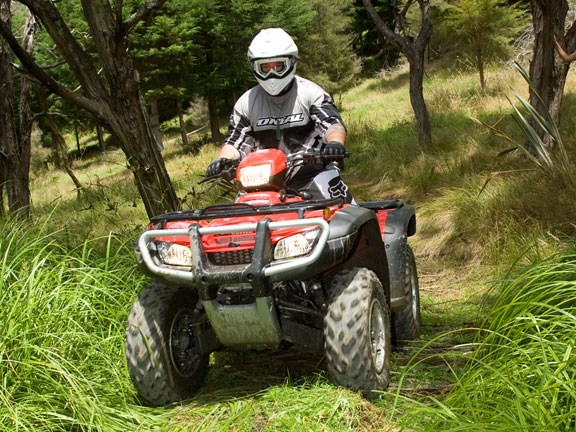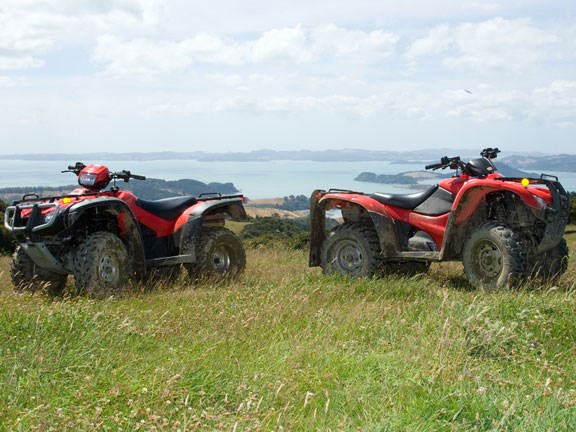 Honda has launched new versions of the TRX420FM, FPM and FA models as well as the TRX500FM, FPE and FA models
The bikes featured in the Honda ATV launch have torque-sensitive front diffs and specially designed brakes to reduce torque steer and improve handling and suspension
The TRX420 range is easy to use and comes in auto mode, which offers five-speed auto-shifting or push-button manual shifting with Honda's Electric Shift Program
Honda's TRX500FM can be purchased as an auto (FA) and with Electronic Power Steering (FPE)
Both the 420 and 500 models have Honda's switchable 2WD/4WD system
Honda's 420FA has a liquid-cooled, fuel-injected 420cc longitudinally mounted engine, automatic/ESP five-speed transmission with direct mechanical shaft and Honda's selectable 4WD/2WD and torque-sensitive front diff.
The lightweight auto transmission offers five-speed auto-shifting or push-button manual shifting with Honda's Electric Shift Program. This means after the heavy-duty centrifugal clutch engages, two electronically controlled clutches mounted in the gearbox upshift or downshift, providing smooth and lurch-free gear changes.
The new auto also comes with independent double-wishbone rear suspension, which contributes to an increased ground clearance and better handling. The Electronic Power Steering option lowers the steering effort and reduces kickbacks when travelling over rocky terrain.
Honda's TRX500FM combines a 475cc air-cooled engine with foot-shift transmission, switchable 2WD/4WD, specially designed front disc brakes with thick, long-life brake pads and a built-in scraper system to remove mud from inside the front wheel and improve braking.
There is a start-in-gear feature, a sealed glove box for storage and a snorkel-type air intake system to protect the engine during creek crossing. The torque-sensitive front diff reduces torque steer and it has a lower ratio gearbox.
The TRX500FM can be purchased as an auto (FA) and with Power Steering (FPE). The 499cc automatic transmission is a continuously variable, hydro-mechanical design that does away with belts completely. It has adjustable front and rear suspension with a rigid rearbeam axle and adjustable double shocks.
Auto adds $1000 to manual, and power steering option adds $600 to non-power steering models.
To read the full review on Honda's TRX420 and 500 range of quads, see the April issue of Motorcycle Trader magazine, on sale now at all good retailers. Subscribe here.
To see Honda ATVs for sale on motorcycletrader.co.nz click here
Specifications
TRX420FM
ENGINE
Engine type: 420cc liquid-cooled OHV wet-sump longitudinally mounted single-cylinder four-stroke
Displacement: 420cc
Bore x stroke: 86.5mm x 71.5mm
Ignition: Full transistor with electronic advance

TRANSMISSION
Starter: Electric with auxiliary recoil
Gearbox: Five-speed with reverse
Final drive: Direct front and rear driveshafts

WHEELS, SUSPENSION AND BRAKES
Suspension front: Independent double-wishbone; 160mm travel
Suspension rear: Swingarm with dual shock absorbers; 160mm travel
Brakes front: Dual hydraulic disc
Brakes rear: Sealed mechanical drum
Tyres front: 24 x 8-12 radial
Tyres rear: 24 x 10-11 radial

DIMENSIONS AND WEIGHT
Wheelbase: 1249mm
Seat height: 822mm
Ground clearance: 165mm
Kerb weight: 268kg
Fuel capacity: 13.6 litres (including 2.8 litres reserve)

Pricing: $14,848

TRX420FA
ENGINE
Engine type: 420cc liquid-cooled OHV wet-sump longitudinally mounted single-cylinder four-stroke
Displacement: 420cc
Bore x stroke: 86.5mm x 71.5mm
Ignition: Full transistor with electronic advance

TRANSMISSION
Starter: Electric with auxiliary recoil
Gearbox: ESP five-speed with reverse
Final drive: Direct front and rear driveshafts

WHEELS, SUSPENSION AND BRAKES
Suspension front: Independent double-wishbone; 160mm travel
Suspension rear: Independent double-wishbone; 160mm travel
Brakes front: Dual hydraulic disc
Brakes rear: Single hydraulic disc
Tyres front: 24 x 8-12 radial
Tyres rear: 24 x 10-11 radial

DIMENSIONS AND WEIGHT
Wheelbase: 1255mm
Seat height: 822mm
Ground clearance: 231mm
Kerb weight: 283kg
Fuel capacity: 13.6 litres (including 2.8 litres reserve)

Pricing $15,973

TRX420FPM
ENGINE
Engine type: 420cc liquid-cooled OHV wet-sump longitudinally mounted single-cylinder four-stroke
Displacement: 420cc
Bore x stroke: 86.5mm x 71.5mm
Ignition: Full transistor with electronic advance

TRANSMISSION
Starter: Electric with auxiliary recoil
Gearbox: Five-speed with reverse
Final drive: Direct front and rear driveshafts

WHEELS, SUSPENSION AND BRAKES
Suspension front: Independent double-wishbone; 160mm travel
Suspension rear: Swingarm rigid axle
Brakes front: Dual hydraulic disc
Brakes rear: Mechanical drum brake
Tyres front: 24 x 8-12 radial
Tyres rear: 24 x 10-11 radial

DIMENSIONS AND WEIGHT
Wheelbase: 1249mm
Seat height: 822mm
Ground clearance: 165mm
Kerb weight: 276kg
Fuel capacity: 13.6 litres (including 2.8 litres reserve)

Pricing $15,523

TRX500FM
ENGINE
Engine type: 475cc cooled OHV longitudinally mounted single-cylinder four-stroke
Displacement: 475cc
Bore x stroke: 92 x 71.5mm
Compression ratio: 8.3:1
Ignition: CD with electronic advance

TRANSMISSION
Starter: Electric with auxiliary recoil
Gearbox: Five-speed with reverse

WHEELS, SUSPENSION AND BRAKES
Suspension front: Independent double-wishbone; 170mm travel
Suspension rear: Swingarm with dual shock absorbers; 170mm travel
Brakes front: Dual hydraulic 180mm disc
Brakes rear: Sealed 180mm mechanical drum
Tyres front: 25 x 8-12
Tyres rear: 25 x 10-12

DIMENSIONS AND WEIGHT
Wheelbase: 1287mm
Seat height: 860mm
Ground clearance: 190mm
Kerb weight: 281kg
Fuel capacity: 15 litres, including 2.5 litres reserve

Pricing $16,536

TRX500FA
ENGINE
Engine type: 499cc liquid-cooled OHV dry-sump longitudinally mounted single-cylinder four-stroke
Displacement: 499cc
Bore x stroke: 92.0 x 75.0mm
Ignition: Capacitor Discharge (CDI) with electronic advance

TRANSMISSION
Starter: Electric with auxiliary recoil
Gearbox: Auto with ESP five-speed and reverse
Final drive: Direct front and rear driveshafts

WHEELS, SUSPENSION AND BRAKES
Suspension front: Independent double-wishbone; 170mm travel
Suspension rear: Swingarm with dual shock absorbers; 170mm travel
Tyres front: 25 x 8-12
Tyres rear: 25 x 10-12

DIMENSIONS AND WEIGHT
Wheelbase: 1286mm
Seat height: 861mm
Ground clearance: 190mm
Kerb weight: 287kg
Fuel capacity: 15 litres, including 2.5 litre reserve

Pricing $17,661

TRX500FPE
ENGINE
Engine type: 475cc liquid-cooled OHV dry-sump longitudinally mounted single-cylinder four-stroke
Displacement: 475cc
Bore x stroke: 92.0 x 71.5mm
Ignition: Capacitor discharge (CDI) with electronic advance

TRANSMISSION
Starter: Electric with auxiliary recoil
Gearbox: ESP five-speed and reverse
Final drive: Direct front and rear driveshafts

WHEELS, SUSPENSION AND BRAKES
Suspension front: Independent double-wishbone; 168mm travel
Suspension rear: Swingarm with dual shock absorbers; 170mm travel
Tyres front: 25 x 8-12
Tyres rear: 25 x 10-12

DIMENSIONS AND WEIGHT
Wheelbase: 1287mm
Seat height: 860mm
Ground clearance: 190mm
Kerb weight: 290kg
Fuel capacity: 15 litres, including 2.5 litre reserve

Pricing $17,211
Keep up to date in the industry by signing up to Farm Trader's free newsletter or liking us on Facebook