Polaris Big Boss 6x6 ATV
---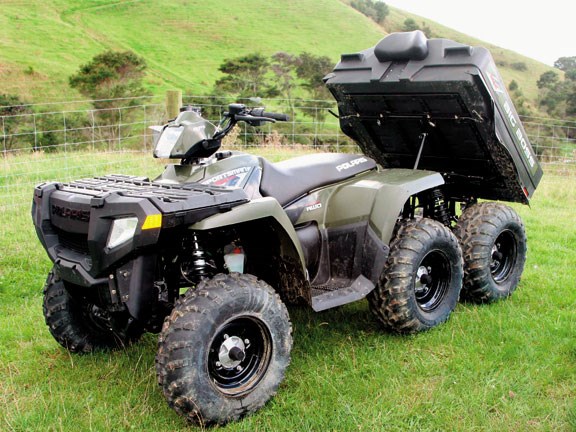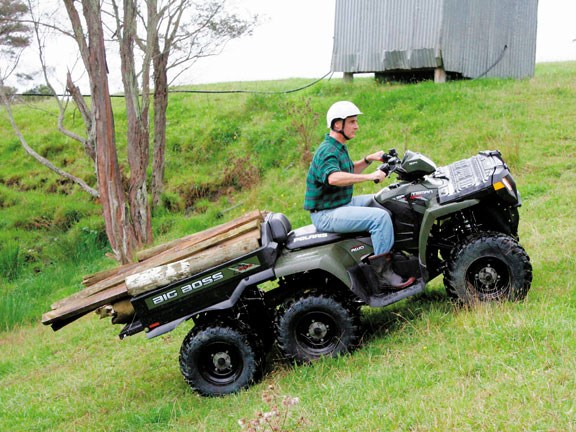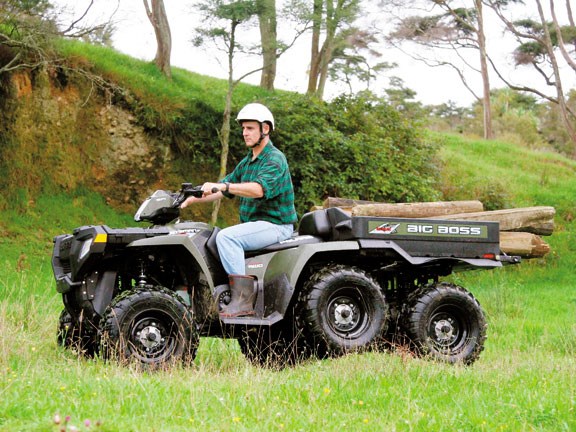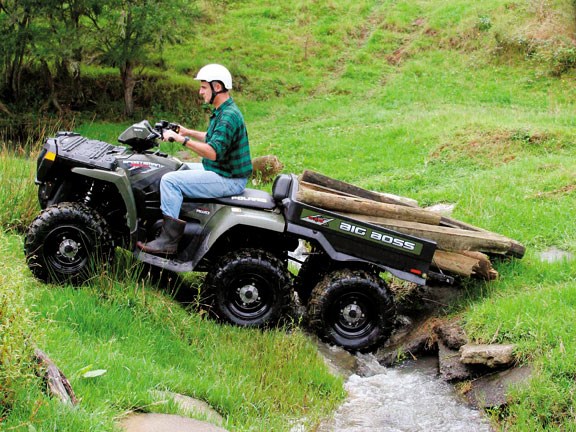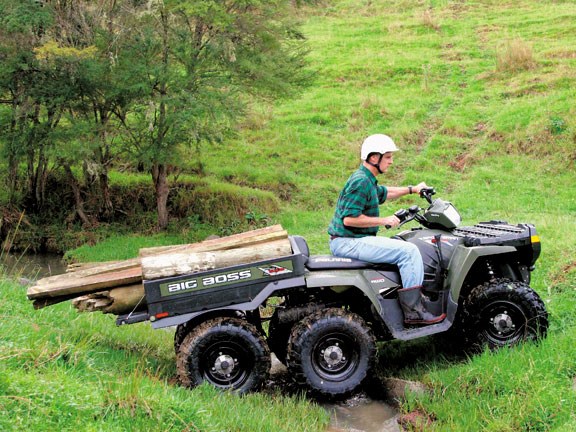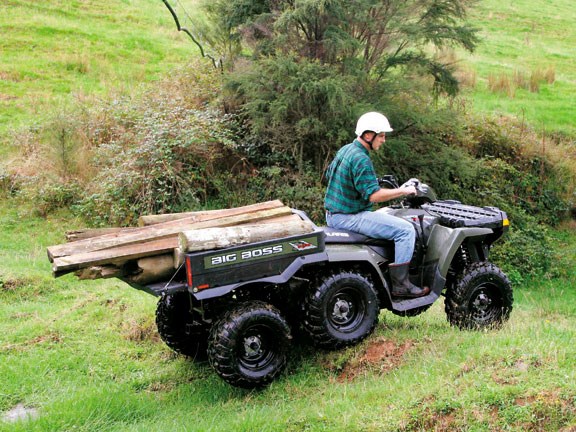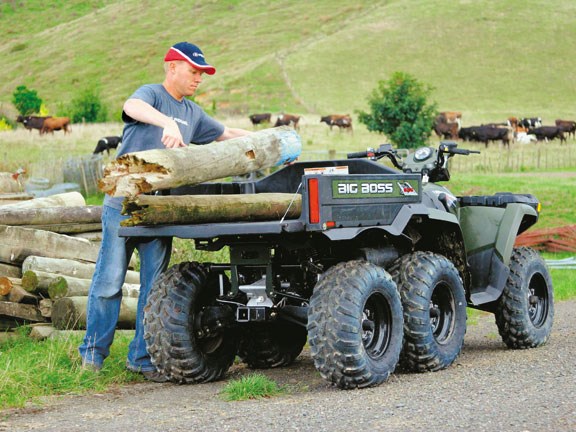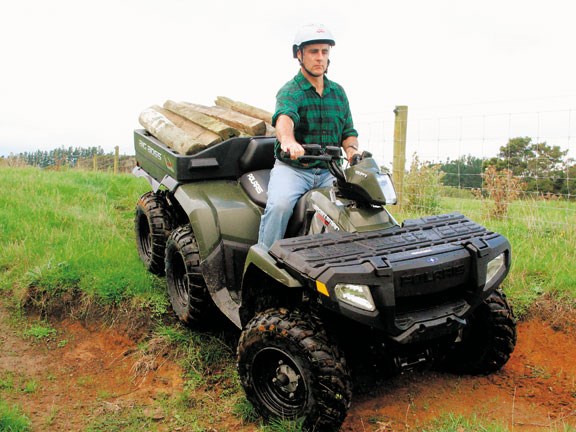 The new Big Boss 6x6 ATV has a name that says it all. Big by nature, Boss by name.
The latest model has been redesigned in order to cart more weight around and to ride smoother.
It is powerful with a heavy weight capacity.
The ride is smooth.
Extra axle for safety with heavy loads.
Extra length for safety on hills.
ADC (Active downhill Decent) brake system.
Maximum towing capacity – a large 680kg bale.
Rear axles driven by connected shaft drive for better wear and tear.
The Polaris Big Boss has an additional rear axle carrying two extra wheels over the previous model, allowing it to safely carry more weight.
Weighing in at 480kg and with 4WD and 6WD options, you have the opportunity to gain more traction as all wheels are driven, without tearing the soil up as much – a bonus for swampy farms, shallow stream crossings and winter feeding.
The 6x6 is much longer than other ATVs, meaning I could drive up steep hills with no possibility of flipping.
Coming down, it's slightly better too, with traction from six wheels slowed by five disc brakes (fixed diff-lock like drive to the middle axle with one disc), plus the Polaris ADC (Active downhill Decent) engine brake system kicking in below 24kmh, when in ADC4x4 mode on the handlebar switch.
At 363kg, the carrying capacity is pretty high so farmers are not restricted to one bale on the front and one of the back of a regular ATV. As we proved during my test, humping a pile of heavy old fence posts is a good example of what it can do, especially using the drop-down rear of the tipper tray.
The maximum towing capacity is a large bale-sized 680kg. Ground clearance is up too, now a very healthy 267mm, thanks to the new suspension system.
Each of the rear axles is now driven by a connected shaft drive, which will last a lot longer and unlike the chain, the mud won't cake them up, causing wear.
Each wheel now has its own independent suspension unit in order to soak up the bumps. This change was of particularly advantage when traversing some of the more difficult stream crossings, where I made full use of the longer 155mm travel on each wheel to get through the dips and over the ruts.
The new rear suspension layout now has the industry standard (for those with independent suspension) double 'A' arm struts, meaning Polaris could reduce the angles of the cardan drive connectors to offer better wear rates.
The powerful new 800cc EFI twin cylinder motor replaces the old 500cc single banger. It is liquid cooled and fuel injected. The fuel injected powerplant is more economical to run because it uses less fuel than a carbureted engine.
Looking at the downsides of running a big 6x6, perhaps the biggest is the extra strength required to steer them, particularly at lower speeds and with a good load on. However, the faster you drive, the easier turning becomes.
In the paddock the Polaris Big Boss goes pretty good for its size, but is less manoeuvrable within constricted spaces as it has a much larger turning circle.
Having an extra pair of wheels means two more tyres to shell out for when the time comes and, compared to a four-wheeled ATV, a likely higher fuel consumption to go propel the extra weight too, however it'll be much less than what you'd spend taking a big tractor out.
Keep up to date in the industry by signing up to Farm Trader's free newsletter or liking us on Facebook