John Deere Gator XUV 620i 4x4
---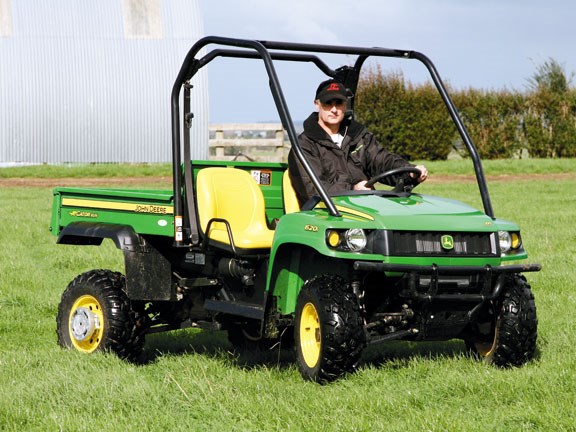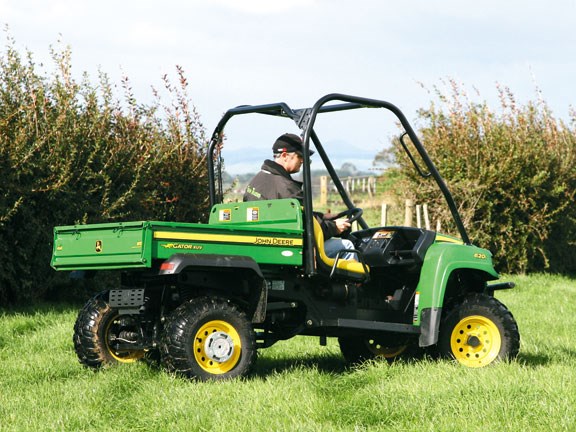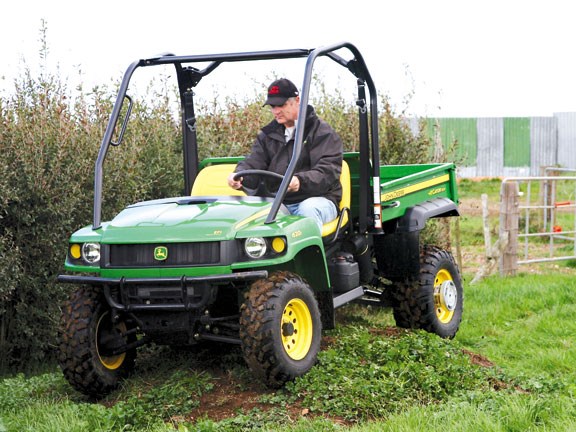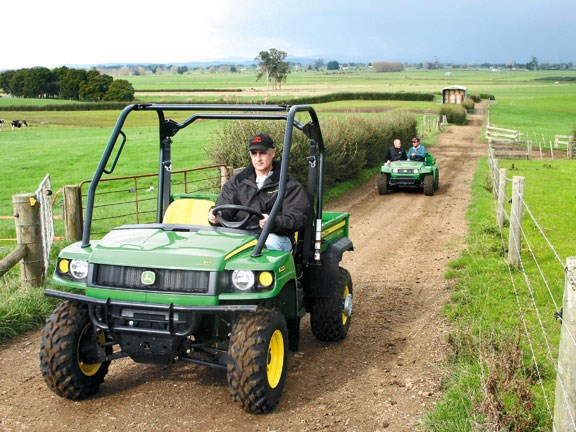 John Deere's Gator XUV 620i 4x4 ride-on offers the stability and versatility to go anywhere
A versatile vehicle useful for many different lifestyles and landscapes
More stable on uneven terrain and hills than any ATV we've tested
Turning circle the same as the 6x4
Excellent carrying capacity
John Deere's Gator family offers a range of utility ride-ons from the basic Compact Utility to the long six-wheeled TH 6x4 – even an electric Gator.
Petrol vs diesel
The powerplants in the petrol-powered Gator XUV 4x4 and diesel-engine Gator TH 6x4 perform quite differently. However, the turning circle of the Gator XUV 4x4 was exactly the same as it's longer six-wheeled TH 6x4 cousin.
The four-wheel Gator XUV 4x4 has overall versatility, which makes it useful for farms, forestry, market gardens and lifestyle block holders, to highlight a few.
The Gator XUV 4x4 is not only faster than the TH 6x4, it is also far more stable on uneven terrain and hills than any ATV I've tested. This is largely due to a wide 1216mm centre to centre rear wheel track.
The carrying capability of this type of ride-on is impressive – you can throw anything on the manual tilt rear tray up to 635kg.
Plus, being a good thickness steel, it's built tough. Most buyers order it with an electric tilt option. Another option is a plastic compound Rhino tray liner to fit the 1116mm long x 1244mm wide tray, which is almost 230mm deep and comes with a fold-down back.
The engine
The XUV 4x4 has a 617cc liquid-cooled Kawasaki V-twin petrol engine producing 23hp. It was more than enough to drive the Gator around and have a bit of fun on. It has enough power but would struggle more than a diesel-optioned powerplant going up a decent hill with a load on.
The petrol version has fuel injection to deliver better throttle response throughout the rev range, up to its 48kmh top speed.
The separately mounted transmission is continuously variable in each of its two forward speeds in either 2WD or "on demand" 4WD. This system, coupled with excellent stability, is easy to operate without any fuss and operators will feel far more secure driving one of these than an ATV.
The only negative I found was when driving down hills, when the engine braking kicks out of action just as the engine works its way back to idle. This was an issue I had with a couple of other brands too. There is a way to get around it by pressing the throttle a fraction with the right foot while braking with the left foot to keep the engine from dropping back to idle speed. It just takes some getting used to. I have to add, though, that the brakes themselves are fine.
Suspension
A respectable 267mm ground clearance will carry the big Gator over all but the biggest rocks without grounding the 627kg XUV 4x4. I found the long travel independent suspension ironed out many of the bumps at any speed, meaning the Gator was stable around the paddock and on the tracks.
For terrain that requires better grip you can buy aftermarket dual rear hubs, which allow you to bolt on an extra wheel on each side of the back axle.
Body work
The body work was up to a good standard and I particularly liked the flared rear mudguards to keep the mud from flying all about. You can also buy the optional canopy, windscreen, or bullbars.
On a rainy day, I was fortunate to see the two seats tilt forward to prevent rain pooling where you sit.
Up front, the dash is very basic with only a digital hour meter and warning lights.
See John Deere utility vehicles for sale here.
To read in-depth farm machinery reviews, see the latest issue of Farm Trader, on sale now.
Keep up to date in the industry by signing up to Farm Trader's free newsletter or liking us on Facebook