Kubota MX series tractors
---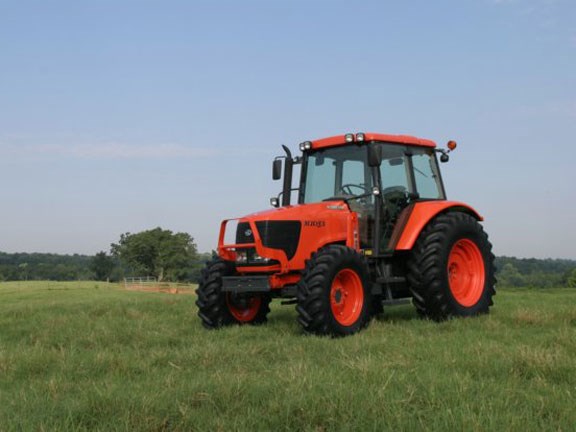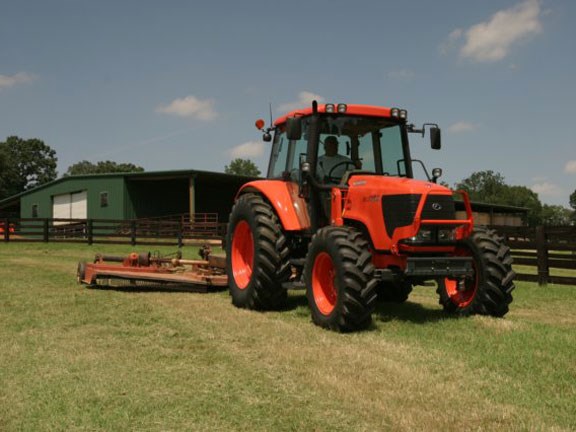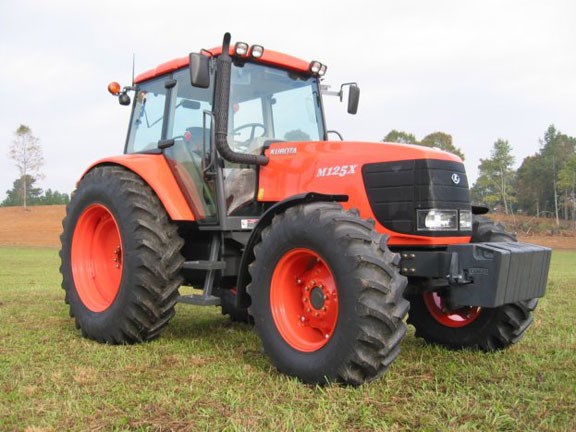 Combining versatility with power, the Kubota range is meticulously engineered to handle a multitude of agricultural tasks
Good fuel economy
The transmission offers eight clutchless, on-the-move changes
Bi-speed turning allows for tight turning
User-friendly cabin
Kubota is the fastest growing brand in NZ and its flagship range, the MX series, has been at the centre of this success.
All M Series tractors are fitted with Kubota diesel engines with four valves per cylinder, developing horsepower to suit the requirements of each range. A real benefit of this feature is outstanding fuel economy.
The MX range from 95 to 125hp are fitted with the Intelli Power Shift transmission, which offers eight clutchless on-the-move changes.
Simply select the range required and push the Plus (+) button eight times; no other range change is required during the eight changes. To change back down, push the minus (–) button eight times. The only time a clutch change is required is when selecting between low and high range.
This transmission is also fitted with Auto-Mode, which includes Auto Field and Auto Road. Auto Field offers one to three changes depending on how many changes the customer requires. Once the required changes are set, they take place with Auto Field selected and using the up and down auto hydraulic switch. The tractor will automatically change down when the hydraulics are lifted and will change back up to set speed when hydraulics are lowered (great for headland turning).
Auto Road also offers one to three changes and is activated by selecting Auto Road and using the foot throttle. By releasing the foot throttle, engine revs drop and the tractor will change down, the tractor will change back up to the selected speed once the throttle is increased.
Auto-Mode will operate automatically when tractor revs drop below optimum operating revs, ie, when ploughing in heavy soils in Field mode or when pulling heavy loads in Road mode.
Exclusive to Kubota tractors, the M95X, M105X and M125X are fitted with Bi-Speed turning. When the front wheels exceed a turning angle of 35°, Kubota's Bi-Speed turn rotates the front wheels at a rate of speed nearly twice that of the rear wheels. The result is a smoother, tighter turn.

The M95X and M105X are equipped with a Kubota four-cylinder diesel engine that utilises a Center Direct Injection System (E-CDIS) using an inter-cooled turbocharger (M105X).
The M125X boasts a five-cylinder Kubota diesel engine with a Direct Injection System (E DIS) using the innovative waste-gate turbo system.
The MX range cabin offers wide unobstructed views, and the comfort of the deluxe air-ride seat with an adjustable air suspension system.
All the main operating devices are within easy reach, and the gear changes and hydraulic operation are on the seat armrest. Kubota also offers a passenger seat as an option.
To read in-depth farm machinery reviews, see the latest issue of Farm Trader magzine, on sale now.
See a range of Kubota tractors for sale here.
Specifications
Engine: Kubota 3.8-litre mechanically governed four-cylinder turbo with Centre Direct Injection System (E-CDIS), and five cylinder waste-gate turbo charger (M125X), with Direct Injection System (E-DIS). All three models have a large 190-litre fuel tank.
M95X: 95hp, 322.8 Nm torque @ 1500rpm.
M105X: 105hp, 363 Nm torque @ 1500rpm.
M125X: 125hp, 475 Nm torque @ 1300rpm.
Transmission: 16F/16R (24F/24R w/creep), eight-speed powershift with a two-speed mechanical shift with clutch button and clutchless shuttle. Selectable four-wheel drive and Bi-Speed with auto engagement under braking.
Linkage/hydraulics: Cat ?? rear linkage, M95X has telescopic lower link ends with 3900kg lift with one assist cylinder; M105X and M125X have Quick hook lower link ends with 5000kg lift capacity with two assist cylinders. 76.4 and 75.9 litres per minute hydraulic flow with two double acting remote valves standard with up to four valves as an option.
PTO: 540/540E or 540/1000. Electro-hydraulic engagement.
Keep up to date in the industry by signing up to Farm Trader's free newsletter or liking us on Facebook