Mahindra 6500
---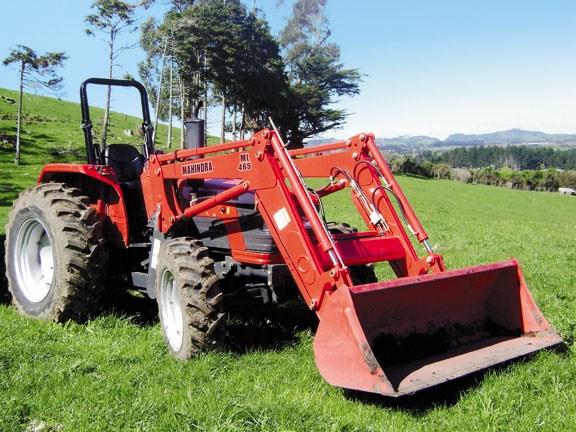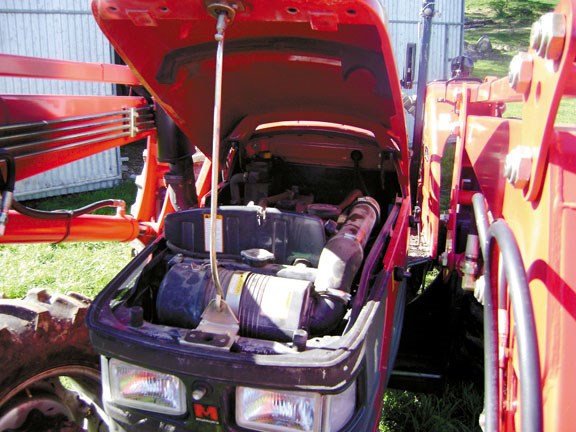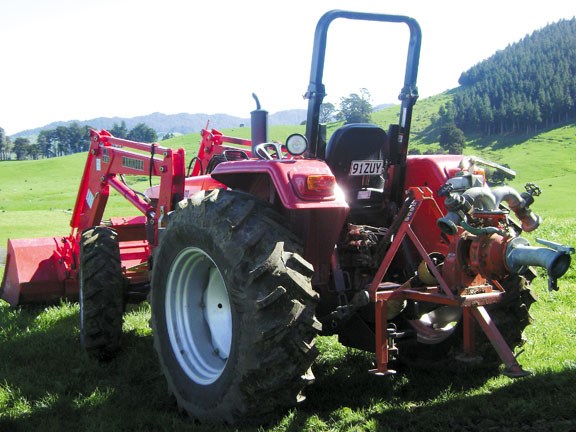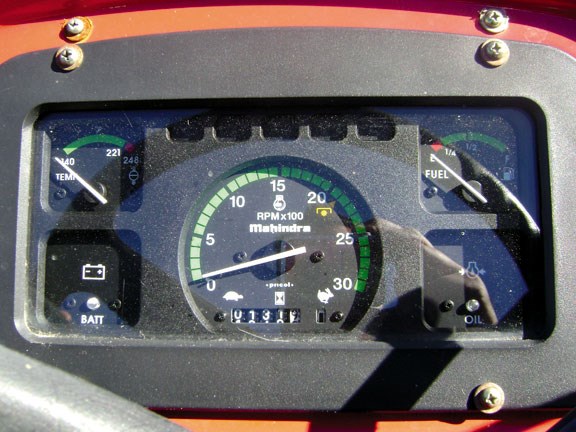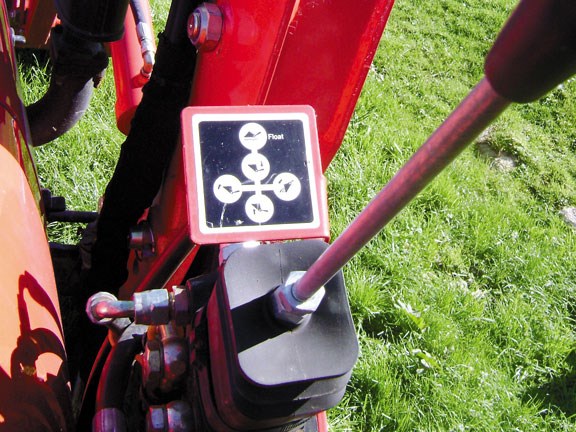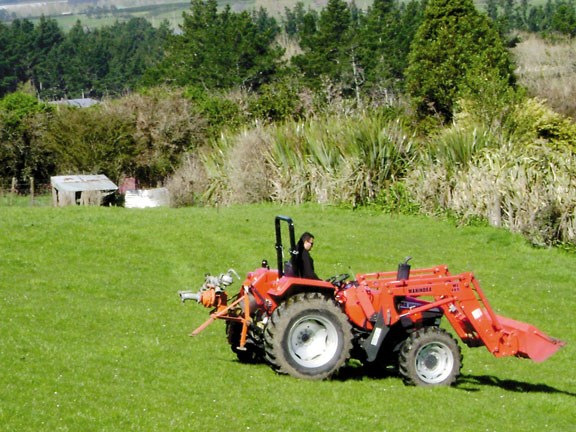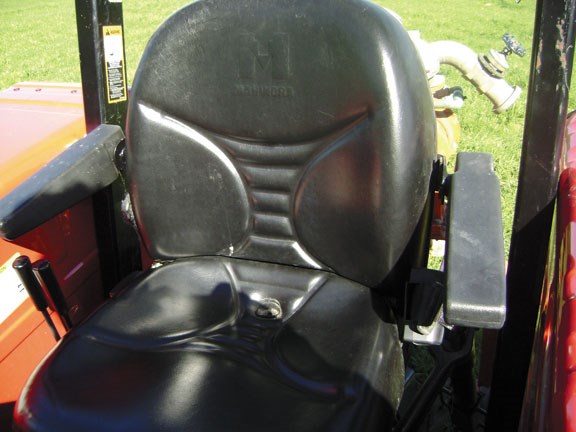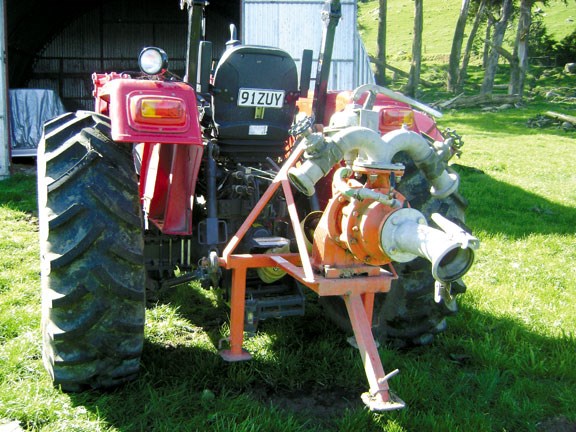 Rodney Kingi checks out the Mahindra 6500 tractor
The 4WD is great for hilly countryside
The layout is plain but uncomplicated
With an overall length of around 4m, it is easy to manoeuvre
The Mahindra 6500 has the capability to fit many attachments
Charlie McDonald is a sharemilking dairy farm owner who has 200 cows, milked twice daily. He was looking for a versatile tractor that could handle a range of tasks on the farm; something that could be hooked up to many attachments.
Originally he was looking to purchase a second-hand tractor, but, thanks to a Field Days special, the cost of the Mahindra 6500 was $10,000 cheaper than other new tractors the same size, and only around $10,000 more than comparable used tractors.
He finds the 4WD is great for his extremely hilly countryside and sees the solid, heavy duty construction of the Mahindra as an advantage.
Transmission
The transmission has four gears in high and four gears in low, and is easy to use and accessible. You get eight forward and eight reverse with the Synchro shuttle gear box.
I found gear changing smooth in both forward and reverse, with plenty of torque in the lower gears.
It pulls very well in lower fourth although the gear lever does seem somewhat old fashioned for a modern tractor.
Engine
The four-stoke direct injection, water cooled, diesel engine produces 65hp (48.4kW) @ 2200rpm.
The oil and air filters are easily accessible for servicing but it could do with an inline fuel filter, as it is currently in the diesel tank, which makes it hard to service a fuel blockage.
The interior
The seat is comfortable, with arm rests and good back support, and the adjustments are easily accessible.
The gauges and layout of the instruments are clear and easy to read and all controls are within reach.
Performance
While driving the Mahindra 6500, I found it very smooth and easy to steer. With an overall length of around 4m, it is easy to manoeuvre and access farm races.
The chassis is built of heavy duty cast iron, which gives it an impressive weight. Being a slightly heavier tractor, it grips better in the mud and wet.
Extras
The Mahindra 6500 has the capability to fit many attachments such as an effluent pump and spraying unit.
The new ML Series of Mahindra loaders facilitates quick change of attachments, have high breakout forces and handles big loads. They are specifically designed for Mahindra tractors, and enhance their versatility.
To read in-depth farm machinery reviews, see the latest issue of Farm Trader magazine, on sale now.
Read more Mahindra tractor reviews here.
See Mahindra tractors for sale here.
Specifications

Engine
Compression ratio 19.4:1
Cylinders 4
Displacement (cc) 3554
Engine hp (kW) @ rpm 65 (48.4) @ 2200
Type Four stroke, direct injection, water-cooled, diesel
Electric
Alternator 12 volt, 36 amps
Battery capacity 12 volt, 96 amp hours
Clutch Type Dual
Transmission
Number of gears 8 forward, 8 reverse
Type Forward-Reverse Synchro-Shuttle
Front wheel drive Type Mechanical
Steering Type Hydrostatic power
Brakes Type Wet disc
Hydraulic system
Three-point linkage Category 1 & 2 with telescopic check chains
Auxiliary remote valves 2 standard
Lift capacity (kg) 1800
Pump output (L/min) 42
Type Open center, full-live hydraulic with position and draft control
PTO hp (kW) 57 (42.5)
PTO rpm (@ Engine rpm) 540 & 1000 @ 2100
Type Independent
Operating weight
Total (Kg) 2848
Overall length (mm) 3810
Overal width (mm) 1956
Turning radius min. (mm) 3580
Tyres Ag (Front/Rear) 11.2x24 / 16.9x30
Keep up to date in the industry by signing up to Farm Trader's free newsletter or liking us on Facebook