John Deere 8R series tractors
---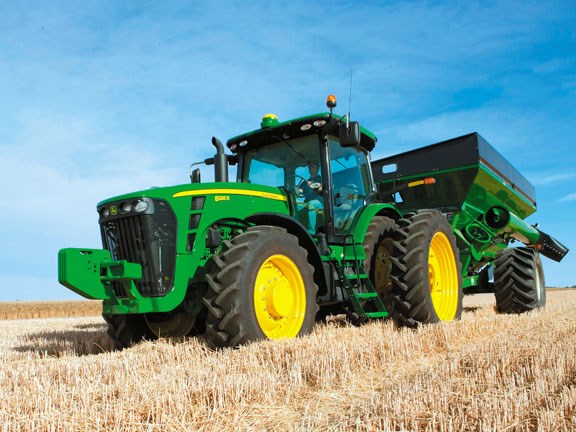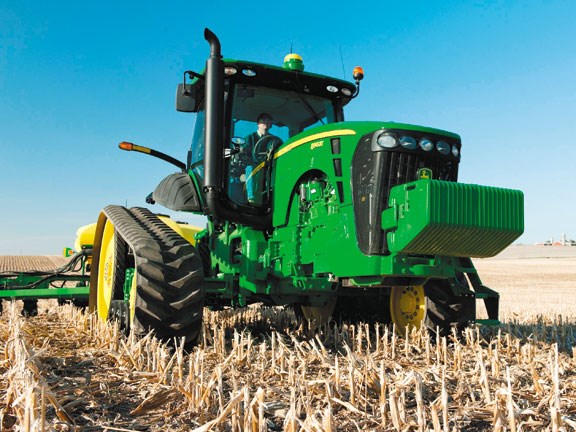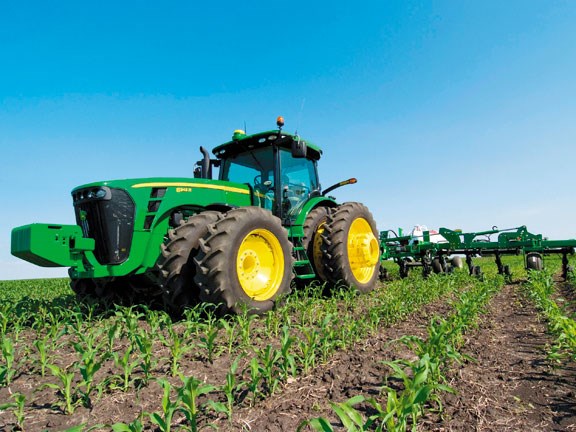 John Deere has bolstered its line-up of high-powered row-crop tractors with the introduction of 225 to 345hp (166-254kW) 8R series tractors
Upgraded ride comfort
Includes the most fuel-efficient and powerful row-crop tractor from John Deere
John Deere's AirCushion™ Suspension System
Maximum transport increased
Fuel economy increased
The line-up includes six wheeled models that range from 225 to 345 engine horsepower (166-254kW) and three track models that range from 295 to 345 (217-254kW) engine horsepower. It also includes the 8345R – the most powerful row-crop tractor John Deere has ever built – producing up to 345 (257kW) engine horsepower – 967kB.
"We've taken the most fuel-efficient row-crop tractor ever produced, at a time when its reliability is better than ever, and refined it by increasing horsepower output, adding our most spacious, most comfortable, and most productive cab ever. We've also dramatically upgraded the ride comfort and capabilities of our track models. These tractors offer customers low operating costs and maximum uptime with ultimate comfort and productivity," says Royce Bell, John Deere Limited tactical segment manager.
One of the hallmarks of an 8R series tractor is its next-generation John Deere CommandView™ II Cab. Inside, operators will experience a roomy work environment that's equipped with integrated, easy-to-use monitors and controls. Visibility is enhanced in all directions.
"Available best-in-class lighting, plus best-in-class cab and controls, help this tractor stand out from the competition," says Bell.
The 8RT series track tractors are new from the ground up. Each 8RT tractor is equipped with John Deere's AirCushion™ Suspension System that was first made available on the company's larger 9030T series track tractors.
And for the first time, John Deere makes its Infinitely Variable Transmission (IVT™) available on 8RT series track tractors. It's standard on the 8345RT and optional on all other models. With an IVT, operators can use a single lever to shift from 0 to 38kmh, or any speed in between.
"With our IVT, customers first dial in a specific ground speed. Then, the engine and transmission work together to keep the tractor operating at that speed – instantly responding to changes in load conditions," says Bell.
Maximum transport speed has been increased up to 38kmh on the track models. In addition, fuel capacity on the 8RT series has been expanded to 757 litres — a 54 percent increase compared to its predecessor. An available Category 4N/3 rear hitch provides these track tractors with up to 8300 kilograms of hitch-lift capacity. Hydraulic flow is now rated at 227 litres per minute.
"Our track tractor customers can now select any track spacing between 1.82 and 4.06 metres wide by using the field-installed kit and can make adjustments without de-tensioning the tracks," says Bell.
All 8R and 8RT models are powered by the 9.0L John Deere PowerTech™ Plus engine that meets current Tier III Emission Standards.
John Deere name and numbering system
The 8R series tractors also use the new John Deere name and numbering system. The first position is a number and represents its size. The second, third, and fourth positions denote its relative engine horsepower according to 97/68/EC Standards. The fifth position is a letter and indicates its capability and/or price level within its family.
Letters at the beginning of the alphabet indicate a tractor model has lower levels of capabilities when compared to other models in its family. Letters higher in the alphabet specify a tractor with more advanced capabilities.
Some tractors will also have a sixth position to designate a specific configuration such as a high-crop or narrow-profile tractor or to show that it has tracks.
For more information on the 8R series tractors phone 0800 303 100 to speak to your local John Deere dealer.
To read in-depth farm machinery reviews, see the latest issue of Farm Trader magazine, on sale now.
See a range of John Deere tractors for sale here.
Keep up to date in the industry by signing up to Farm Trader's free newsletter or liking us on Facebook