JCB Fastrac 3230-80 Plus tractor
---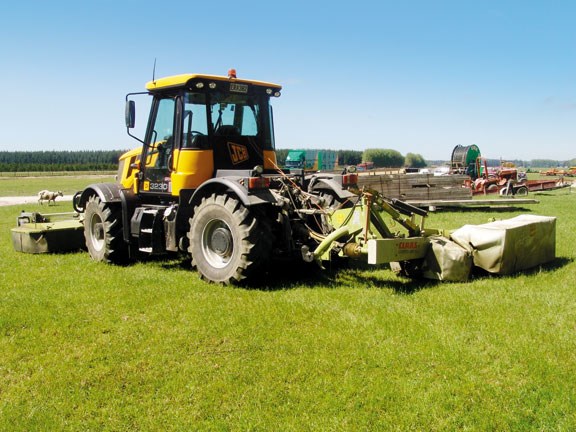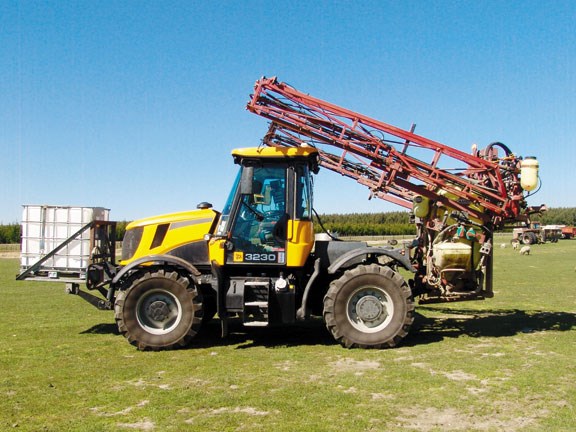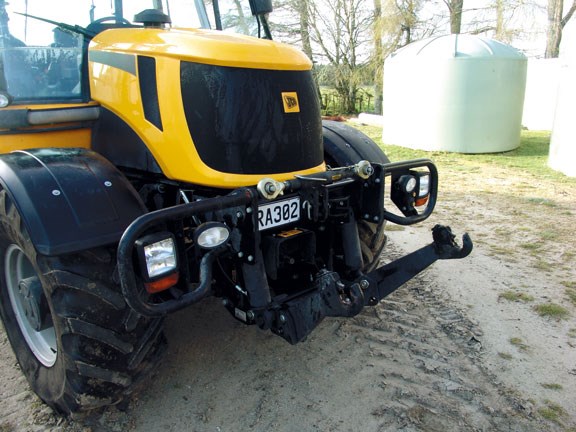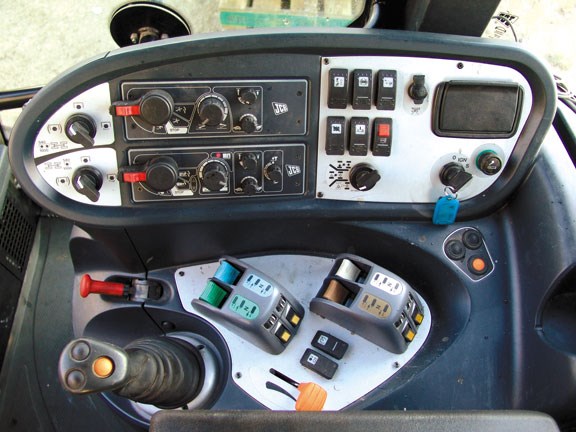 The JCB Fastrac 3230-80 Plus is a multi-purpose machine that covers a lot of ground quickly
Full suspension
Versatile front and rear linkage
Air and hydraulic trailer brakes
Powerful Cummins engine
Rear load platform easily handles 2500kg
Spacious cab with full size passenger seat
Plenty of storage compartments
Engine
The 3230-80 is running a Cummins QSB 6.7L six-cylinder engine with common rail fuel injection, putting out a rated 293kW/220hp and a max of 307kW/230hp. Most of the power is available from 1000rpm, where 97 percent of its 837Nm of torque kicks in, and maximum power is reached at 1500rpm.
Not having to change gear is very helpful in any situation, especially when having to pull out of tough spots.
Transmission
Although the transmission is easy to use and works well, it is a bit behind the times, being largely unchanged since the introduction of the wet clutch and three-speed splitter on the 3185 model.
With 54 forward, and 18 reverse gears it's a breeze to change up through the six-speed manual transmission on the road with high range selected. In the paddock with ground engaging implements it's a different story; being difficult to change gears without stopping, although I found it not too bad while mowing and spraying.
Brakes
I was impressed with the performance of the 3230-80's brakes – when towing a big trailer at high speed the four wheel air-over-hydraulic external disc brakes quickly brought it to a halt.
Because this tractor has to get a COF for road use, there are no split brakes.
A plus with the JCB brake system is you get air and hydraulic trailer brakes, which enables you to tow any trailer. It also has a handy air supply for pumping up tyres and cleaning out the cab and implements.
Wheels and tyres
This model has the 80kph option instead of the standard 70kph, and comes with 495/70 R24 tyres rather than the 540/70 R30s on the 70kph model, giving it a slightly lower ride height, which kept the center of gravity down when using a mounted sprayer on steep hills.
The high-speed tyres mean that you should get around 40,000km out of them without too much trouble.
Rear linkage and PTO
While testing the 3230-80, I changed between several implements – this job was made easy with the category III rear linkage being adjustable by hand. It also made light work of lifting a 6m power-harrow.
The controls are clearly set out and quick to operate. There is a reversible stub shaft with 6 or 21 1 3/8" spline that is easily changed by removing a circlip. An optional 1 3/4" 20 spline stub shaft is available and also fits straight in.
Front linkage and PTO (optional)
The test tractor was equipped with front linkage and PTO (with a 3500kg lift capacity), which is nicely integrated into the front of the tractor, and with folding linkage arms it packs away neatly. It is operated with an electronic control panel on the console in the cab, and can be set to float or down pressure.
Drawbar
The drawbar on the 3230-80 is well built and heavy duty, but is also easy to adjust without the use of tools.
Auxiliary hydraulics
On the back end there are four double acting, electronically controlled spool valves (optional – standard equipment is three), as well as a dump connection and constant flow outlet.
The auxiliary hydraulics have a separate oil reservoir, which keeps any foreign matter from causing damage to the transmission. They have a maximum oil flow of 104l/min which is adequate for most jobs.
Suspension
I found it to be an easy ride over rough ground, and it seemed to have very good stability on slopes. It also had a lot of travel and the wheels stayed in contact with the ground – even through sharp dips.
Turning circle
The 3230-80 has a turning circle of 13.28m curb to curb on the test machine, which is not bad compared to some conventional tractors. This maneouvrability came in handy when turning at headlands and negotiating narrow laneways.
Cab
The cab is a unique design, being full width and in the middle of the tractor. This helps with the smooth ride but does restrict vision of the drawbar when hooking up a trailer.
There are good storage compartments inside and out and it has two full size seats. There is a deluxe option, which costs extra.
Servicing
A rear hinged bonnet gives good access to the fold out radiators and engine. The front wheels do restrict you a bit, but the mudguards are strong and make a good work platform.
The full suspension on the Fastrac means there are external drive shafts which need regular greasing.
The verdict
Overall, the tested 3230-80 was easy to operate, with simple manual controls and a comfortable cab. It handled itself very well off-road and on. Not having to pull over every five minutes to let traffic pass was a welcome relief – you do get a few looks though as your passing trucks!
Ideally, the Fastrac is suited to contractors or large-scale farmers that need a multi-purpose machine to cover a lot of ground quickly, and are looking for something that is fast on the road but also pulls its weight in the field.
To read in-depth farm machinery reviews, see the latest version of Farm Trader magazine, on sale now.
Keep up to date in the industry by signing up to Farm Trader's free newsletter or liking us on Facebook