Kverneland 6m Folding Power Harrow
---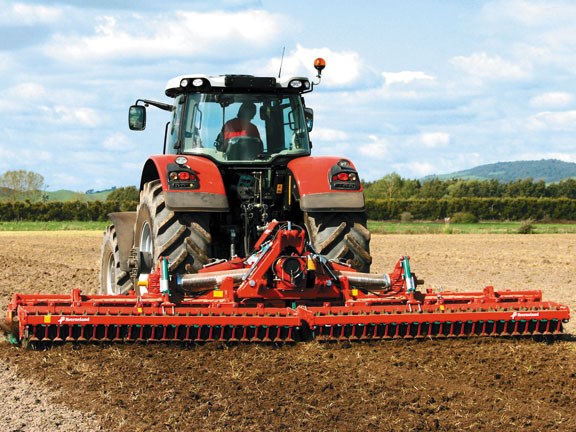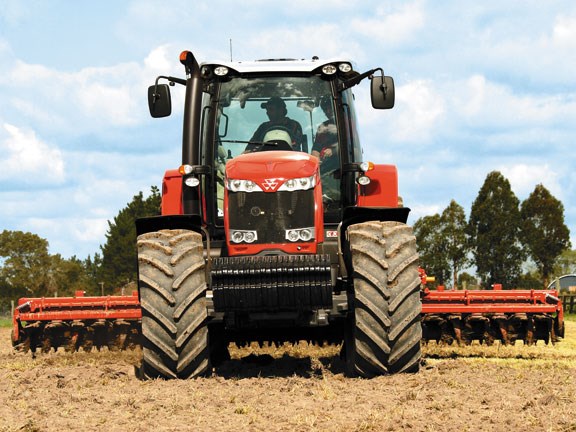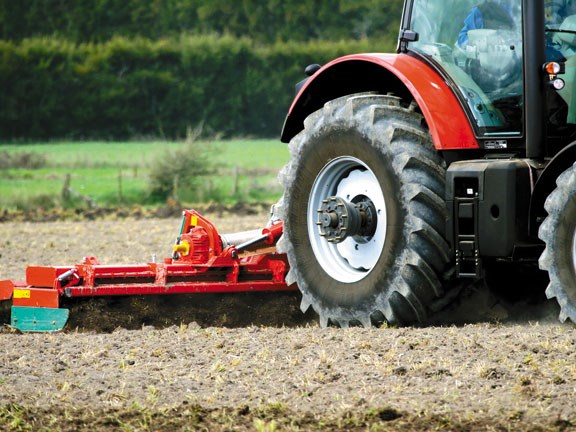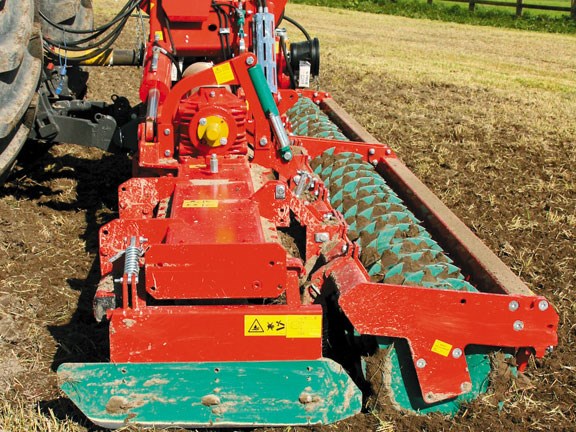 At a recent Waikato Tractors Field Day, Terry Stevenson trialled the new 6m Kverneland folding power harrow
Heavy duty heat-treated steel
10mm thick beds
Three-speed gearbox
Tungsten dipped tines
Oil cooler
Hydraulic roller
Faster ground speeds
Levelling board across width
Rigid or floating levelling bar
Taper roller bearings
Finer seed beds
Fitted to a three-point linkage with modern tractor power take-off (PTO), power harrows have become easy to use and universal in their operation around New Zealand farms.
A recent release by Kverneland is a new 6m folding power harrow, NG-S 601 F35. Power Farming imports this model in 5m and 6m working widths for tractors up to 350hp. The big 3900kg 6m unit has a total of 24 rotors spread across the working width.
Power Farming general manager – machinery, Graeme Leigh, says, "We are bringing in the five and six-metre models of the heavier duty S series, which has an up to 350hp gearbox. We are bringing them in absolutely top-full spec.
They are Kverneland's heaviest duty beds [10mm thick] all in heat-treated steel, quick-fit tungsten-dipped tines with a pin and clip arrangement as standard, an oil cooler, hydraulic roller, levelling board across the working width, and a three speed gearbox.
Built tough
Kverneland power harrows enjoy extremely hard-wearing properties of the steel tines, also thanks to a unique heat treatment process to harden the steel to Kverneland specifications. The end result is long lasting tines that are able to resist shocks and take an even bigger in-ground hammering.
The tungsten-dipped tines are said to have four times the wear of a standard steel tine, with Leigh saying that once professional growers go to tungsten, they never go back to standard tine.
To make the 18 x 330mm (NG-S model) deep tines chew through the soil easier, each rotor is staggered several degrees from the adjacent tine. Helping are the three (246 to 387rpm) rotor speeds to make the entire operation more manageable for different soil types.
"The secret with Kverneland is they phase the tines – you don't have tines working at right angles, so you have an even flow of soil which takes less horsepower. The end result is finer seed beds and we'd argue easier driving, particularly from the phased tines, but the real key is a finer finish. What it does is move the soil across and back. Before they were trying to force the dirt between two tines all of the time."
The advantage equates to a higher ground speed for the same level of effort. The Kverneland has good coverage too with this 6m fold model running four rotors per metre.
To read in-depth farm machinery reviews, see the latest issue of Farm Trader magazine, on sale now.
Specifications
Model
NG501H
NG601H
HG601S
Working width (m)
5.0
6.0
6.0
Transport width
2.9
2.9
2.9
No of rotors
20
24
24
Weight (packer roller)
3300kg
3780kg
3900kg
Weight (cracker packer)
3500kg
4020kg
4200kg
Max tractor hp
350
350
350
Overload protection
2.5kN torque limiter in lateral drives
PTO speed
1000RPM
Rotor speed
246, 326 or 387 rpm + neutral position
See Kverneland machinery for sale here.
Keep up to date in the industry by signing up to Farm Trader's free newsletter or liking us on Facebook