Hyundai 80-7 digger
---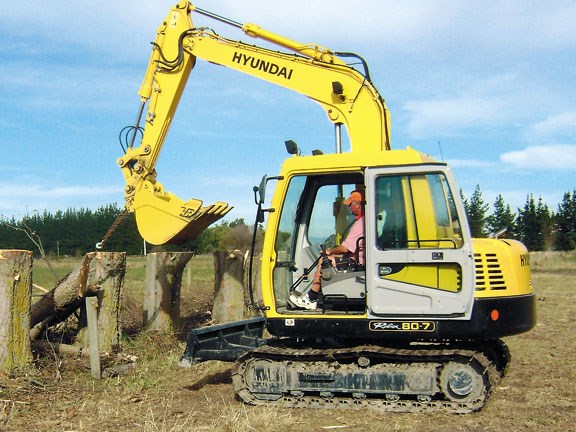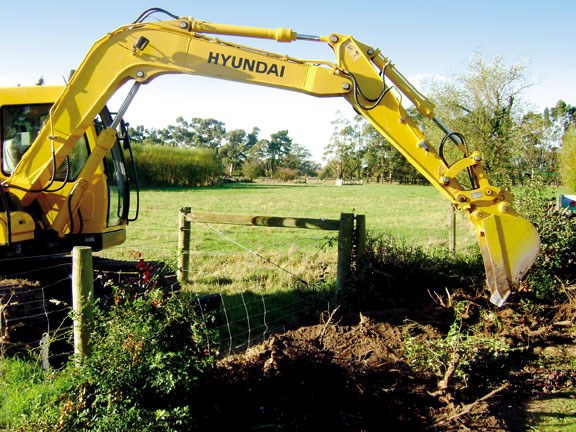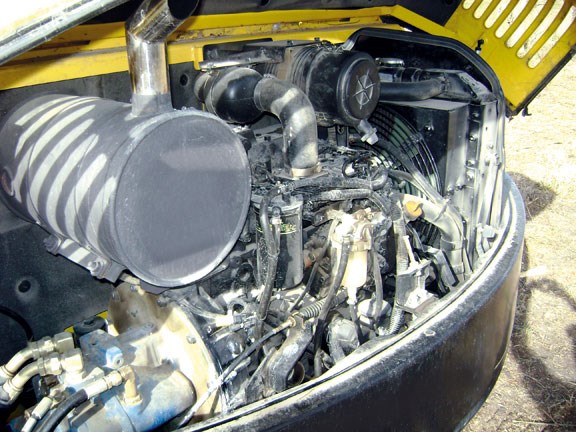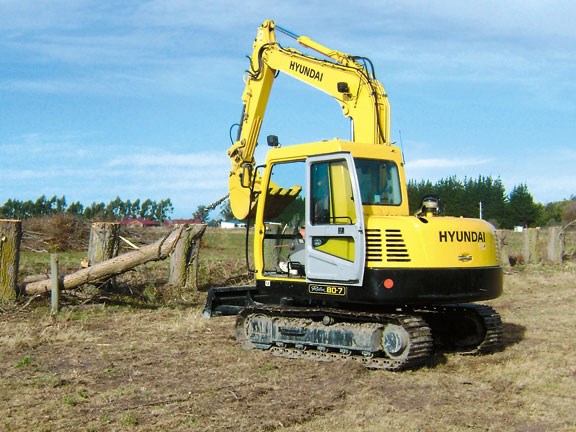 The Hyundai 80-7 digger is able to handle a wide range of jobs around the farm
Quiet cab
Precise controls
Easy engine access
Convenient and versatile
Stable when operating
Once seen as a machine for contractors and construction companies, diggers have become a common sight on farms throughout New Zealand.
Because they are able to handle a wide range of jobs, from track maintenance to drainage, once you've had a digger you wonder how you did without one.
Cab and controls
Access to the Hyundai 80-7 cab is easy thanks to the left hand control hinging rearwards. Once seated, the control is pushed forward to the working position and the safety lever lifted.
The pilot pressure operated controls are light and easy to use.
The cab is equipped with a heater and air conditioner, with the instrument panel easily visible in front of the right hand control.
On the floor are the travel pedals, which give two speeds and are changed by a button on the console, and the bucket tilt pedal is under the operator's right foot.
Legroom is a bit limited even with both the seat and control slid back.
Engine and power
The rear hood opens on gas strut, giving access to the 60hp Yanmar engine for service checks.
The batteries and isolator switch are located on the front right-hand side of the machine. The counterweight wraps around the engine, giving protection.
Undercarriage
Sitting on 450mm grousers, the tracks are about 2.2m long so the machine is stable when operating – although you can also put the blade down if needed.
The track frame has five bottom rollers and one top roller, with hydraulic track adjustment using a grease gun so keeping the tracks the correct tension is easy.
Attachments
The machine is fitted with a hydraulic quick hitch and was supplied with four buckets – 1200mm tilt bucket, 450mm digging bucket, 300mm trenching bucket and a 1200mm drain cleaning bucket.
What the owner says…
Having several kilometres of drains and tracks on their farm to maintain, and an extension of the irrigation system to complete, Kathy Van Beek and Laurie Bourke have found the Hyundai very convenient to own, with the digger becoming an important machine on their Rangiora farm.
The machine has been very useful sorting out water leaks, installing troughs and cleaning up after the shelter belt trimmer has been through the farm. Putting in culverts to improve access and stock movement around the farm has also been made easy now that they own a digger.
"When the decision to purchase our own digger was made, reliability was at the top of the list as we didn't want a machine that would require a lot of repairs and maintenance," says Laurie. "The Hyundai has been very reliable and Eagle Equipment has been good to deal with."
Read in-depth mchinery reviews in the latest issue of Farm Trader magazine, on sale now.
Specifications
Engine Yanmar 4TNV98 water-cooled, four-cylinder diesel, direct injection
Max torque 25.2kgf/m @ 1000rpm
Bore x stroke 98mm x 110mm
Displacement 3319cc
Rated flywheel horsepower 60hp (44kW) @ 2100rpm
Fuel tank 135L
Overall length 6080mm
Overall width 2200mm
Overall height of cabin 2640mm
Min ground clearance 360mm
Keep up to date in the industry by signing up to Farm Trader's free newsletter or liking us on Facebook