Kubota RTV1140PX ATV
---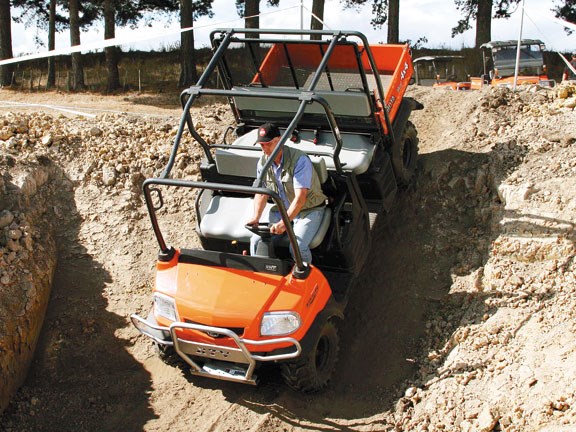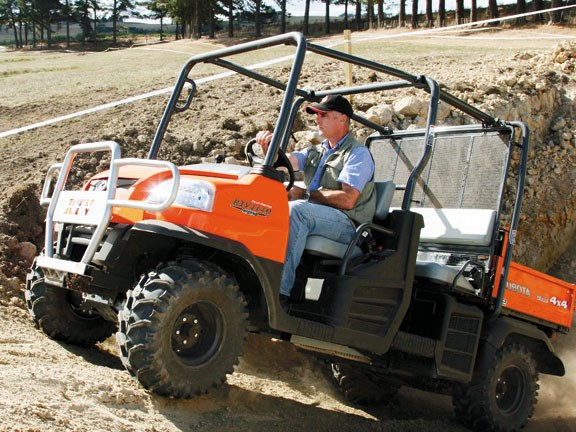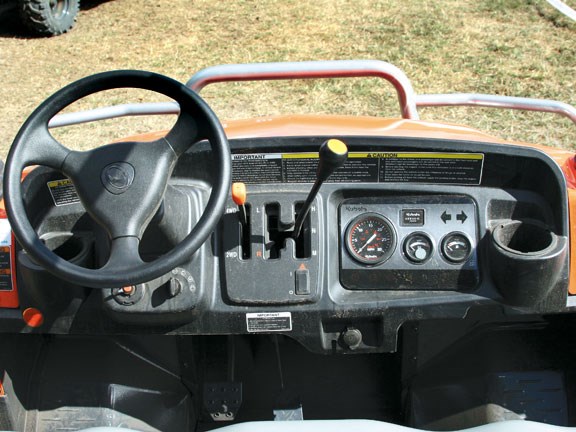 Compared to regular ride-ons, the Kubota RTV1140PX feels like a limo to drive, especially with power steering making it so effortless
Power steering
Top acceleration
Excellent carry capacity
Can seat four people
Transforms easily
Suitable for many different markets
The Kubota RTV1140PX ATV can carry up to four passengers on two bench seats, or just one passenger and more items on the hydraulic tilting tray. This model transforms from a two seater with a 1360mm x 1320mm tray to a four seater with an 860mm long tray.
Driving in and around wet paddocks, the RTV won't chew the grass up, and will be great for carrying small quantities of feed into the paddocks with a hydraulically operated tipper to feed out.
The RTV1140PX can also tow a trailer up to a rated 590kg, now with a heavier 50mm drawbar shaft (was 30mm).
Performance and handling
With a longer wheelbase (2415mm), the latest Kubota is more responsive and more stable than the two-seat RTV900. The larger capacity engine gets it off the line quicker, too. However, compared to some models the wheel track is still a bit narrow, at 1150mm front and 1180mm rear tyre tread centres.
The suspension system is an independent MacPherson Strut front suspension system and a de Dion axle with basic damped leaf spring rear suspension. The system makes it ideal for transporting very heavy loads (on the flat) up to 500kg, in two-seat mode. Although it bounced around a little when empty (possibly over-sprung to allow for more weight), the suspension worked fine during my mostly flat test drive.
The fully variable transmission system (VHT) has a three-speed hydrostatic (non-drive belt) variable speed unit. Kubota has increased the capacity of the hydrostatic unit to deliver more power and torque to the ground.
The foot throttle works both the engine and the drive unit, giving a maximum top speed of 40km/h. I didn't need to use the foot-operated diff. lock on the new four-seater, however I recommend you select the correct high, medium or low ratio for the work you'll be doing to get the best drive and to prevent the transmission overheating.
Changing gear is easier too, thanks to a cable on the brake pedal that releases the hydro transmission before you can change ratio. It was difficult to do on a slope.
While the RTV1140PX stops fairly quickly when you take your foot off the accelerator, it's the complete opposite (and better) to some current ride-on machines which don't have any engine or transmission braking at all.
When I did need to slow or stop, the oil immersed hydraulic brakes on each wheel hauled the RTV1140PX to an immediate halt.
The RTV1140PX comes with a suitable six post ROPS safety frame, so all occupants should wear safety belts.
A few other areas have been improved, such as a plastic seat underside instead of plywood, and sculpted seats, both providing a more comfortable ride and better support.
Engine and power
The RTV1140PX ATV uses a three-cylinder Kubota D1105-E3-UV water-cooled diesel engine rated at 18.5kW (24.8hp) at 3000rpm. The 1123cc Tier 4 powerplant has excellent acceleration despite the RTV1140PX's heavy 1070kg weight.
Two seats or four?
A great feature of this model is how fast it can be changed from a two-seater to a four-seater. With two people on either side of the ATV, you'd get it done in well under a minute. Hinged panels are tucked away in the tray when you're using all four seats.
To create a larger tray, you unhook several rubber straps, unlock and flip up the bench seat, pull across the rear screen mesh, unclip the hinged panel extensions into position before unlocking and positioning the new tray front section.
In four-seat configuration the rear tray capacity is 0.33m3 while you'll be able to carry 0.52m3 (struck) in two-seat mode ("struck" being a level measure taken along the top of the tray), so it's likely to carry more if heaped and remains under the maximum weight allowance.
Specifications
Engine Three-cylinder Kubota D1105-E3-UV
Capacity 1123cc
Power rating 18.5kW (24.8hp) at 3000rpm
Transmission Three-speed, hydrostatic. 16, 29 and 40km/h
Maximum speed 40km/h
Fuel capacity 30 litres
Weight 1070kg
Wheelbase 2415mm
Wheel track Front: 1150mm; Rear: 1180mm tyre tread centres
Minimum ground clearance 190mm
Cargo capacity Two seats: 52m3, struck, max load 500kg; Four seats, 33m3, struck max load 300kg
Tray dimensions Two seats: 1320mm wide x 1360mm long x 290mm; Four seats: 1320mm wide x 860mm long x 290mm
Brakes Four wet disc brakes
Keep up to date in the industry by signing up to Farm Trader's free newsletter or liking us on Facebook