Polaris Ranger EV
---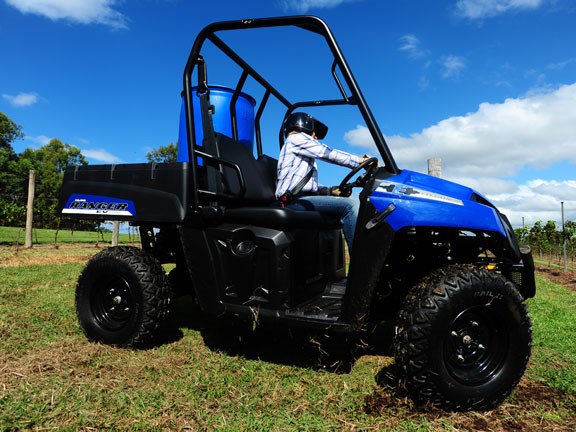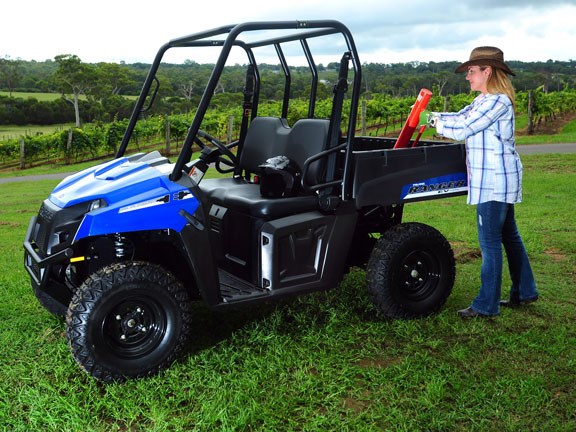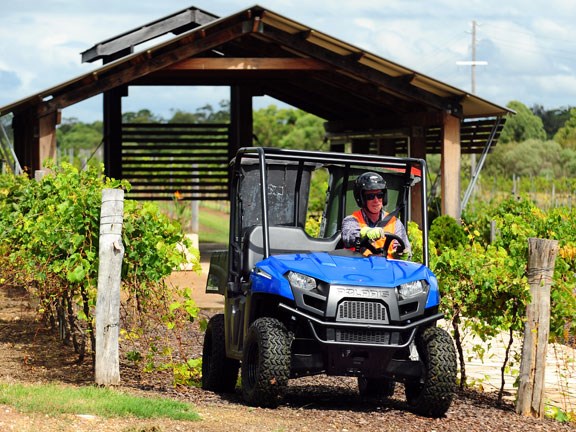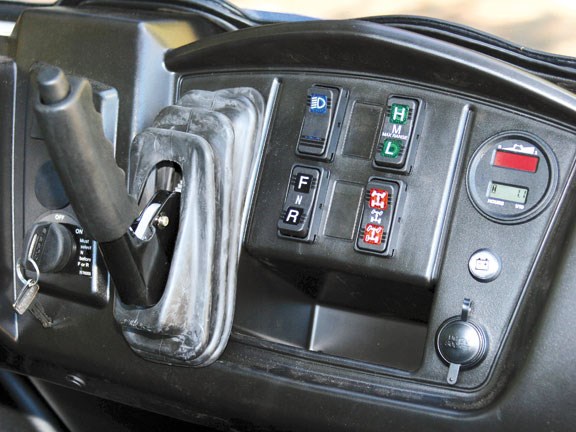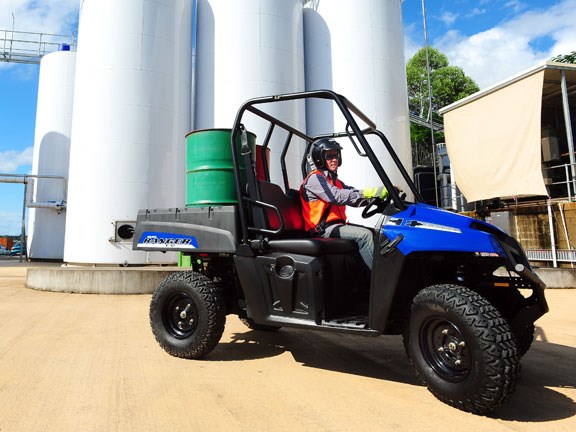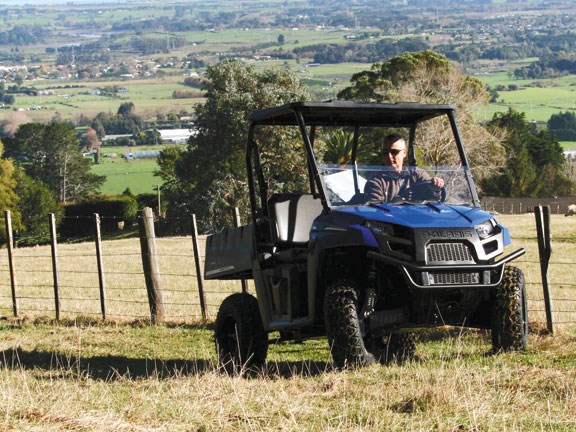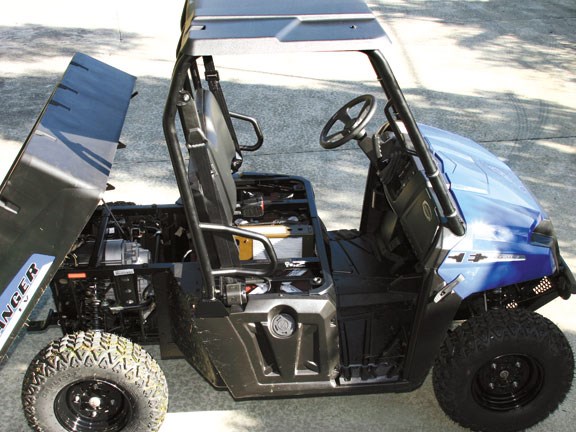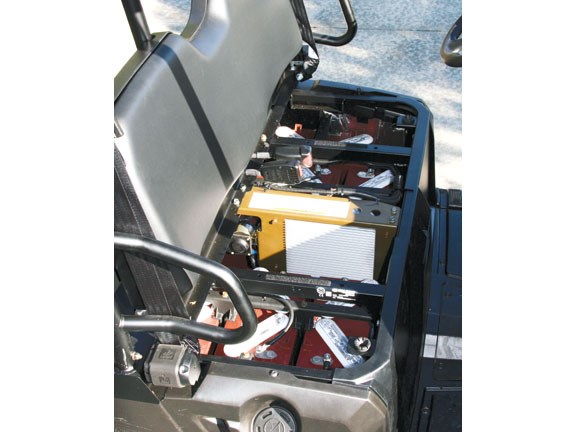 The 2010 Polaris Ranger Electric Vehicle (EV) represents a leap forward in the ATV market and leaves the vehicle with considerable market potential
Cost-effective
Quiet
Zero emissions
Three-speed drive system
Regenerative brake system
Polaris is one of the first companies to present the agricultural industry with an emission-free vehicle.
Potential buyers for this electric-powered side-by-side ride-on ATV include environmental folk, small-block farmers, orchards and vineyards, market gardeners, greenhouse operators, golf courses, and industrial customers such as airports that need a carryall with zero emissions. Council parks and reserve departments are also options.
Battery life
Battery life remains the key issue, followed closely by what you plan to use the EV for. This isn't a vehicle to take up continuous steep hills; in fact Polaris recommends using it on slopes less than 15°, and the batteries will drain more quickly when you carry heavy weights.
To aid battery life the Ranger EV runs on narrow, larger rolling diameter tyres, allowing the electric ride-on to ride over the bumps better, and offering less forward motion resistance. Its tyres are narrow to provide less resistance. Before my test, all four tyres were pressurised to a high 25psi.
Engine and power
Driving the Ranger EV is an electronically controlled high efficiency AC induction motor, generating up to 22.4kW (30hp).
The Ranger EV's eight large under-seat batteries provide enough power for the vehicle to travel approximately 80km, depending on what drive option you use, driving style, your load weight, temperature (batteries are less efficient in cold conditions), and terrain. Polaris says they could last up to two hours of continuous use.
When fully drained the battery pack can take around eight hours to fully charge, though its dash LED battery level indicator and warning light will give you plenty of warning.
To recharge, you'll need to park somewhere dry, pull the three pin plug lead from the glove box, and hook it up with your own extension cord.
In normal use the batteries should last around four years.
Regenerative brake system
Topping up the batteries with extra current is a regenerative brake system. Each time you brake the AC motor switches into generator mode to receive current from the still turning drive system, transferring that charged power back into the batteries.
For all its technology and high-end brake package, I found the Ranger EV very slow to stop. Sure, I can feel (and hear) the regenerative brake system kick in shortly after the slowing begins, and I understand the vehicle is brand-new, with brakes pads that need bedding in, but for some reason it just wasn't stopping quickly through the pedal like other Polaris models.
The side-by-side doesn't allow you to perform a hand-brake start, regardless if it's intended for sub 15° hills or not. I had to engage the handbrake, put the drive switch into neutral, turn the key, and then accelerate off using the foot throttle. No problem on the flat.
Ranger chassis
The Ranger EV uses the same chassis as the new Ranger 400, which carries a 29hp 455cc petrol engine. The MacPherson strut front suspension has 203mm of travel while the 6-way spring adjustable rear shocks have 229mm, slightly less than the Ranger 400. Both share an independent anti-sway bar (IRS).
All-wheel drive
Polaris retained its on-demand all-wheel drive system. If you're driving along in this mode and a wheel begins to slip, then all wheels automatically begin driving. In normal AWD running just two wheels provide traction, so when the slippage stops it reverts back to that.
 It still has 2WD and Turf modes off the same switch.
Performance and handling
The Polaris Ranger EV's motor doesn't make any noise!
To operate on hard ground the three-speed Ranger EV pretty much drives like any other ride-on, but because of the hard tyres, the suspension receives a greater workout.
When I drove down a slippery slope (steeper than the Polaris 15° limit) on a slight angle the rear wheels tended to lock-up easily due to the high pressure tyres, and actually began to slide the vehicle sideways a bit. It was little different driving back up the hill. Polaris recommends 20psi tyre pressure, which would help increase traction a little.
I needed to be in the correct range when driving and, to change a range, I had to stop. A couple of times the motor struggled when I moved away in too high a range.
Being electric powered, water crossings may not be a great idea. Other than these points, driving the electric Ranger EV was very standard. I never did get used to the silent running, although I did give it a good workout in the kind of terrain it's not intended for.
Specifications
Engine 48-volt electric AC induction motor
Power rating 22.4kW (30hp)
Battery packs 8 x 12-volt 12VXC batteries, wired in series-parallel
Controller 650 amp Servon Gen IV controller with multi-mode driving
Charge time Approx eight hours when batteries fully drained
Transmission Three speeds, plus reverse. On demand true 4WD/2WD/Turf mode
Maximum speed 40km/h
Length 2740mm
Width 1440mm
Height 1850mm
Wheelbase 1830mm
Ground clearance 254mm
Weight 771kg (dry)
Maximum payload 453kg
Maximum operating weight 1247kg
Cargo capacity 940 x 1295 x 279mm tipper, max 227kg
Towing capacity 567kg
Brakes Four discs, with regenerative braking capability
Front & rear tyres 25 x 9 – 12" Carlisle
Keep up to date in the industry by signing up to Farm Trader's free newsletter or liking us on Facebook