John Deere Gator TH 6x4 Ride-on
---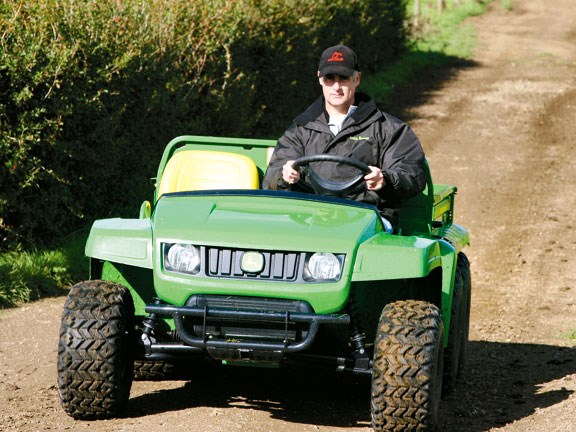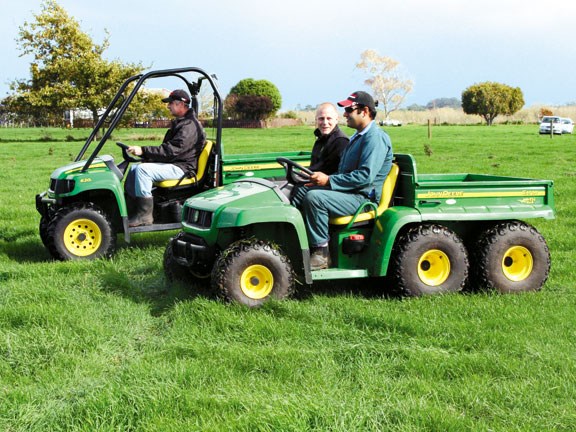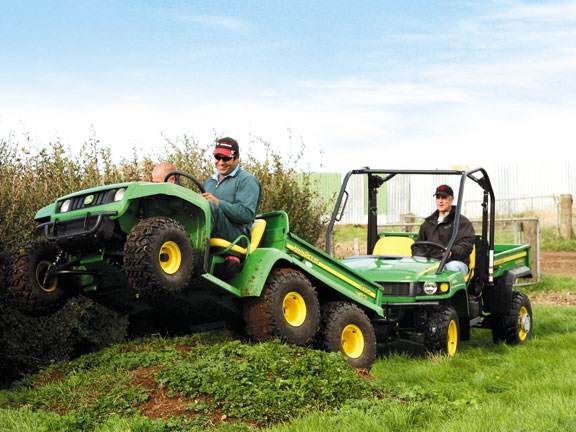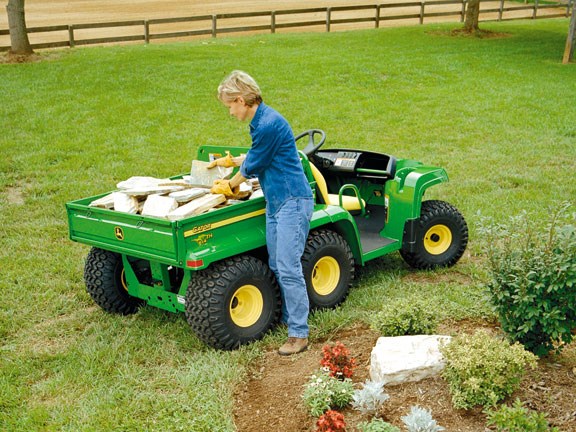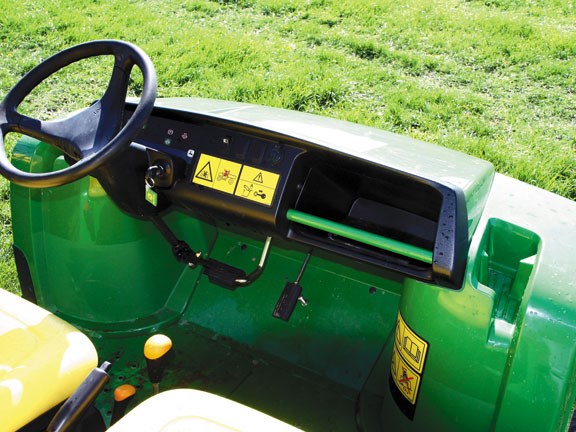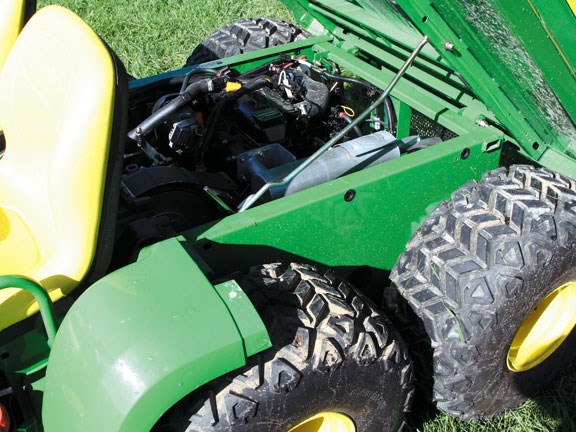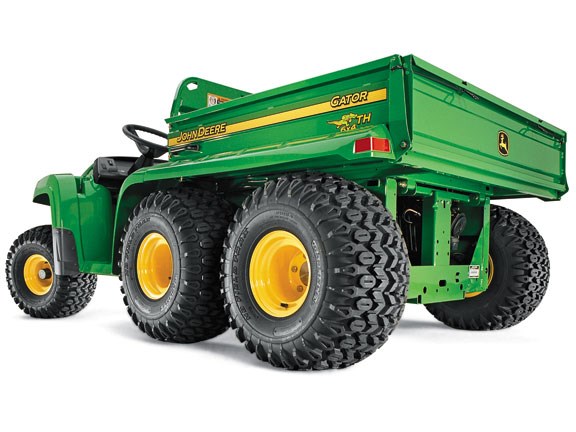 Not all Gators are created equal. The six-wheeled John Deere Gator TH 6x4 is probably different enough to be in a category all of its own.
Very wide tread centre and ultra-long wheelbase
Large rear tray
Stable on any hill
Smooth gear changes
Good tow option
Tight turning circle
Coming off an ATV or a regular ride-on, the biggest difference you'll notice with the John Deere Gator TH six-wheeler is how big the bumps are. Up front the Gator ride-on has pretty good suspension units that keep the front wheels under control, making for easier steering; the rear axles, however, have nothing to offer for driving comfort other than the "give" in the low pressure balloon tyres. If it's greater comfort you want, choose the Gator XUV.
On the upside the Gator TH 6x4 will be more stable on hillsides because of its fixed rear axles, along with a very wide 1220mm tread centre and an ultra-long wheelbase.
Engine and power
The power from the big 854cc Japanese Yanmar three-cylinder diesel engine was plenty strong – enough to keep the Gator pulling up a hill without engine power dropping away. The traverse mounted key start engine didn't even notice any of the slopes I drove over, at any revs.
While it produces up to 20.8hp, it is the high torque level coming from the liquid cooled diesel powerplant that really makes the difference.
Another benefit in running a diesel Gator is that it uses the same lower-cost fuel as the tractor, meaning you don't need to keep a separate petrol drum.
Power from the motor is transferred to a separate continuously variable speed transmission unit via a large flat toothed pulley to the front driven axle (middle wheels). The driven rear axle is connected by a basic and exposed heavy chain system on each side of the axles, which no doubt will require regular cleaning and oiling.
With the lever situated between the seats, changing into either forward or reverse gear was very smooth. The diff lock level is located right alongside.
Performance and handling
Out in the paddock I was surprised to find quite a tight turning circle, not much larger than a four-wheel ATV would offer and no bigger than the John Deere Gator XUV ride-on I drove the same day. The only handling issue I experienced was the front wheel oversteering (sledging) on the wet grass while trying to steer around the corners, because the four driven rear wheels tend to naturally push the vehicle in a straight line.
During my test the rain came down hard, so I liked the idea of fold-up seats to keep water from pooling right where you sit.
Up front the only dials or gauges are an hour meter and a selection of basic warning lights. Moulded into each front mudguard is an open facility to place a couple of drink bottles but, with the front wheels so close to the driver on this type of vehicle, there is little room for the operator or passenger to put their feet. This is something you just get used to.
Perhaps the biggest issue with this type of vehicle is the relatively low 32km/h top speed, although you'd need smoother ground to drive faster due to the non-suspension rear wheels.
Traction would never ever be a problem with this vehicle, however. I reckon I'd be hard placed to find any reasonable slope that this big Gator wouldn't get up, with any load. Yet, without a ROPS protection system, it is really designed just for flat ground working.
But it's just as likely this sort of ride-on will be found at the end of a track where a deer hunter has left it. That spacious 1245 x 660mm manual tilting tray is big enough to carry a good stag or a few grunters. Then again, town and city councils would also appreciate the extra heavy 544kg carrying capacity of the three-axle Gator for some of the odd jobs they get up to.
At the back there's an option to bolt on a tow ball – the diesel Gator TH 6x4 would be ideal for towing. Other options include bull bars and an electric tilt tray system. There is also a petrol version Gator 6 x 4 using a Kawasaki 675cc V-twin four-stroke motor.
Whatever your work or pleasure, I'm sure there will be many places the Gator TH 6x4 ride-on can be used to good effect.
Specifications
Engine Three-cylinder Yanmar diesel
Capacity 854cc
Power rating 15.5kW (20.8hp)
Transmission Continuously variable transmission (CVT)
Max speed 32km/h
Fuel capacity 20 litres
Length 2743mm
Width 1525mm
Height 1108mm
Wheelbase 2006mm front to rear, 680mm mid to rear
Wheel track 1220mm (rear) tyre tread centres
Turning circle 7.6m
Ground clearance 165mm
Weight 594kg (wet)
Max payload 726kg
Cargo capacity Tipper, 1245 x 1116 x 229mm, 0.23m3
Max weight 544kg
Towing capacity 726kg
Front suspension Independent, spring over shock, single A-Arm, with 127mm travel
Rear suspension Two high-flotation, low pressure tyres (solid axles)
Keep up to date in the industry by signing up to Farm Trader's free newsletter or liking us on Facebook