Same Explorer 3 100 ROPS
---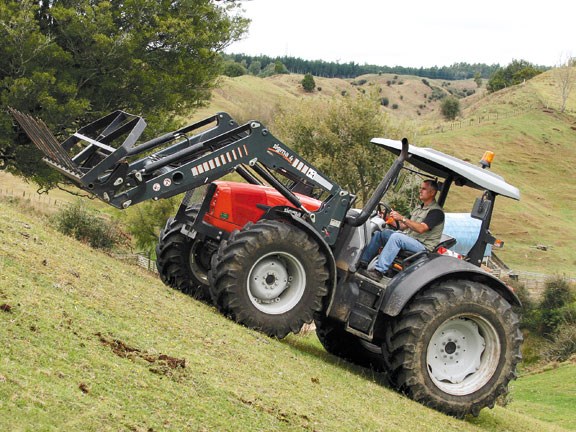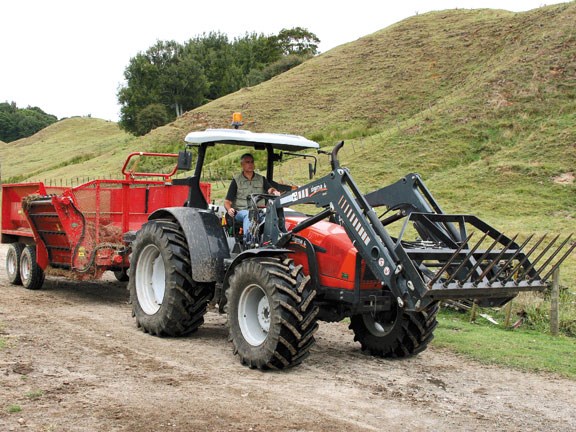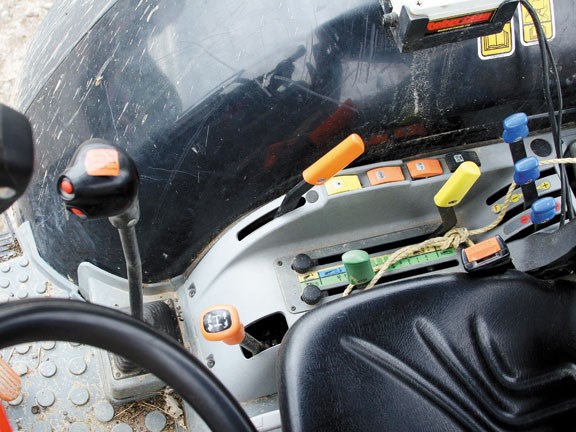 Same was the first company to bring a 4WD tractor to NZ, and the Explorer 3 100 ROPS is great for general farm work today
Small turning circle
Great engine characteristics
Excellent brakes
Good around hills
Easy to operate
The Explorer 3 series, with liquid cooled Deutz engines, are available in 85 to 100hp.
The owner
Stuart Fuller operates an Explorer 3 100 tractor and runs one of two approx 600ha rolling hill farms owned by Pukeha Farms Ltd, at Kaharoa.
After 18 months and 760 tractor hours, Fuller is very happy with the Same.
Performance and handling
The Explorer 3 100 handles general farm work, such as feeding out, spray work, post ramming and, more recently, some disc work in a couple of rough paddocks.
A tight 3.5m turning circle helps manoeuvrability, and I noticed the front guards moved with the front wheels, to a point. The steering system uses an independent hydraulic pump to ensure light steering at all times.
"It's a small tractor for its size [2340mm wheelbase with 500mm ground clearance]," Fuller says. "What I like is its low centre of gravity, and it sits on the hills like you wouldn't believe! It has a very good power to weight ratio – I'd take it anywhere now, I'm so used to driving it.
"The Same four-wheel braking system is phenomenal. It's a great system, it seems to hold its traction a lot better, especially with the big wagon on [seven-tonne loaded]," he explains.
Inside the cab
Taking two steps up to the seat immediately highlights a wide platform with lots of space. The steering wheel is tiltable by pressing a lever down with your foot, and locking it again with your hand.
The easy-to-read dash offers a lot of good information, including a helpful light displaying which split shift gear I was driving in. With the Robertson Manufacturing QH feedout wagon fitted, going through gateways I made use of the decent sized rear-view mirrors.
Engine and power
The 4038cc four cylinder Deutz 2012 series liquid-cooled engine is turbocharged and produces 96hp at 2300rpm with 350Nm of torque at 1250rpm. The Euro 3 powerplant features two valves per cylinder and is advertised as 100% biodiesel friendly (B100). To the ear it makes less noise due to the liquid cooling.
Unlatch and lift the rear hinged bonnet to access and clean the lift-out radiator screen in seconds. The engine side panels don't require any spanners and can also be removed in seconds.
The power delivery impressed most. After going down a steep hill, I turned around and drove up in high ratio first gear to see how the motor performed. Halfway up one of the steepest slopes I've ever driven, the powerplant began to struggle from the 1400rpm I elected to use. The power dropped to 1200rpm at the steepest point when the rear wheels began to slip slightly, without using the diff. lock. Without power or traction, I began thinking about aborting the exercise, just as the Deutz engine dug in and held its revs without breaking up the wetter than expected ground.
Further tests in higher gears up less wicked slopes supported my findings with the motor holding onto its revs pretty well up to around 2000rpm.
Transmission
The 20 forward and 20 reverse speed 40km/h transmission has five speeds on the stick with two split shift speeds operated by a pair of buttons at the top of the gear lever. The Explorer 3 100 has no less than four transmission ranges – add in the split shifting to make 40 speeds!
I found the split shifter ratios were quite close to each other, however it was just right to make the difference between getting up a hill without changing a manual gear. The change itself was perfect, including when I put the system under pressure.
The wet clutch shuttle impressed less because when engaged (in either direction) the tractor moved off without any of the usual soft take-up. It'd be difficult to using the Sigma 4 Iron F20 front end loader with good accuracy until re-programmed. As such I found it easier to use the foot clutch, which I also chose to use instead of the electro-hydraulic clutch button.
At the rear are three high capacity 54L/min hydraulic outlets run from a dedicated hydraulic pump.
The 540/1000rpm PTO has either standard or economy options for lighter PTO loads to save fuel. Cab or two rear guard buttons will engage the electro-hydraulic multi-disc clutch for soft PTO starting, and 6200kg is the maximum lift capacity of the three point linkage.
Great brakes
When driving down a really steep slope and I locked a rear wheel. Despite losing traction on a main wheel, the Same held its straight line without skewing off to one side. The Same has true four wheel braking with a wet disc on each wheel.
See a range of Same tractors for sale.
Specifications
Engine Deutz 2012 EURO II
Cylinders/Displacement n°/cm³ 4//4038
Max. length without link arms (mm) 3950
Width min-max (mm) 2050-2458
Max height at safety frame (mm) 2790
Max height at cab (mm) 2635*
Ground clearance (mm) 500
Wheelbase (mm) 2245 2WD/2340 4WD
Minimum steering radius without braking (mm) 3050 2WD/3500 4WD
Weight with cab (kg) 3400 2WD/3800 4WD
Weight with safety frame (kg) 3250 2WD/3650 4WD
Max torque (Nm) 352
Max torque engine speed (rpm) 1300-1700
Keep up to date in the industry by signing up to Farm Trader's free newsletter or liking us on Facebook