Polaris Ranger Crew 800
---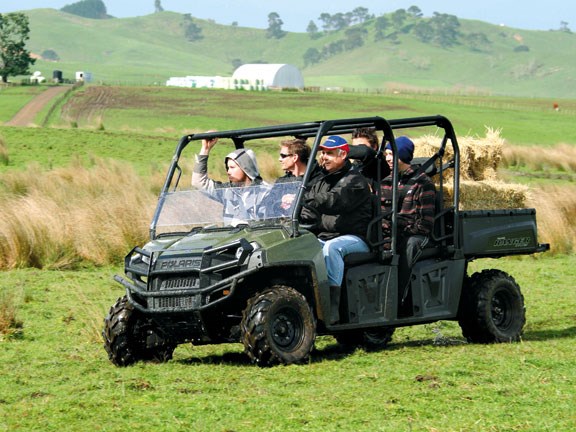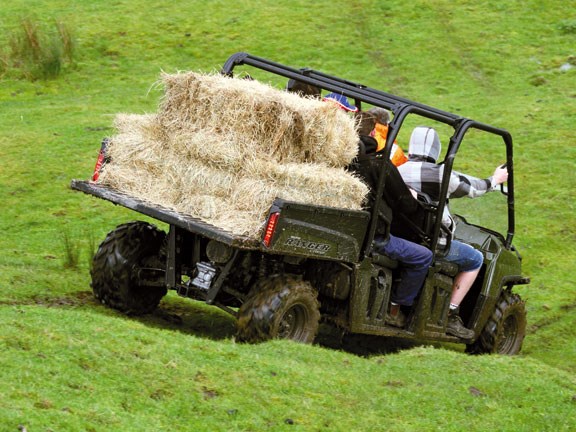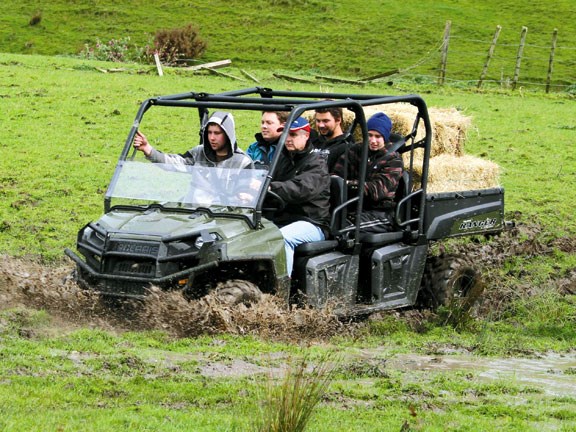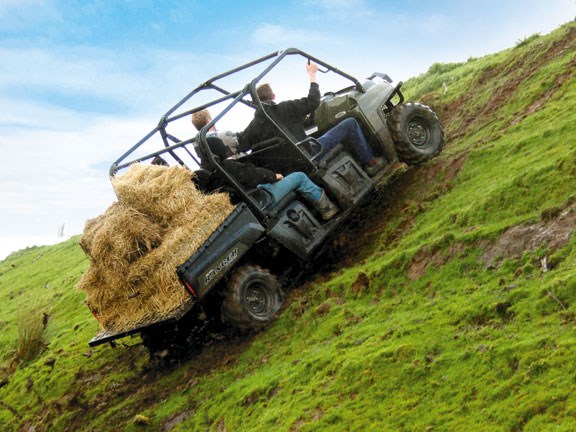 Polaris makes some of the best side-by-side utility vehicles on the market. We put the six-seater Crew through its paces on a muddy farm in the Waikato…
Fits six people and their gear
Easy to drive for a big ride-on utility
Good power
Great steering and handling
Best brakes
The Crew 800 is a large offroad people mover, with six seats, 51mm extra legroom and individual seatbelts. There's also new front and rear tilting seatbacks and a new tiltable steering wheel.
Storage is improved with a larger glove box compartment under the dash and space under the front seat.
Driving around Tainui Group Holdings Ltd's waterlogged Hangawera Station at Tauhei, I gained a real-life appreciation of what the Ranger Crew is capable of. It could go everywhere – up slippery mud hills, back down, through axle deep swamps, small waterways and paddock lakes. And that's with six men on board and the same number of hay bales.
Engine and power
While still pumping out 40hp, according to Stihl Shop Downs (Drury) manager Shane Taylor, Polaris has added 15% more torque to the 2010 Ranger Crew 800 from the larger 760cc EFI V-twin engine. With all the mud it was difficult to tell any difference from the 2008 model, although its power to get up hills fully loaded impressed everybody.
And when you want to go, just climb in, turn the key, engage the High/Low range automatic PVT transmission system and floor it. There's no mucking about with gears.
Performance and handling
Helping traction on the hills is the Polaris On Demand AWD system, which senses when a rear wheel begins to slip and then engages all four wheels, and automatically reverts back into 2WD when it all comes good again. Turf mode drives a single rear wheel to reduce turf damage while turning.
I tested its traction holding ability to the absolute max, and I must say the Crew got us through some pretty marginal areas where all six of us were sure it'd get stuck. Coming out of the swampy wet ditches I could feel the front wheels take up the drive and pull the Crew out, so it was surprising how stable it is and where we could get into while still feeling safe – probably due it the ultra-long 2743mm wheelbase. Surprisingly, I had difficulty grounding the base when I deliberately tried to get the Crew 800 cast over some of the large mounds I drove over, likely due to the high 292mm ground clearance.
Polaris specs all of its ride-ons to a high standard straight from the factory. After a few years' use, buyers will appreciate the braided stainless steel brake lines.And the prone to damage brake disc and dual-piston hydraulic caliper are positioned right inside the wheels – all four of them on the Polaris.
The Ranger Crew still needs an automatic engine or transmission braking system to slow the vehicle when driving downhill for optimum safety.
The Ranger models steer far better than all two- and three-seat competitors on the market. The Ranger Crew shares the double "A" arm front steering system, which retains wheel alignment regardless of how much suspension travel is used, 244mm on the Crew 800.
Weighing 678kg, it's heavy and safe enough to tow many things a farmer currently tows with ride-ons and ATVs half the size.
There's a full complement of driver information available on the slightly changed dash, including tachometer, speedometer, odometer, two tripmeters, gear indicator, an hour meter and a fuel gauge. There are also three DC outlets to run ancillary equipment.
With its unique Lock 'n Ride cargo system, tons of optional extras and good power, the more popular three-seat Ranger and the six-seat Ranger Crew 800 top my list.
Specifications
Engine 760cc four-valve per cylinder liquid-cooled V-twin engine
Output 30w (40hp)
Transmission Infinitely variable, two forward ranges, reverse, and Park Selectable 2WD/AWD with true on-demand all wheel drive, plus Turf mode
Top speed 74km/h    
Dry weight 678kg
Length 3680mm
Width 1520mm
Height 1930mm
Wheelbase 2743mm
Front suspension 244mm travel
Rear suspension 229mm travel
Ground clearance 292mm
Towing capacity 907kg
Cargo bed 454kg. 1370 x 930 x 290mm
Payload 794kg (people and load)
Fuel capacity 34.1L
Keep up to date in the industry by signing up to Farm Trader's free newsletter or liking us on Facebook