Kubota RTV500 ride-on
---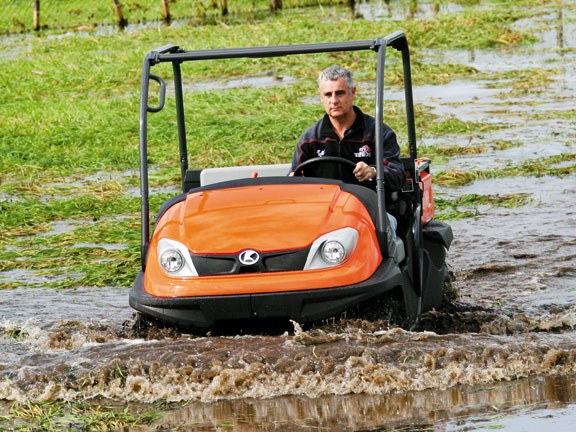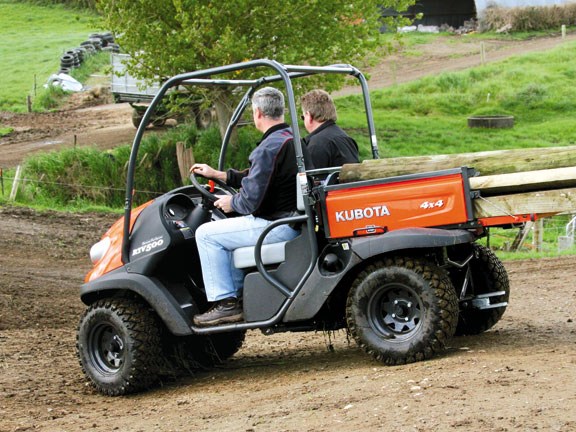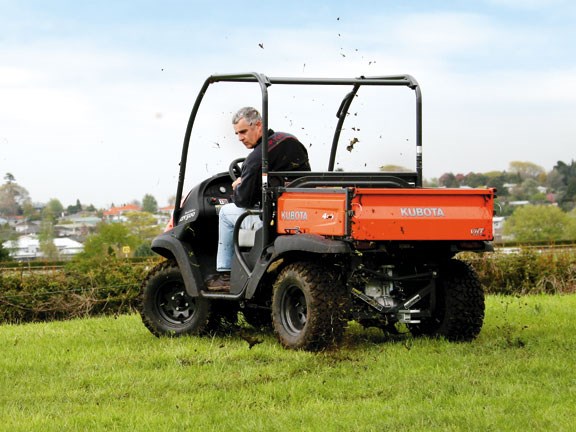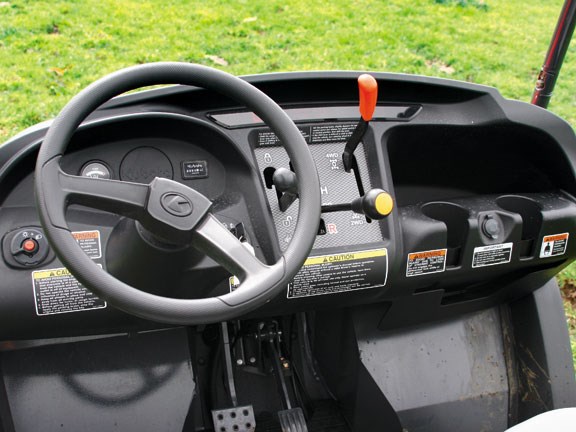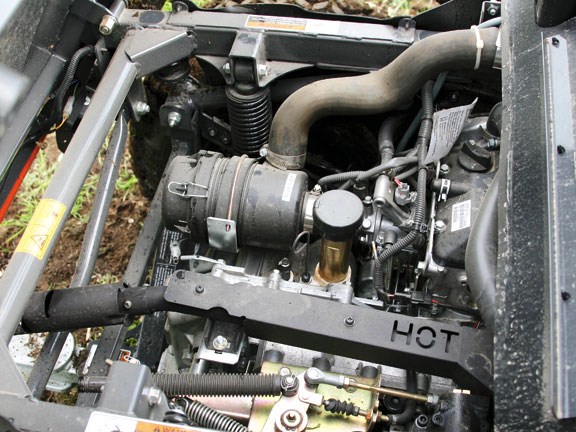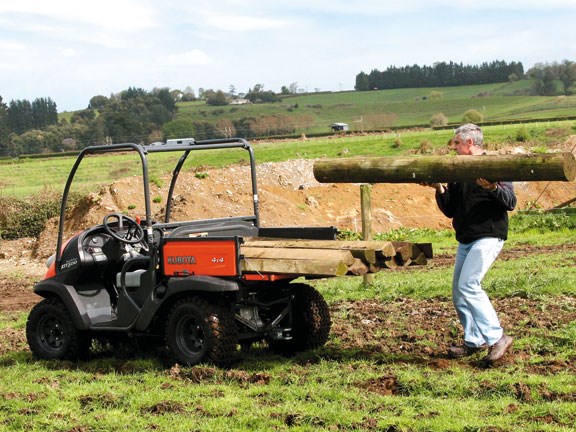 The smallest ride-on utility from Kubota NZ, the RTV500, handles well and is a great option for a small farm or lifestyle block
Great downhill engine braking
Sturdy hydrostatic drive system
Handles well thanks to short-travel suspension shocks
Smaller size allows for access to tighter spots
Low maintenance costs
Kubota NZ has introduced the smallest ride-on utility in its range, the RTV500, and I'm hearing feedback that ride-ons are beginning to take over from the traditional ATV. Ride-ons do cost more to purchase, however the benefits are there for many farmers.
Advantages
A side-by-side ride-on allows you to take at least one other person with you in comfort and safety. They all have a good sized carry tray on the back, allowing the operator to take more items further.
A ride-on utility will come with an approved ROPS roll-over cage. Used in conjunction with seat belts, they will keep your body inside the vehicle should a roll-over ever occur. A lot of farmers are fitting a small roof to keep the sun and rain off, and a few are also installing windscreens to keep them dryer.
About the only downside is that side-by-side ride-on utilities are heavier than ATVs, so require a bit more power to carry a decent load at the same speed or up the same hill. But, being heavier means they are better placed to tow many types of trailers.
Most ride-ons have a wider wheel track and longer wheelbase than any ATV, and combined with a low centre of gravity, they make for a safer option because they are less susceptible to rolling.
Design and engineering
With a wheel track of 1041mm (rear tyre centres), the new Kubota RTV500 is one of the narrowest ride-ons on the market.
Being so small, you'll be able to drive the RTV500 around those farm-track slips. It'll also fit onto most trailers.
Because of its size, the RTV500 would best suit light duty type work, and anything you currently do on your ATV, with a bit to spare because it's considerably heavier. I gave the RTV500 a good in-paddock workout that included a fairly deep boggy pond. Even with standard medium-tread pattern tyres, the Kubota only got close to bogging down when the long weedy grass clogged the front axle.
Engine and power
Powering the RTV500 is a water-cooled 456cc four-stroke Kubota engine, providing a maximum output of 11.8kW (15.8hp). Petrol-powered, fuelling both cylinders is a single EFI fuel injection unit. However, even with a twin cylinder powerplant, the RTV500 could do with more horsepower to get up the hills easier with a full load on, especially for a 620kg (empty) ride-on.
Performance and handling
The RTV500 handled better than I imagined such a small ride-on would; I think partly due to its short-travel suspension shocks (non adjustable), which reduced its willingness to roll from side to side when I drove it hard, and sideways across a slope. The downside is the RTV500 didn't soak up the bumps as well.
Thankfully, the entire Kubota range has engine braking as standard due to the small tractor-like hydrostatic VHT Plus transmission system. The RTV500 engine braking is perfect, allowing me to coast at an almost constant speed down a decent slope without touching the brake. The hydrostatic advantage is a lower running cost because there are no drive belts to wear out, and it was good to see the motor and transmission was designed as one unit.
The brakes themselves work great too, as a few paddock skids showed where the wheels locked up, thanks to a quartet of hydraulic disc brakes tucked neatly inside each wheel to keep them out of the way of projectiles and obstacles.
Tilting the rear tray required unclipping each side and manually lifting the deck using a side handle. There's no room for underseat storage, leaving just an open parcel box on the passengers side for small items.
See Kubota RTVs for sale.
Specifications
Engine 456cc four-valve per cylinder liquid-cooled V-twin engine
Output 11.8kW (15.8hp) at 3500rpm
Transmission Hydrostatic drive, High, Low, Neutral and Reverse
Top speed 40kmh
Dry weight 620kg
Length 2690mm
Width 1390mm
Height 1829mm
Wheelbase 1800mm
Wheel track Front, 1016mm. Rear, 1041mm, tread centres
Front suspension Independent MacPherson strut, unspecified travel
Rear suspension Semi independent multi-link, unspecified travel
Ground clearance 175mm
Towing capacity 500kg
Cargo bed 200kg. 1032 x 856 x 290mm, tiltable
Payload 430kg (people and load)
Fuel capacity 20 litres
Keep up to date in the industry by signing up to Farm Trader's free newsletter or liking us on Facebook