Massey Ferguson MF7485 Dyna-VT
---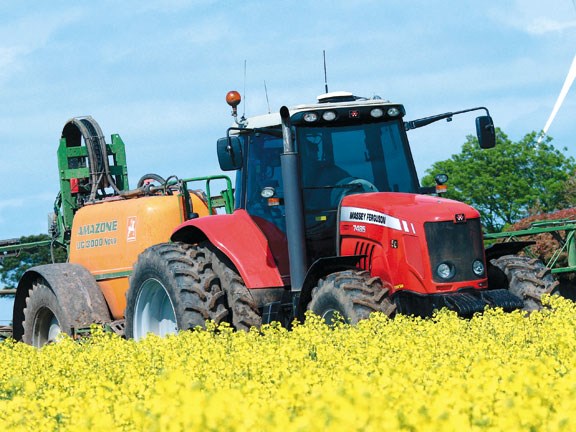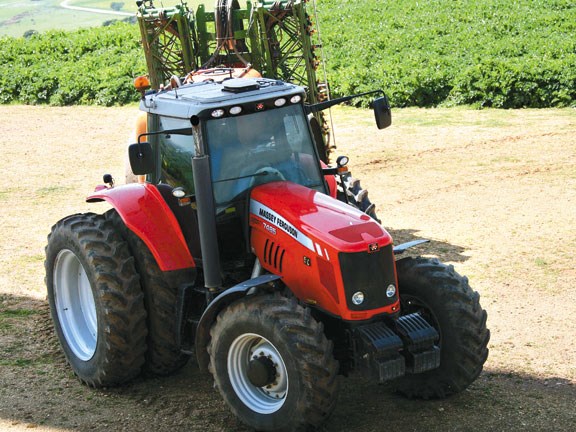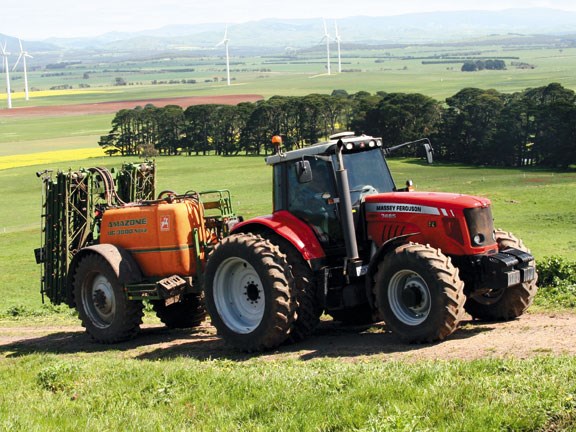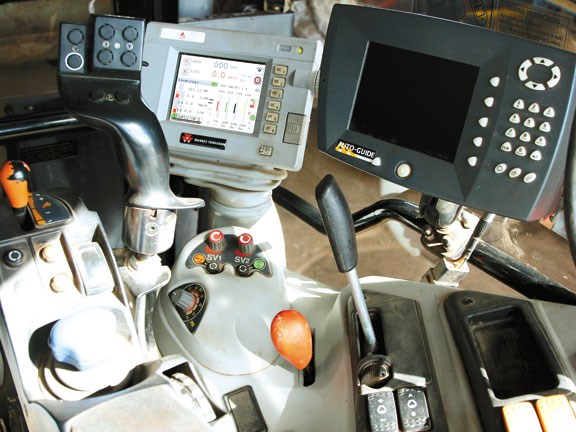 The technology that drives the Massey Ferguson MF7485 Dyna-VT tractor is right up there with the best a contractor could ask for...
CVT ensures a smooth and user-friendly operating work environment
Effective front suspension
Engine designed for low rev-high torque output
Plush, climate controlled cabin
Excellent electronics for the engine, transmission and headland management systems
I recently drove Luke Molloy's MF7485 Dyna-VT tractor, which he says is the backbone of his farm operation.
"It does most of the work. It has been a great tractor," Molloy says. "We went from 120hp up to this one and it solved most of our problems. We never thought we'd need much over 120hp. Where it ends I don't know!
Gavin Lilley is the main MF7485 Dyna-VT driver. He says using the nine-tine deep ripper (450mm) works the Massey Ferguson the most.
Recently fitted with dual rear wheels for extra traction and stability, the MF7485 Dyna-VT is a highly spec'd Massey Ferguson featuring front suspension, cab suspension and a variable speed transmission. Despite towing a heavy sprayer I felt entirely comfortable at 50kmh on the road.
The MF7485 Dyna-VT is fitted with the optional Quadlink front suspension and provided an even ride height that effectively minimised destabilising fore and aft swaying while driving at speed.
Engine and power
The Tier 3 compliant 6.6-litre SisuDiesel engine produces a maximum of 121kW (165hp), boosted to 132kW (180hp), at 2200rpm. A high specification level includes four valves per cylinder, electronically controlled common rail fuel injection fed by an intercooled turbocharger for a high torque output up to 836Nm. The motor held its revs very well when driving up a steep track while towing a full 1000-litre spray tank. Real-time electronic monitoring of fuel consumption versus load optimises both engine efficiency and economy.
When I opened up the rear hinged bonnet I could clean the main radiator in less than 15 seconds by unlatching two catches and hinging the ancillary radiators upwards.
Variable speed transmission
The Fendt-design stepless continuous variable speed transmission (CVT) transmissions allow an operator to match ground speeds under all conditions, for any type of work.
The Dyna-VT variable speed transmission comes standard on all 7400 Series models. In Field Speed range the CVT system drives the tractor up to 23km/h in forward, and 15km/h in reverse. In 40km/h or optional 50km/h Road Speed range, the CVT is good for up to 33km/h in reverse.
Lilley says the Dyna VT Vario transmission is fantastic.
"There are no gears, so it's zero to 50km/h in the road range, or you set the cruise control! The best thing is when under load and the cruise control is set at 7kmh for deep ripping and you hit a hard spot, the tractor will slow down to keep the horsepower the same. It alternates the speed and the revs to keep it in one constant movement so you just sit there and there's no changing down gears or waiting for it to stall. And once it gets back into the easy going it goes straight back up to its 7km/h."
Inside the cab
Inside the cab is a plush pneumatic swivel seat, towards the rear of the climate controlled cabin. Massey Ferguson installed a shallow angle viewing window looking directly down onto the three electronic and one manual hydraulic outlets, the three-point linkage system and drawbar.
Above the adjustable steering wheel, the combination digital/analogue dash displays several important functions in the small left LCD screen. Here you can see what two engine rev speeds you've selected, along with your two favourite SV1 and SV2 ground speeds, set the 4WD wheel slip, spool valves and allows you to prioritise hydraulic flow rates between the remotes and linkage. Other handy features include an adjustable preset ramp-up speed.
On the opposite side of the dash is a basic screen showing the likes of range, forward/reverse, hours, revs, and PTO revs.
At the end of the armrest is the "Power Control" lever where you can control forward and reverse speeds by pushing or pulling the small lever. I found this function excellent to use as I only had to nudge the lever to speed up, and nudge it back to slow down the tractor via the transmission. As such, I never used the foot or hand throttle, and seldom the brakes, remembering I still had to use the fully adjustable take-off speed wet clutch shuttle lever to change direction.
Below the "drive" lever on the armrest is the fully programmable headland management activation button, the linkage rise/fall toggle switch, and a joystick to operate the electronic remotes. A pair of buttons and a toggle switch allow the operator to preset commonly used A and B engine revs, while a pair of nearby adjustable dials are employed for ground speed "cruise control", SV1 and SV2.
Among the diff lock and 4WD switches further around is the front suspension on/off and the cab suspension stiffness control.
What I really enjoyed about the MF7485 Dyna-VT was its use of electronics for the engine, transmission and headland management systems. These include wheel-slip percentage control, automatic changing between A and B engine revs as the three-point linkage is raised – with a variable delay setting, and memorised hydraulic flow rates.
Most of these are monitored and controlled in the = Datatronic-3 monitor. And, should you need to take the day's working data home, an SD memory card can be inserted and later downloaded to view on your computer.
"I've been driving this tractor for three years now and there's nothing wrong with it," Lilley says. "It has the Power Beyond, too, so when you start the tractor up it has constant flow, then if you run the air seeder and it needs 70 litres of oil, it'll give it 70 litres. If it needs only 20, it'll give it 20. It works it out automatically."
See a range of Massey Ferguson tractors for sale.
Specifications
Engine Six-cylinder SisuDiesel 66 CTA-4V
Capacity 6.6L, turbocharged
Power rating 121kW (165hp) boosted to 132kW (180hp) at 2200rpm
PTO output 118kW (160hp), 540, 1000rpm & Economy
Max torque 836Nm
Transmission Stepless continuous variable speed transmission (CVT)
Clutch type Wet
Max speed 50km/h (optional)
Fuel capacity 380L
Min turn radius 10.3m (without brakes)
Brakes Wet disc
Weight 6380kg
Max hitch lift 9300kg
Hydraulics Three closed centre load sensing remotes with 110L/min flow
Wheelbase 3000mm
Keep up to date in the industry by signing up to Farm Trader's free newsletter or liking us on Facebook