Ssangyong Actyon Ute
---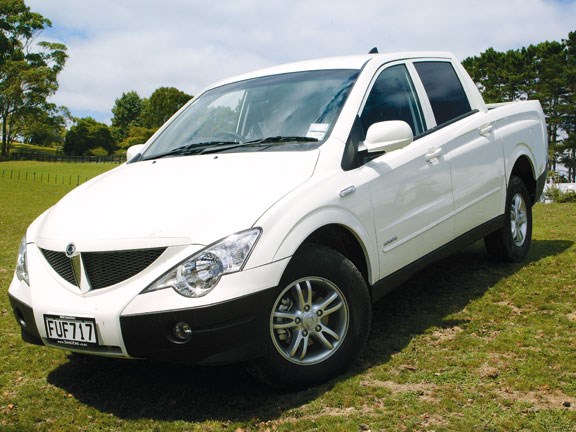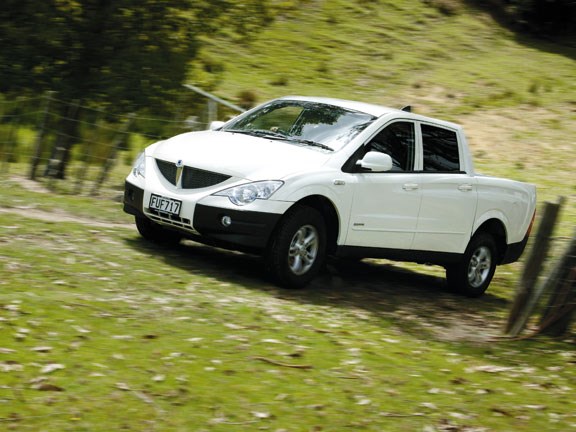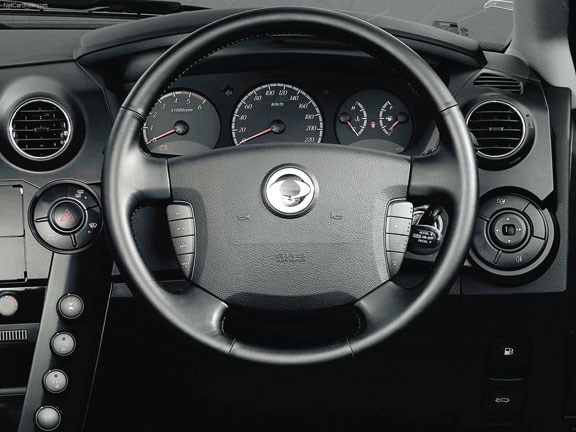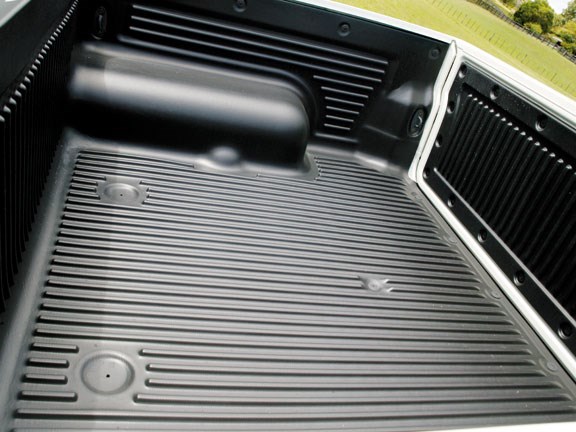 With decent power from an efficient 2.0-litre diesel donk, airbags and a solid chassis design, the Ssangyong Actyon Sports Dual Cab makes a fair choice for those on a budget…
Competitive pricing
Good towing ability
Quiet fuel burner
Plenty of interior storage space
Smooth transmission
I've just spent a week at the wheel of the bargain-basement end Ssangyong Actyon Sport and I came away with mixed feelings.
There are two distinct choices for buyers in this segment: Down in the boon-dock models from Korea and China with Ssangyong's Actyon and Great Wall, and the more familiar brands such as the Mitsubishi Triton, Nissan Navara, Toyota HiLux, Isuzu D-Max, Ford Ranger, Holden Colorado and Mazda BT 50. Ssangyong's competitive entry level Actyon ute hits the streets at $35,990, but that's before on road charges.
Powertrain
Under the sheetmetal, the Actyon is not a bad thing. Our vehicle came with the third-generation, 2.0-litre common rail turbo diesel with 104kW of power and 310Nm of torque from 1800rpm. This is run through a five-speed manual shifter. It can be a little toey, because of a slight lag between first and second, but generally was smooth in most conditions, although there wasn't much feel in the clutch pedal, so in round town driving conditions, where you're changing gears constantly, it was a bit jerky. No problems cruising at highway speeds, and one big plus for the ute is it's a very, very quiet oil-burner. We ventured offroad on some farmland and the 4WD system works well between 2 High, 4 High and 4 Low. Engine braking isn't too bad either.
Offroad
The Actyon has some offroad issues – a front that is too low for serious offroad conditions, as well as a low ramp angle and average departure angle. On rugged hilly farmland I found the vehicle's underbody touching terra firma too often and too easily. It sits just 193mm off the dirt.
However, don't dismiss the Ssangyong just yet. While it might not make the start of most serious 4WD rallies, the Actyon isn't a slouch when it comes to towing the odd trailer. The towing rate is 2.3-tonne and with 4WD it can handle slippery conditions, while the tray comes in handy for bits and pieces. At the same time, minus the trailer, it easily reverts to a five-seat family car.
Safety
Actyon comes with driver and front passenger front airbags but no side or curtain airbags, although it does have triple-strength door impact beams for side impact protection. There's also no stability control. But there are creature comforts like power windows and mirrors, remote central locking, engine immobiliser and alarm, remote keyless entry and a moulded, protective tub liner for the tray. The Sports version also gets ABS brakes with electronic brake force distribution, 16-inch alloy wheels, leather steering wheel, gear knob and cruise control in the auto.
Interior
The interior is a little harsh with hard plastics and a no-frills but practical design and layout. There are audio controls on the steering wheel. I found the front seats quite comfy but there are minor legroom issues for those in the rear pew, and annoyingly, no footrest next to the clutch pedal.
The Actyon boasts plenty of storage spaces inside the cabin and has an overall feeling of space. Actyon's cargo tray is not the biggest around, but is wider than some of the more expensive utes, and managed to cart my CBR1000RR Repsol racebike to the track and back no worries.
Driving impressions
In overall terms I didn't mind the Actyon. The engine does its job without fuss, as long as you don't expect miracles from a 2.0-litre diesel, the transmission is smooth, but the ride comfort is compromised by a jittery, wiggly suspension.
Actyon features four coil suspension which is far too firm for Kiwi conditions. It might be okay if there's a heavy load in the tray, and three burly blokes in the back seat, but otherwise, for me, it was pretty ordinary. Having said that, all dual cab utes – many having leaf springs in the rear – are not known for being car-like in ride. Actyon handling suffers a bit from predictable understeer and cornering is hindered by body roll. The steering is exceptionally light but does lack a degree of feel.
Summary
Despite the suspension issues and the rather "interesting" appearance, I actually didn't mind driving the Actyon Sports 4WD. I think it would make a fairly decent addition to any farmyard that's looking for a ute that can take a load of fenceposts or the odd bobby calf round the paddock (providing the paddock in question isn't too hilly) and the family into town on a grocery run. Yes, it doesn't have the grunt of a Nissan Navara or plushness of a VW Amarok, but it is several thousand dollars cheaper than most others, and in the current economic climate the Actyon Dual Cab is certainly worth a look.
See the Ssangyong Actyon ute for sale on Autotrader.
Specifications
Engine 2.0-litre turbo diesel
Configuration In line
Head design DOHC
Compression ratio 17.5:1
Bore x stroke 86.2mm x 85.6mm
Max power 104kW @ 4000rpm
Max torque 310Nm @ 1800rpm
Driven wheels AWD
Manual transmission Five-speed
Auto transmission Six-speed automatic
Length 4965mm
Wheelbase 3060mm
Width 1900mm
Height 1755mm
Ground clearance 193mm
Turning circle 12.4m
Kerb mass 1912kg
Fuel tank capacity 75L
Towing ability 2300kg
Front suspension Coil spring, double wishbone
Rear suspension Coil spring, multi-link
Front brakes Ventilated discs
Rear brakes Drum
Type Diesel
Combined cycle 8.1L/100km
Keep up to date in the industry by signing up to Farm Trader's free newsletter or liking us on Facebook