Polaris Ranger Diesel
---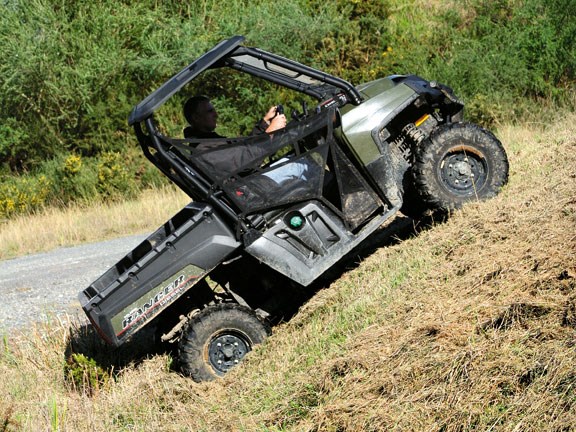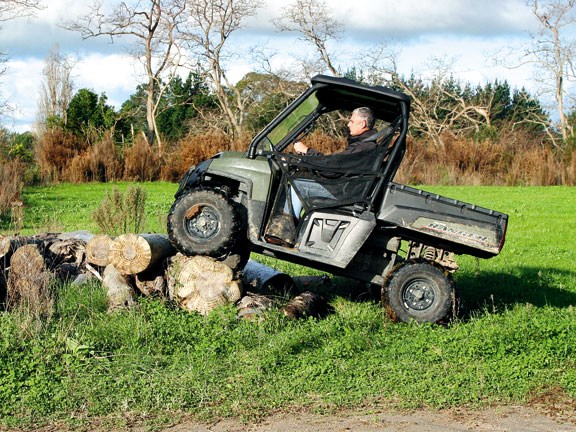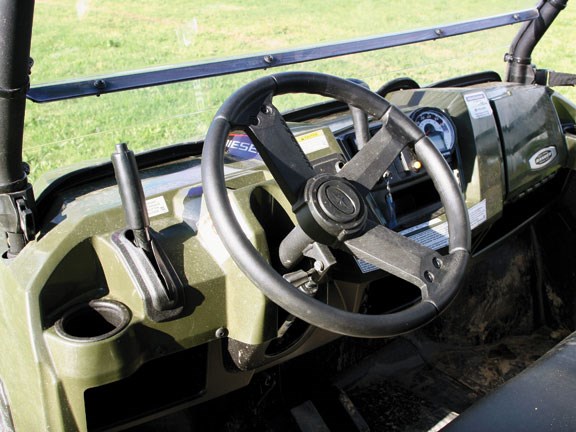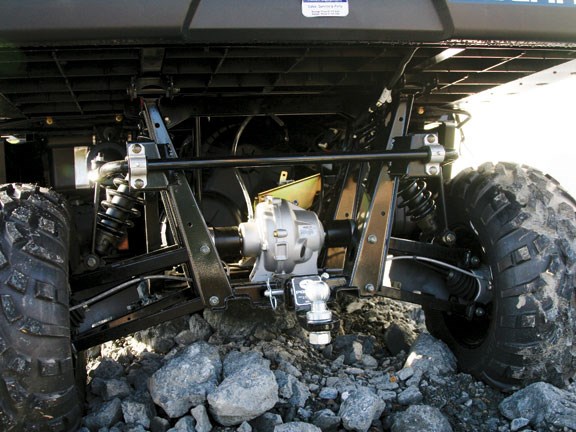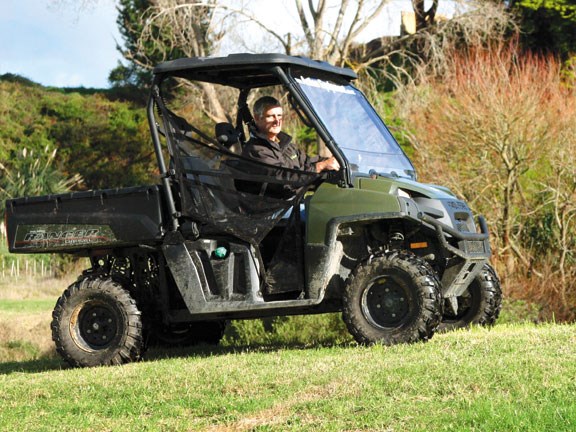 The new diesel Polaris Ranger utility vehicle offers plenty of grunt, safety features and comfort
Has the low-down grunt of a typical diesel vehicle
On demand 4WD
Wide with strong rollover structure
Tilt-adjustable steering wheel
Easy to use tipper tray with ability to haul huge weight
Today's Ranger model line-up includes several 800cc four- and six-wheeled petrol-powered versions, the six-seat Crew Rangers, 500cc and 400cc variants, an electric Ranger, and now the recently introduced diesel option.
Compared to petrol, diesel fuel is cheaper, has lower emissions and is usually more readily available on the farm.
But you'll find the biggest diesel engine advantage comes from the engine providing masses of torque low down in the rev range – in a manner similar to what your tractor offers – when compared to petrol power. That power delivery translates into an easy driving vehicle able to carry a heavy load.
The diesel Polaris Ranger enjoys all of the class-leading features Polaris Ranger owners have come to know as standard, such as on-demand 4WD, a large rear tip-tray capacity, dual "A" arm front suspension, independent rear suspension (IRS), and four disc brakes with long lasting braided stainless steel brake lines, more powerful two-piston brake callipers and inboard disc brakes to keep them out of harm's way inside the wheels.
The only trade-off I could see is the diesel's slower 56km/h top speed when compared to the petrol version Ranger's 88km/h. But remember, 56km/h is faster than the 40km/h from the diesel's competitors.
All the same, the feedback I received from the Ranger diesel held true to my expectations of low-down grunt, which, to my surprise, allowed me to climb wet slopes in Low ratio without wheelspin – the motor held on really well.
Even though they have a diesel motor, these vehicles are not your wet paddock replacement for the tractor, and shouldn't be bought as such. They are, however, good for taking a few small bales onto a wet paddock without leaving wide tractor tyre grooves in the soil.
Ripping along at its maximum 56km/h speed, I found the Ranger utility's wheels bit into the wet soil very confidently.
The 652kg (dry) Ranger is also a pleasure to drive on rough ground thanks to its fantastic five-way adjustable front and rear suspension design.
Engine and power
Under the seat is an advertised 24hp, three-cylinder 904cc indirectly injected Yanmar engine. Polaris says 90 percent of torque is reached at just 1600rpm. The engine plate on my test Ranger displayed 18.5kW (24.8hp). The world-renowned Yanmar powerplant is ISO rubber mounted to help reduce vibrations for an even smoother power delivery and to extend operator comfort.
The big 34.1-litre tank should easily last long days in the field.
Performance and engineering
Unlike a few other ride-ons I've tested, I wasn't bounced out of the seat whenever I hit a large bump. Up front is a dual "A" arm mechanism, which is superior to the older McPherson strut still used by some manufacturers. The adjustable spring preload suspension (with adjustable top mount) provides up to 244mm of travel while the fully independent and adjustable rear suspension offers a cool 229mm. You can use up to its class-leading 305mm of ground clearance, which I fully utilised while driving over a log pile while in all-wheel drive mode.
I also made good use of the single rear-wheel drive Versatrac Turf Mode to avoid ripping up the ground.
The brakes worked perfectly, however I would still like to see an engine or transmission braking system for downhills to avoid having to keep a few revs on the throttle while left-foot braking.
Its 1930mm wheelbase is long enough to make the Ranger stable, yet short enough to ensure good manoeuvrability in confined spaces.
Many will say the best thing about a ride-on is the additional carrying capacity on the rear tray. This is especially so with the 903mm x 1370mm x 290mm rear tipper tray, designed to take up to 453kg. It's manually operated by an unlocking lever on either side of the vehicle and is child's play weight-wise to lift thanks to well positioned gas strut assistance.
Even if you prefer riding a quad I reckon there's no harm done trying a Ranger out. After riding all the main models alongside each other (except the Kawasaki Teryx) I still rate the Polaris Ranger as the best utility of its kind on the New Zealand market.
See a range of Polaris vehicles for sale.
Specifications
Engine 903cc Yanmar diesel motor, indirect injection
Max power 18kW (24hp) at 3600rpm (test Ranger is 18.5kW)
Cooling Liquid cooled
Fuel capacity 34.1 litres
Transmission Automatic PVT with on demand AWD system
Top speed 56km/h
Brakes Hydraulic with two-piston callipers per wheel
Front suspension travel 244mm, dual "A" arm
Rear suspension travel 229mm, IRS dual "A" arm
Max ground clearance 305mm
Wheelbase 1930mm
Length 2900mm
Width 1520mm
Height 193mm
Dry weight 652kg
Keep up to date in the industry by signing up to Farm Trader's free newsletter or liking us on Facebook